HTMLGIANT / Christopher Higgs
Christopher Higgs
THE IDEA

A talented, creative writer invents a story about an object. Invested with new significance by this fiction, the object should — according to our hypothesis — acquire not merely subjective but objective value. How to test our theory? Via eBay!
This sounds interesting.
It was created by Joshua Glenn, a cultural semiotics analyst and independent scholar. Click here for the "About" page & here for the list of items.
Uncategorized /
7 Comments
July 23rd, 2009 / 10:11 pm
Christopher Higgs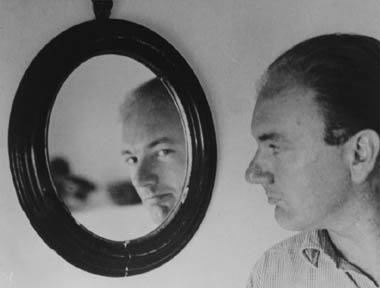 Q: Reading your books, one gets the impression that you see no hope whatsoever in this domain.
A: That's a stupid question…
Q: What kind of intellectual aims do you…
A: These are all questions that can't be answered because no one asks themselves that sort of thing. People don't have aims. Young people, up to 23, they still fall for that. A person who has lived five decades has no aims, because there's no goal.
[In an interview from 1986, the late Austrian author Thomas Bernhard discusses the musicality of language, the eroticism of old men and the incurability of stupidity. By Werner Wögerbauer]
Uncategorized /
21 Comments
July 22nd, 2009 / 1:59 pm
Christopher Higgs
Last Wednesday, my wife and I went to see the newest Harry Potter movie, The Half-Blood Prince. As someone who had never read a Harry Potter book yet still enjoyed the previous movies well enough, I was happily willing to go but not especially eager nor overjoyed with anticipation the way my wife and the majority of the audience seemed to be.
As it turned out, the movie was great fun: full of action and drama and mystery and cool special effects. In fact, by the time the end credits rolled I had completely succumbed to its spell: I wanted (no – needed!) to know what would happen next and how things would be resolved.
My wife refused to give me answers: "Guess you'll have to read the final book for yourself or else wait until the next movie comes out." Frustrated, I called my brother for answers and he said basically the same thing: "You should read the final book. It's a quick read."
For me, a quick read is never a quick read. Unlike my brother and my wife, I tend to read very slowly. So when I picked up the seventh Harry Potter book, The Deathly Hallows, and held the nearly-800 page tome in my hands, I had the distinct feeling that I would be dedicating the rest of my summer to completing it.
Uncategorized /
32 Comments
July 20th, 2009 / 10:56 am
Christopher Higgs
New book out from the ever estimable University of Minnesota Press called The Dada Cyborg: Visions of the New Human in Weimar Berlin by Matthew Biro.
"In an era when technology, biology, and culture are becoming ever more closely connected, The Dada Cyborg explains how the cyborg as we know it today actually developed between 1918 and 1933 when German artists gave visual form to their utopian hopes and fantasies in a fearful response to World War I."
Uncategorized /
16 Comments
July 18th, 2009 / 8:58 am
Christopher Higgs
Hello Everybody!
To kick off my tenure here at the Giant, I thought I'd point y'all to a new issue of the web journal Flash Point, which is dedicated to James Joyce's Finnegans Wake. Much to explore and devour, from poems to essays to illustrations to audio of Joyce reading excerpts. Whether you've soaked in the Wake for years or been afraid to dip your toes, I recommend checking it out.
Uncategorized /
19 Comments
July 16th, 2009 / 9:16 am