Roxane Gay
All White People, Indeed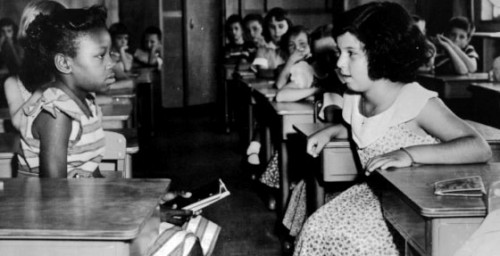 Now that I've had a couple weeks to catch up on life post-AWP, I've had time to reflect on my experience attending the conference a second time. I had a fantastic time at AWP '10. It's a much better experience when you actually know people; I really enjoyed working at the bookfair with my co-editor and meeting so many contributors; and there was, of course, the EPIC dance party on Saturday night that was everything I had been told it would be and so much more. You have not lived until you see a bunch of hot, sweaty writers dancing awkwardly (myself included), and I do mean awkwardly, to Tone Loc.
At several points during AWP, friends and acquaintances would riff on the theme of AWP standing for All White People and we would laugh and move on to the next topic of conversation but there was a certain truth to the comments that was… uncomfortable.
I'm quite accustomed to being the only person of color or one of a few at a given conference and I am also accustomed to accepting that the people who should, in theory, know better are just as ignorant as your average Tea Party member. At a conference nearly two years ago, a black male colleague from another university and I were standing in front of the hotel, wearing suits and our conference badges. Another conference attendee pulled up in his car, got out and threw my friend his car keys, told him, "Park it." My friend dropped the keys on the ground and we walked away but we were pretty shocked and awed. Later, we were at a cocktail reception and I was, again, dressed in a suit, wearing a conference badge, when another attendee asked me if I was with the catering staff. Later at that same cocktail party, a renowned scholar offered me a job in his department. I told him he knew nothing about my research, and therefore was curious about what kind of position was he offering. He said, "We desperately need someone who looks like you in our program." Awesome, right? These are not isolated incidents. They happen all the time. In my experience, it is easier for white people in academia to believe black people at conferences are hotel staff than it is to believe they are in the club. As such, my baseline expectation for any conference is that someone will ask me to clear their table.
Last year, at my first AWP, I didn't know what to expect. AWP was an academic conference but I also knew it was a conference for writers and writers are awesome so I naively assumed that awesome writerness would counteract the negative effects of academia. I also assumed that because the conference was in Chicago and Chicago has a really diverse writing community, AWP would be well-attended by people of color. I was wrong and it was disappointing to see few other editors of color and only small groups of attendees of color but no critical mass. Even more distressing was that I would see two, three or four black people (or writers of other ethnicities) together but never interacting with any of the white writers. It was exactly like high school, with the Why Are All the Black Kids Sitting Together phenomenon. When I tried to approach these little groups, it was pretty awkward. I don't know the secret handshake.
Given that it's not good to make assumptions based on only one experience, I decided to wait before I formed any judgments but throughout the year, I started looking closely at pictures from readings, magazine launch parties and other literary events across the country when they were posted online and I don't recall ever seeing a person of color either  at the microphone or in the audience. It got me to thinking, do white writers, editors, and publishers have any friends or acquaintances who aren't white?
At AWP '10, I saw fewer people of color than I did at AWP '09 and several of them I recognized as Famous or Important Writers of Color.  The visibility of people of color of all races and ethnicities was shockingly low. The segregation principle was also still in effect like a prom in Mississippi. At the bookfair, I saw few editors of color manning booths—no more than five (and I'm being generous both in my estimate and my definition of "person of color") in a room with hundreds of magazines. At readings, there were no black people. At parties (save for the amazing dance party), no black people except for one great guy I met with whom I had a great time chatting. At one point I joked we were "holding it down for brown." I think he's the second black writer I've ever met in person. This is, of course, partly because I always live in the middle of nowhere, but still…
This year, the National Black Writer's Conference celebrated it's 10th anniversary. I wonder why such a conference came about. I don't think it is a coincidence that such a conference exists while AWP remains All White People. Beyond that conference there are many other smaller conferences for writers of color held throughout the year and across the country.  There's an entire organization, Cave Canem, dedicated to black poetry.   There's an organization, Desi Lit,  for South Asian writers with several local chapters.  There's a blog to introduce white readers to black writers.  I, of course, mention a only few little things I know about the diverse writing community that extends beyond this little world. I absolutely implicate myself in my concerns as much as I do anyone else.
My discussion of this issue is not a matter of casting blame or trying to inspire guilt but I do think it would be interesting to talk about what I perceive as a really segregated writing community. Is this just my perception or do other writers notice this too? Does this trouble you? Sometimes, it keeps me up at night.
Tags: AWP, Cave Canem
266 Comments