Guest Post: Shane Jones
Finding, stalking, and interviewing writers who haven't published in a while: Dustin Long
Seems like some authors just disappear. They publish a great book and then nothing for five years until I'm starring at my bookshelf and come across their book and think "Why didn't so and so publish another book?" This happened recently when I found ICELANDER by Dustin Long in a stack on my bedroom floor. I love this book. It's weird and whimsical and there's puzzles and snow and murder. I read it twice when it came out in 2007. But what happened to Dustin Long? My prediction was he was either in grad school or got an office job. To find out what happened I stalked Dustin on Facebook and asked the following questions.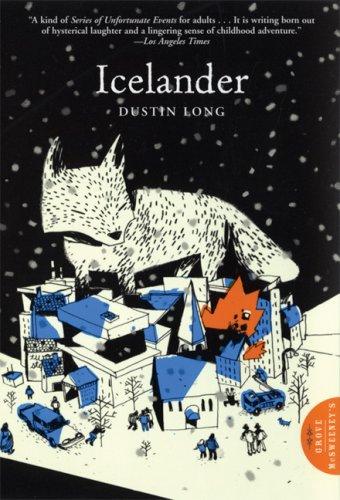 I'm a huge fan of Icelander. It's one of my favorite books. I remember reading it and kind of feeling my own writing open up to new things – maybe it was the playfulness, the energy in Icelander, that broke things open. I'd like to think so. Then last week I was thinking, what happened to Dustin Long? Where is a new book? So, what's up? Everything okay?
Thanks again for the kind words about Icelander. The short answer about what happened to me is "grad school." I'm currently ABD, with a dissertation in the works about the "rise of the graphic novel" and its parallels to the 18th-Century "rise of the novel." We'll see how that goes. New novels are, I hope, on the way, though. I took way too long writing the follow-up to Icelander, which is a sort of absurd historical novel about a Spanish Jesuit priest in 17th-Century China. Research (including a few years learning Mandarin) took a lot longer than I thought it would, but I finished it not long ago and hope to sell it soon. And after I completed that one, I decided that my next book should require no research at all, so I quickly banged out a novel set (temporally) in modern times and (geographically) only in cities where I've lived. I just finished revising that one last week, and I'm pretty excited about it. There was some personal tumult along the way, but nothing that has kept me long from writing.
That's good news – two new books are done. Why are you waiting to send them out? I think this interview may be a series "What happened to this debut novelist I really liked?" Or something like that. I imagined you might be in school or just got an office job and said fuck writing.
I'm not waiting anymore. The China book (Pavilion) took a long time, and I just finished revising the other (Bad Teeth), but with any luck both will be out there somewhere in the next year or so. For what it's worth, I don't think I'd ever say fuck writing. I find it hard to stop one book without starting another. I think I actually dragged out the revisions on Bad Teeth until I had a start on the one I'm working on now.
Do you want my prediction? I think with every debut novelist I'll predict what will happen to them after they tell me what's up. For you, I have some good news and some bad news.
Ha, okay. Hit me.
The good news is that Bad Teeth is going to get accepted at a major press and receive some solid reviews (including a very positive review in the New York Times). People are really going to like that book. The bad news is that Pavillion won't be published for a while. It's too complex for publishers to take a chance on it and you'regoing to get some really harsh rejections, but eventually it will come back to McSweeney's who will do a nice production with illustrations. Also, your cat is going to die.
Yeah, I worry about Pavilion too. It's a hard sell, but I think it's good. Perhaps the strong reception of Bad Teeth will help it along. My cat may die eventually, but then so do we all. The sad part is that I no longer live with her. And that she will die, I suppose.
Thanks for letting me know you're okay Dustin. And good luck with the books. I'm sure I'm not the only one looking forward to them. 
– – –
Shane Jones's next novel Daniel Fights a Hurricane is out this summer.
Tags: dustin long, icelander
13 Comments