Guest Post: Shane Jones
Home for the Holidays's "What is your book about?"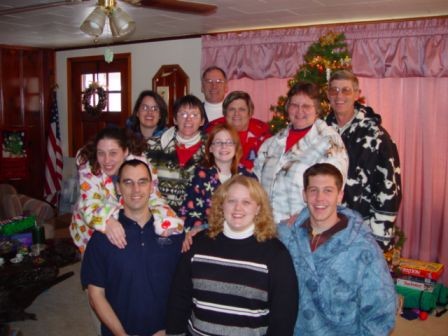 One Holiday gift you can expect from friends and relatives is the question, "What is your book about?" or, "What are you working on?" In need of advisement, I asked several authors how they reply to Uncle Scott while enjoying the crown roast.
I don't blink–I think that is important. I say that I'm working on a novel whose style can best be described as the lovechild of John Grisham and Dan Brown, and that it's the first book of a trilogy set entirely in an Applebee's restaurant. I transform my voice into a strained whisper at this point and admit that the pressure is causing me to have a crisis of faith, then I make vague allusions to something I state I may or may not have done at a rural truckstop. If they're extra-persistent, I say, "Let me just explain the book's main plot," and then I describe the most recent Hoarders episode I saw on A&E. – Alissa Nutting, author of Unclean Jobs For Women And Girls
They're afraid to ask. But if they asked I'd tell them it's about going through a second puberty and making sex with mammoths. So, is it like The Notebook? No, I'll say, it's like we're dying while everybody else is laughing. – Zachary Schomburg, author of Scary, No Scary
I'm rarely, almost never asked, "what are you working on" or "what is your book about." I assume my relatives don't want a narrative and assume or expect I'm doing what I'm always doing — writing. So I have no ready answers, and I'd be surprised if I were asked. Probably I'd hesitate and wonder to myself, Whassup? Then I'd mmble, "I don't know, you know, not much." Or, even more likely, I'd go to the musicians' old-reliable, "Same old, same old.". – Lynne Tilman, author of Someday This Will Be Funny
Well, Uncle Bill the book is called NEOTAP, it is, like, a book about a prison slash treatment center and like people disappear there. (Just remembered Uncle Bill works for the government.) There is, a psycho boss that is like a total fascist, I don't know. And all these crazy things happen. (Hmm, thinking of book he can relate to it, that he might have read, has he read Kafka or Catch 22, no probably not.) Hmm, it is kind of in the style of 1984, you know, like satire. – Noah Cicero, author of Best Behavior
I always say, Abraham Lincoln in outer space – Brandi Wells, author of Please Don't Be Upset
I don't know. I mean it's kind of. I guess it's kind of. I don't know. Kind of. It's just about. It's just about a thing, really. This thing about a group of people, maybe. I don't know. I really don't even know. You know? Just this kind of this thing about a group of people, kind of, maybe. I don't know. It's just a thing. It's not even very good. Honestly. Really. You wouldn't even want to read it, probably. It's just this thing — it's completely awful, maybe? — about this group of people, and I don't know, I'm sorry, I'm really sorry, but if you wanted I could just quickly email you the whole thing, the whole manuscript, and then you could maybe– and obviously only when you have the time — you could maybe provide me with detailed and comprehensive feedback on the whole thing, please, but only if you wanted to? – Chris Killen, author of The Bird Room
After some trial and error with describing the novel I'm working on, I now just say it's Wes Anderson meets the apocalypse, which seems to be at once exact and confusing enough to keep people from asking more question – Laura van den Berg, author of What The World Will Look Like When All The Water Leaves Us
It's a prose-work called My Relationship with the Truth, a book in which I attempt to unpack heavy bags from an occlusion-vacation I went on recently with the occult, amour fou, delusions, signs and symbols, moon-madness, distemper, and jammy cliches like "story," "journey," "heart," "soul." I'll be detailing psychological, somatic, and mystical experiences I've had with potent abstractions like alienation, communion, desire, love, ecstasy, anguish, and loss. Really I will. – Rebecca Wolff, author of The Beginners and editor of FENCE.
– – –
Shane Jones's second novel, Daniel Fights a Hurricane, is forthcoming from Penguin in early 2012.
23 Comments