Blake Butler
Swallowing &Now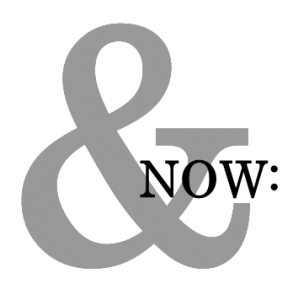 Just got back from a long weekend at the &Now Conference in Buffalo. It was a great long trek with many heads and panels, focused on the termed 'experimental' end of things. Lots of discussion and reading going on and heads chomping. The social elements aside, here's a report from the field of things I attended.
1. Lara Glenum, Johannes Goransson, Danielle Pafunda (stood in for by John Dermot Woods): "Welcome to Gurlesque: Burlesque, Girly Kitsch + the Female Grotesque"
Made it late to this one but came in in time to hear Lara and John talk about some of the issues of the gurlesque genre, which involved some discussion of the pigeonholing of it with traditional gothic and pop gothic concerns. Lara responded by saying something on the order of, "I want to be less refined than Marilyn Manson." Wished I'd heard more, and this would become a problem for the future as the panels continued to elude me via sleeping on floors and running into people in the halls, and eating doughnuts.
2. 30 Under 30 Anthology Showcase
Lily Hoang & Blake Butler (moderators), Joshua Cohen, James Yeh, Matt Bell, Andrew Farkas,
Jaclyn Dwyer, Michael Stewart, Ryan Call, Megan Milks, William Seabrook, Beth Couture
The only panel I sat on involved me and Lily making up false bios for each of the contributors to the 30 Under 30 anthology we edited, which recently got picked up by Starcherone Books. Everyone read for 5 minutes or less, doing the world the favor of being attenuated to the limits of good taste in time. Their array and boinkers-ness made me happy for the anthology as a whole, and felt freeing, as much as a reading in a room in a hotel can.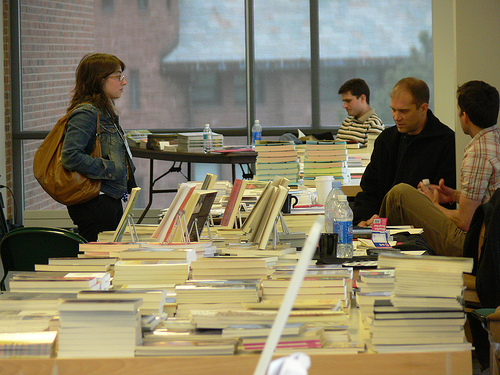 3. Reading: Shelley Jackson (fiction), Stephen McCaffery (fiction)
McCaffery went first and read a lot of small little things, mostly already by this point I was prone to blanking out, as 8 hours thinking and talking about words can make your skin feel like glass. I did enjoy the writing about writing about writing bits of a piece he coread with a woman, trading voices, which would be a commonly favored mode of experimenting among many panelist experimentors. 'Experimental.' Shelley Jackson read her really amazing story about trolling the realm of the dead from the Death issue of Conjunctions. Shelley looked like a cyberpunk from the 80's in the best way, and her story got me out loud even more than on paper somehow, even seeing as it was quite long. Goes to show that a long reading can still be worthwhile, if you are truly getting the value in the speaking out loud, which is hard.
4. Bill Walsh, Matt Bell, Kim Chinquee, Tom Lafarge, Noam Mor, Pedro Ponce, Wendy Walker
"RE: Telling: Making Narratives with Borrowed Characters, Familiar Settings, Classic Plots,
Mimicked Modes and Reclaimed Themes" (critical/media)
This panel focused on texts inheriting their meat from other texts, and how that reinterpretation can work out. This was first thing (for me) on Friday morning so I was a little worse for the wear, and most of it just hypnotized me. The problem with these kinds of gatherings is that by the second day alone most people seem to be like little glass glasses underwater, and trying to pour more water into them just doesn't work. But the water does flow in and displace some of the more water. Matt Bell's excellent reading reminded me that reading with gusto can wake anyone up: if you're going to try to tell me something, say it like you mean it. Pedro Ponce was funny.
5. Lance Olsen, Vanessa Place, Lidia Yuknavitch "Quantum Narratology: Towards a Transactional Interpretation" (critical)
This was officially an 'experimental' panel, much of which consisted of people reading several things at the same time, and then a finale where the presenter read while people in the audience began to make distracting noise on purpose, trying to make some kind of point about marginalizing and overstimulus. I was already overstimulated by this point so I'm not sure how unobvious this point was, and most of the time I spent sitting next to this turd who typed on his laptop with the glowing, using twitter, and breathing irritatedly, etc. At first I started to believe he was part of the performance, but then some of the people performing, before the noise got started, seemed annoyed by him too, that he was making noise, but not their kind of performative noise, and so that wasn't ok with them. I don't know, felt a little haughty, as if in the term 'experimental' you have to be doing something 'radical' or 'conceptual' and not just talk. I wish I'd been able to hear the actual lecture. The macaroon was good, and the Theo Van Gogh film Lance Olsen played with his text seemed interesting, if veiled with the extra text. Someone brought up something about him supplanting new text to an old film (one about slaves) seeming racist, which was funny to watch the stumbling thereafter. 'Racist.' 'Experimental.' I don't know, it was fine.
5.5. (installation exhibit, a multimedia rendering of Lara Glenum's Maximum Gaga).
Johannes and I walked over to check out this sound and video and sculpture installation that Lara Glenum and her husband and two other artists had built (forgive my name-blanking, I am the worst, and x10000), based around text from her book. The sculpture was a woodframe tunnel that looked like an intestine, with a screen in its face that shot Lara's word with some excellent electronic boinking music. Inside the instestine-thing, it had a pile of seatbelts for its intestines. We watched and danced minutely and clapped at the end. Throughout the later readings you could hear the beepbooping in the hall with pleasurelight.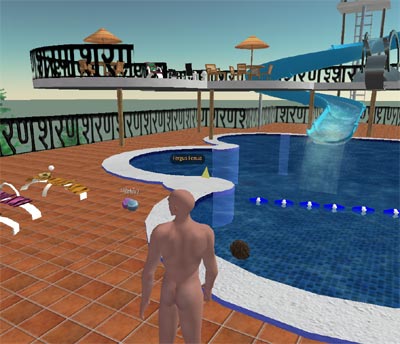 6. HC: Sandy Baldwin, Alan Sondheim, "Avatar Writing" (new media critical)
Michael Mejia, "Red: A Madcap" (digital literature)
Only caught the last 20 minutes of this, which involved installations in the game Second Life, a series of ghosts including Tristan Tzara which would mimic and mangle the speech of users who passed near them. We sat in a large dark room and watched these avatars have fucked discussions through typing, it was refreshing. Then the collaborators took questions remotely via IRC, and talked about designing their avatars and the modes of online performance. Wish there'd been more as fun as this.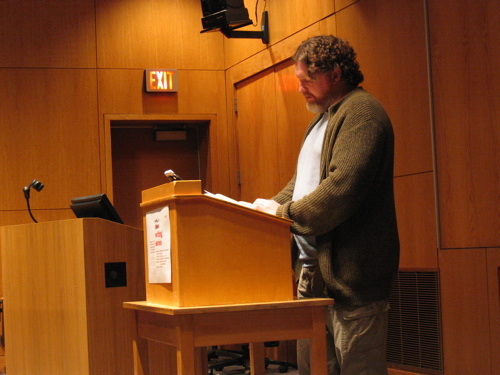 7. Reading: Mary Caponegro, Brian Evenson
Reading in the same dark room as the avatars, Ted Pelton kicked off with a really nice remembrance of Raymond Federman. Then Brian read, beginning with a piece he wrote 20 years ago, 'South of the Beast', and a new piece he had written in recent months, 'Wind Eye', which was magical and fucked of memory, like a new limb off of the weird meat of Fugue State stories. He closed reading 'Invisible Box', which felt much different aloud and in Brian's voice, there seemed some kind of cake platter over the room and there was laughing. Mary Caponegro read a thing mostly back and forth between dialog with children and ornate descriptions, it was nice but I had a hard time holding up my bigass and now severely bloated head. After that decided to forgo future reading for Tom Collinses in the hotel bar.
8. Action Books Reading: Johannes Goransson, Lara Glenum, John Woods
Once again 20 minutes late having woken up in a muddle, but made it in time to hear some of each reader, Johannes read some brutal and body-eating new pieces concerning various characters, often The Passenger, from Antionini's film. Lara is a really fun and powerful reader, and John showed some excellent comics and read from Action Books's Kim Hyesoon title. The whole set was nice to wake up with even under my head feeling still smudged from the night before having walked late in the evening among the douchecrowds of bar scene Buffalo, after which a very wasted Ryan Call ate handfuls of beef and pizza he found on the floor in the hotel hall from room service.
9. Joshua Cohen, Teresa Carmody, Lily Hoang, Vanessa Place
"Inconsequentiality: Why It's Important" (critical)
Probably the most accidentally exciting panel of the whole thing, as it was maybe again supposed to be in the performative mode of the Quantum narrative thing, but Josh Cohen kind of took it to another level in a totally different way when he removed his shirt halfway through the first reading. When it got to him, he admitted to still being drunk from the night before, and that he hadn't prepared anything to say, though the title of the panel had been his ('inconsequentiality'), and that he hadn't written anything for it because it didn't matter and (I'm paraphrasing) ultimately this act of conferencing and conjoining bored him, and that really all he is interested in is his work. In the doing of the work and being inside it. He said everyone could leave whenever. He said he would never attend this kind of thing again. He said he loves his mother. He then brought up how Perec, in an essay on arranging books on shelves at home, suggested one could store theirs with the spines in toward the wall, and that that was how he likes to read. It was a moment of extreme honesty, beyond the point of honesty for 'art's sake', and just cutting to the point of saying 'Hey, aren't we all pretty bored and half asleep in these things?' which is more honesty than some people seemed willing to handle. The room's ruffling of feathers went on from there, but I had to jump out in the middle.
10. Jeremy Davies, AD Jameson
"Writing's Dirty Secret: An Interpretation of Literature's Material Circumstances"
A half-length panel with 4 writers about the nitty gritty aspects of how and where they write, and for how long, etc. I kind of like these kinds of thoughts as basic as they are, and Steve Katz was particularly funny, saying how he wrote in a teepee for a long while, and how he needed an ocean, and how the tools he used for one project were a pick and shovel. This had to cut just as it was getting cooking, and it was about time for me to get on a plane.
Ultimately, my experience of the conference was fun. The panels and readings have a value in that they exist, and in that you gather bits and pieces out of each, but often it quickly becomes such a wash that the real pleasure is in the social aspects, and in the hanging out. The books talk is fine and good, and there for you if you want it, but I can't say I don't agree with Josh in that discussions is entirely secondary and blank compared to the time spent in the actual work. Social aspects and accumulations of things like that turn me off, but in the end these gatherings are nice in that I see people who are truly friends, and there are words. I will continue to attend these kind of things because it feels nice to get out of the house for once and be in the presence of some people I really admire and enjoy. A good room to roll around in, but quickly the itch for getting back to work turn on the eat.
Tags: &now, book conference
18 Comments