Blake Butler
What I Read While I Was In Europe
With two 10+ hour days of flying, plus several train days sitting between parts of Paris and Italy (including one where Ken and I went on a loop between the two, continually fucking up our connections), I had a lot of time during the 12 days of traveling in Europe with which to spend with my head stuck in a book. As a result, I plowed through 4 books and the beginning of a fifth, all works in translation, including titles by Jacques Roubaud, Alain Robbe-Grillet, Eric Chevillard, Zoran Živković, and Werner Herzog.
Here are some brief thoughts on each: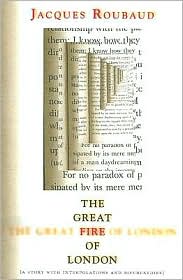 The Great Fire of London by Jacques Roubaud (Dalkey Archive)
Kicked off the trip with this fat badboy from Dalkey, which carried me up to Washington DC and then through several days in Paris. It's one of the more original premises and executions of a book I've seen in a while, and no surprise in that it is from a major Oulipian. Basically, the book is a book about the book itself more than a book of normal concerns. Not quite a writer writing about writing (thank god), but more a writer spooled in the blank space between such, and crushed in his weird onslaught of memory, a dream conceit of trying to compose a novel that never exists, and the crippling brainspace of having lost a wife. Not quite nonfiction, not quite not, a text about text that manages to do a lot of beautiful examinations of life, such as making jelly, and the descriptions of shapes of rooms and light, among which I was surprised at how compelling he was able to keep the compulsion alive across such a massive tome that essentially is all talk of what it is over being what it is, but then extending through that to actually become the blank. Terrifying in the most on-its-face banal of ways, and electric for its method. Felt right to read this one in Paris, which I had not even realized the connection of which (nor, I swear, did I mean to bring all French authors to France, it just happened).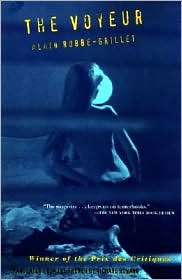 The Voyeur by Alain Robbe-Grillet (Grove)
Read mostly in one sitting on the train from Paris to Turin (twice over). Having loved several of Robbe-Grillet's other books, I was really into this one too, the way he manages to build suspense and horror in describing the fringes of the dark, rather than the dark itself (a tactic that transfers over greatly in Brian Evenson's work). Basically about a watch salesman visiting the town where he grows up and an impending trail of blank brain and things left out around the murder of a young child, asking a lot of questions and trailing off into corridors meant to take you from the center to the gate. Had my mind.
My edition of this book (seen on the right) had a woman half naked on the cover, and considering the sultry title it was fun to read this in public while sharing seats with other travelers and their children. I got a lot of curious and askance glances for that. I wouldn't call this an entryway for Robbe-Grillet if you haven't read him before, but it's definitely an important one if you already dig him.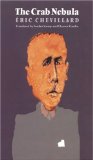 The Crab Nebula by Eric Chevillard (University of Nebraska)
I had read about half of this before and got distracted, brought again and started over. A really funny voice and wicked smart, kind of like if Vonnegut were less pop and more French. A really quick and idea-driven read that got my brain working while still in those cabins of the train. One scene where the protagonist, a freak-being known as Crab, writes down every possible combination of words ever, thus predating all possible texts in the universe, particularly made me sunny: I had to read it 3-5 times and just enjoy. Need more of this man in translation (actually, the new Puerto Del Sol has a piece from him translated by Evenson, check it out).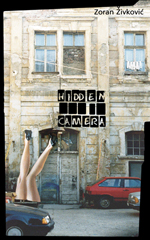 Hidden Camera by Zoran Živković (Dalkey Archive)
Read this in a very small hotel room in Murano off the coast of Venice, a room that had a closet attached to it that freaked me out for some reason. The room was sealed of all light, and so reading this in that little box made me feel extremely peculiar and led to some twisted dreams. I woke up and had to watch naked girls on the Italian public TV to distract my mind so I could sleep. Honestly, I didn't dig this one as much as most other Dalkey books, in that the language is pretty bland. I was constantly trying to edit out lines as I read, too much explanation of the narrator's logic for what he does what he does, but the story itself is quite compelling and I literally had to keep reading until it was over as every chapter continues to open doors in strands and make you want to continue to see what happens. Reminded me a lot of Scorsese's After Hours, recently discussed here, for its circuitous looping and total odd. A good trainride book.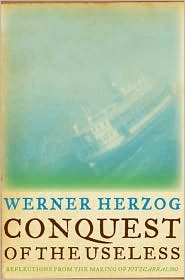 Conquest of the Useless by Werner Herzog (Harper Collins)
Picked this up at Shakespeare and Company in Paris while we were out with Dennis Cooper. Had been wanting to pick this up for a long time, as Herzog is a huge hero, and I love the concept of the book, which is his journals entries during the making of his film Fitzcarraldo (a movie about a rubber mogul literally pulling a 320-ton steamship over a mountain, which Herzog literally did in the film, no effects). So far about 100 pages into this 300 page power, and could not be more reeling over it: this is not any man's journals, this is a giant's: Herzog might be as good a writer as he is a filmmaker, which says a lot. Basically so far we are following him through the monumental fuckdown that is trying to get budget funds for an insane art film project, balancing the insanity of trying to film in foreign countries that are run in the style of no style (that is, purely insane), and otherwise the laundry list of hell and fucked up animals and people and more gorgeous creation that Herzog experienced in the production of one of his greatest and most ballsy works. Seriously makes me giddy to see someone so hell bent and burned with vision, and so adept at writing about it (I mean really, the sentences here are fire, and massive. Visual like Vollmann meets Tom Waits, with immense and searing language. Gets even better when you imagine it in Herzog's voice). Thus far, I haven't even gotten to him handling Kinski yet, which is where shit really flies. Jesus Christ. Probably will end up in my top 10 of the year, without question. Black as fuck. Power. Out of all of these, I suggest you buy this now.
Tags: eric chevillard, jacques roubaud, werner herzog
22 Comments