Adam Robinson
Everyday Genius: The June Issue
(This is my first post here in a while, ugh, and it's lame that it's about PGP, but dang I'm all wound up in excitement for this, so why not, and plus it's a good deal.)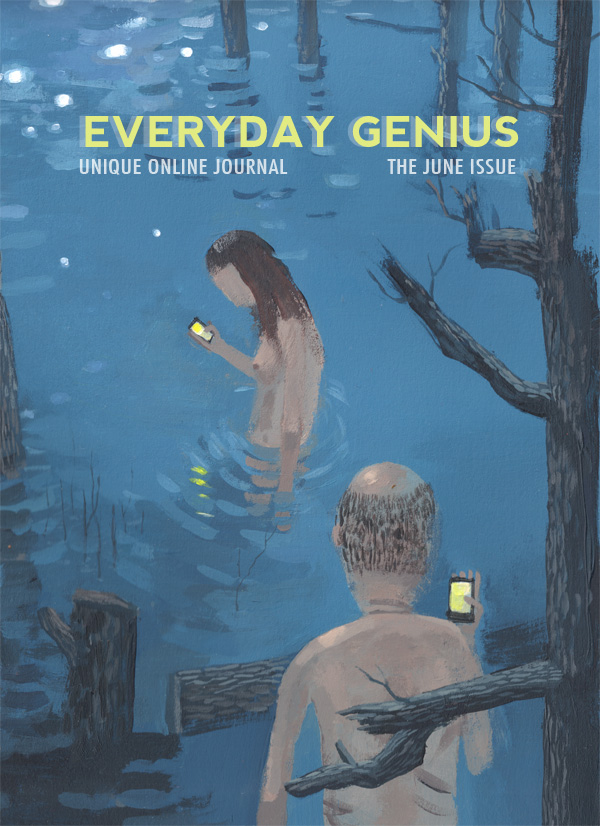 To celebrate The June Issue, Everyday Genius's first ever print issue, I'm giving a prize to three people who order it before Friday, June 1 (previous orders are being entered to win as well). The prize is a PGP care package, which includes recent books Falcons on the Floor by Justin Sirois (review at The L Mag), Meat Heart by Melissa Broder (review at The Rumpus), Rachel B. Glaser's Pee On Water (just reviewed brilliantly at The Nervous Breakdown). ALSO included will be Joe Hall's Post Nativity and Stephanie Barber's book/DVD these here separated. ALSO also included, Joseph Young's Easter Rabbit and David NeSmith's El Greed. Finally ALSO also also included, a PGP tote and a PGP koozy cuz why not cuz it's summer.
I'm going to go take a picture of this bounty and post it at the bottom of this post. Here's some info about wtf is The June Issue.
The June Issue of Everyday Genius is 110 pages of goodness. It keeps the same EG format of a selection of writing for each day of the week, Monday through Friday, and the format of messing with that format. There are 21 days in the month, so that's 21 writers, plus a few bonus things like pictures. There's art, in color, by Jeanne Liotta and John Dermot Woods. The amazing cover was painted by Jimmy Chen. If you were just wondering to yourself "what's new, what's happening?" you will be happy to know that this is the new thing that's happening.
The issue features work by Stephanie Barber, Bryan Beck, Molly Brodak, Virgil W. Brower, Sommer Browning, Paula Bomer, Aaron Burch, Jimmy Chen, Matt Cook, Tasha Cotter, Rachel B. Glaser, Noah Eli Gordon, Steven Karl, Michael Kimball, Catherine Lacey, Jeanne Liotta, David NeSmith, Tyler Smith, Jeffrey Snowbarger, Sampson Starkweather, Frances Sultan, Chris Toll, John Dermot Woods, Lesley Yalen, and Joseph Young.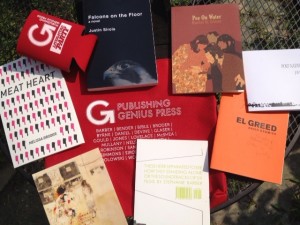 Some highlights for me include Stephanie Barber's excellent story, "Dishonest," which I first read several months ago and was surprised by it enough that it never left me. "Dishonest" is so true. There are two poems by Matt Cook, who I think it's fair to say can be credited with my return to love for poetry several years ago — and I'm not the only person who credits him thus. From Virgil W. Brower there is a theology essay on rhyme. From Sampson Starkweather a 2000 word poem. From Steven Karl a poem to break your heart. Noah Eli Gordon brings up the cops, Rachel B. Glaser brings up the Olsen twins, and if an excerpt from Michael Kimball's novel doesn't grab you, maybe the poster of his cat will.
Enter to win the prize package by ordering The June Issue here.
Tags: everyday genius, Publishing Genius
8 Comments