Blake Butler
I didn't know Flannery O'Connor was a whore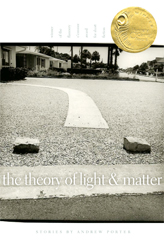 In their manner of honoring the dead old lady from Milledgeville, GA, UGA Press, ever the pioneering visionaries, have 'blindly' selected Andrew Porter's The Theory of Light and Matter, which comes, blindly, from an Iowa grad who has published stories in One Story, Epoch, the Pushcart Prize anthologies, and so on.
Those factors certainly don't have to add up to a boring book, if a slightly predictable one, but then the copy on the book's win already has the thing looking like it will be on the shelf next to all those books we could have read in its place:
In the tradition of John Cheever, ten stories that explore the loss and sacrifice in American suburbia: These ten short stories explore loss and sacrifice in American suburbia. In idyllic suburbs across the country, from Philadelphia to San Francisco, narrators struggle to find meaning or value in their lives because of (or in spite of) something that has happened in their pasts. In "Hole," a young man reconstructs the memory of his childhood friend's deadly fall.
Sure, O'Connor wrote narrative stories with development and all, but she did that years ago, before a lot of others, and I can't imagine what she'd be doing now, years later. I honestly think this kind of repetitive story blandering is a knock on her name more than a praise.
'Don't shit in my mouth and call it a cookie.'
Even Barry Hannah's blurb seems a little stilted: "I've known of Andrew Porter's genius for ten years. He's a born storyteller. Every page of The Theory of Light and Matter will change something in your life and refresh you. Yet it is an easy read, nothing like classroom lit. He makes his own space instantly and invites you in. Hats off!"
So here's to another win we could've called from outside the stadium. Another contest rewarding mimicry. Can't wait to read more Cheever. Yay.
Tags: andrew porter, flannery o'connor award
42 Comments