Ryan Call
Latino Book Contest at Conversational Reading and An Earnest Post About My Favorite Independent Bookstore
Scott Esposito wants to give five books each to five Conversational Reading readers. All you have to do to be eligible is write about your favorite independent bookstore and email him. Full details:
To enter, simply email me a short description of your favorite independent book store. Make sure to include the city and state it's located in, and why it's your fav. Also include your mailing address (sorry, no entrants outside the U.S. and Canada, and no PO boxes) and make the subject line Conversational Reading May Contest.

I'll pick five winners at random and announce here next Friday.

Here are the books:

1. B as in Beauty By Alberto Ferreras

2. Into the Beautiful North By Luis Urrea

3. Hungry Woman in Paris By Josefina Lopez

4. The Disappearance of Irene Dos Santos By Margaret Mascarenhas

5. Houston, We Have a Problema By Gwendolyn Zepeda
I'm not sure if he'll post all of the entries, but I hope he does. I enjoyed reading the Bookstores Category at Maud Newton, so it would be nice to have more of that, I think. After the jump, some memories of my favorite used bookstore.
For nostalgic reasons, my favorite independent bookstore will always be Burke's Books in Memphis, to which I went often when I was in college. I just figured out that Burke's moved from its original location, so it was really hard for me to find a picture of it as it was when I went to it.
Fortunately, Google Maps saved me and I can revisit old times. I'd park my '92 Ford Explorer (stick shift) in that little parking lot on the left, and then go into the store straight to the fiction shelves, which were on the right as you first walked in. After looking to see what recent used books they had shelved, I'd then check the essays section, then head back to the philosophy and religion sections. Near the register they had a glass display case of early McSweeney's stuff, and I remember they even had that huge Vollmann set on violence. Memorable purchases from this store include (but are not limited to) the following: Snow White by Donald Barthelme, Fiction And The Figures Of Life by William Gass, Levitation by Cynthia Ozick, A Supposedly Fun Thing I'll Never Do Again by David Foster Wallace, Mystery And Manners by Flannery O'Connor, and Wittgenstein's Tractatus Logico-Philosophicus, which I read without understanding a single word (I loved it, though, for the numerical sequences and how everything looked on the page).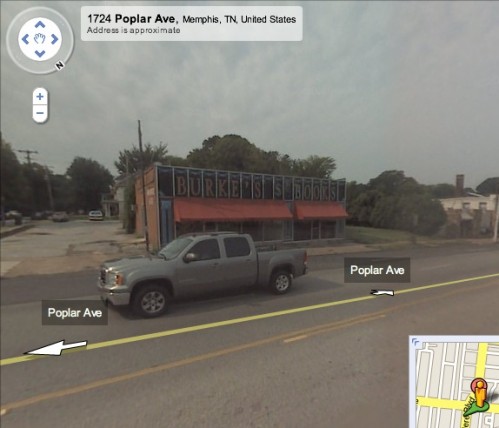 I like this bookstore because it was small, but very comfortable, and the books on the shelves always seemed to change (I don't know how they got so many good incoming books). I have nice memories of this bookstore because I went there as a young, immature sort of wannabe writer, a time when everything was exciting to me and I wrote recklessly. A lot of foundational books, for me anyhow, came from this bookstore. I never met the owner, Corey Mesler, but I see his name around the internet in various publications. I wish him luck in the new location.
If you are in Memphis, visit Burke's at 936 S. Cooper St. so you can buy something.
***
Oh, Google Maps, how sad you've made me now: I just moved the little man west one step and it looks like Google updated the streetview, and now you can see construction on the building after Burke's left (it became an auto shop). I'm off to weep and change the tire on my car.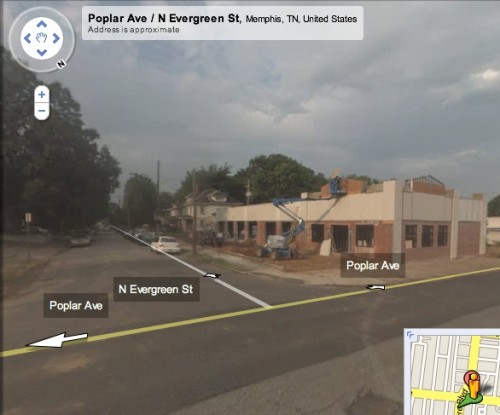 Tags: Burke's Books, Conversational Reading, Scott Esposito
16 Comments