Scott Esposito
HTMLGIANT recently featured a review of The Fata Morgana Books by Jonathan Littell, published by the fantastic Two Lines Press that is bringing some splendid international works into English. I had a chance to ask Scott Esposito some questions about the press.
***

Janice Lee: What is Two Lines Press and what sets it apart from other publishing projects?
Scott Esposito: Two Lines Press is a nonprofit publisher of exclusively literature in translation. We're akin to a number of nonprofit translation publishers (e.g Archipelago Press, Open Letter Books), but I think there are a few things that set us apart.
First off, I'm not aware of anything like us in the San Francisco Bay Area (where we're headquartered), which I think is significant. We do a number of events in the community each year, and we're in contact with some of the best local bookstores. I think it's an important thing to have a press like us pushing the translation line around these parts.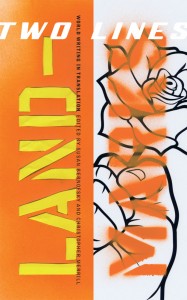 We also have a journal of translation (in addition to publishing books) called TWO LINES, not something that most translation presses can boast. For 20 years has been published annually, and starting in Fall 2014 it will publish twice-yearly. The journal has worked with a lot of the best people in translation, and I do think it's a pretty special thing to have on with us.
Then there's the fact of our literary aesthetic. Most translation-only presses are such small, intimate operations that the prejudices of the staff and their tight circle of translation friends really shines through. I don't think it's too much of an exaggeration to say that we have our own particular take on what constitutes "great literature."
And maybe one more thing: we have our own podcast called That Other Word that I cohost with the incredible Daniel Medin of the Center for Writers and Translators at American University in Paris. We do a 15-minute segment of new translation recommendations and then a 45-minute interview with a translation professional. Past guests have included Ngugi wa Thiong'o, Lorin Stein (of The Paris Review and FSG), Ethan Nosowsky (of Graywolf), Sylvia Whitman (of Shakespeare & Co in Paris), Margaret Jull Costa, Petra Hardt (of Suhrkamp).
JL: It seems that there's been a renewed interest in translated works in recent years and more publishers concentrating on bringing more unknown works to the US. Does this seem to be the case for you? And if so, why do you think this is?
SE: It's possible—Chad Post tracks the number of fiction translations published each year, and the number has been increasing over the past few years. Although, it is hard to tell if this is a trend or an aberration right now. (For instance, that number was bumped up significantly by the creation of AmazonCrossing, which accounted for nearly 10% of the total in 2012, but those books were largely horrible titles that have no literary value, and it looks like Amazon is now backing off of publishing.)
But definitely there is more of a conversation around translation, and more of a sense of shared mission and solidarity among the people in the community. You can ascribe some of that to the community-building enabled by Internet technologies, and initiatives like the PEN World Voices Festival or the Best Translated Book Award.
But, in my opinion, the most significant reason for any renewed interest in translation is because this is where a lot of the literary innovation is occurring these days. There are kinds of fiction available in translation that are simply not produced here in the U.S. When I think of titles like Blinding by Mircea Cartarescu, Karl Ove Knausgaard's My Struggle sextet, the work of Roberto Bolaño, Hilda Hirst, Laszlo Krasznahorkai, just to name just a few recent examples, it's very clear to me that fiction like that is not being written by American writers.
As serious writers and readers here in the U.S. have become interested in having new experiences and expanding their artistic horizons, I think it's been a very natural thing to look abroad for new influences.
JL: What are some of the unique challenges and pleasures that are presented as a press working solely on works in translation?
SE: For me, the biggest pleasure is the privilege of being among the first to read some of the best of the best literature from all around the world. Editing at a translation press is like having people hand-pick the very best books they can find from all over the globe and then deliver them to you. That's an amazing position to be in.
One thing that's both a challenge and a pleasure is working with translators. It's a pleasure in the sense that translators are some of the most articulate, knowledgeable, passionate book people I've ever met. Getting to correspond with them daily and hang out with them at conferences and such is such a treat, and it's made me a far better reader, writer, and person. Working with them is a challenge in the sense that you have to develop a different set of editorial practices in order to work with a translator, as opposed to directly with the author. It can be tricky to edit and evaluate something when you're actually reading someone's interpretation of an original text. This is even more of a challenge when you consider that in translation there is never any "right" answer—on each page you are forced to choose the best compromise among a host of options with their own pros and cons.
The other challenge is strictly practical: translations come with their own particular expenses, we're often reliant on readers to report on books for us, and, despite gains, it still is hard to market translations and get press attention for them. All of that makes it a lot harder to stay above water (one of the reasons we are a nonprofit).
JL: What are some titles you're especially excited about?
SE: As a huge fan of Laszlo Krasznahorkai, I can't help but anticipate another Krasznahorkai title that Ottilie Mulzet is working on right now (she's the one who did that incredible, incredible translation of Seiobo that just came out this fall). It's called Destruction and Sorrow beneath the Heavens and it will be appearing with Seagull Books, one of the most interesting translation presses to come on the scene in recent years. For a preview of this title, you can read more about it in Issue 2 of the journal Music & Literature. (I'm also pretty sure Ottilie discusses it in an interview I conduct with her in the same issue. If not, read it anyway—her discussion of Krasznahorkai's career should be a no-brainer for any fan of his work.)
Open Letter is set to publish two books by the Chilean author Carlos Labbé: Navidad & Matanza and Locuela. I've read the latter in Spanish and the former in English, and I think Labbé has huge potential to be one of the best recent discoveries from Latin America.
NYRB Classics is doing this giant selection of Balzac's short stories, which I am hugely excited about. I am an unabashed Balzac fanatic, a person who thinks every creative writing student in the country should read his best work and try their best to achieve even 1/8th of his magnificence. Any time I see a Balzac translation that I do not own, I immediately buy it, and then I read it. So 400 pages of mostly untranslated stuff is a blessing.
As a big fan of Edouard Levé, I'm excited to see that Dalkey Archive is publishing his Works in 2014. This title consists of a list of his potential literary projects. And there is also Melancholy II by Jon Fosse. The first volume of Melancholy was one of the darkest, toughest, most Bernhardian texts I read in 2013.
My colleague CJ Evans adds that he's excited about the Henrik Nordbrandt title When We Leave Each Other forthcoming from Open Letter Books. He's also looking forward to Grzegorz Wróblewski's Kopenhaga, forthcoming from Zephyr.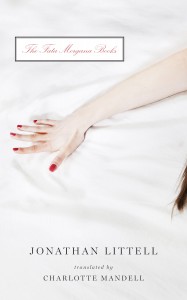 JL: Does Two Lines have anything exciting lined up for the near future?
SE: Of course! Next year we are doing a remarkable book called Baboon by one of Denmark's leading authors, Naja Marie Aidt. It's a series of utterly bizarre short fictions, each of which just keeps accelerating until it achieves this kind of demented headlong force. Reading the book as a whole is kinda amazing. As I read each fiction sequentially, my eyebrows kept raising higher and higher until I think I strained a muscle. She really achieves this strange aesthetic territory that is wholly her own, insofar as I can tell.
Then after that we are doing this book called Self-Portrait in Green by Marie NDiaye, which is a completely absurd "memoir." NDiaye claims that this book is about herself, but it has dead women roaming around it, all these "women in green" who keep popping up and freakishly menacing her, a section where she visits her estranged father in Africa that I'm still not totally sure whether is a dream or not. It's a really crazy, extraordinarily well-written (and extraordinarily well-translated) re-imagining of what a memoir is.
JL: Is there anything you'd like to add?
SE: I guess I'd just like to say that if you are one of those people who loves translation and loves the presses that publish translation, then take a moment right now to purchase a subscription to one of them. I can't tell you how happy you will make that press. As a publisher, subscriptions are just about the best thing ever. Not only is it great to know that readers put that much trust in our editorial vision, but it's also really, really helpful on a purely practical level: knowing that we have a list of people who have already signed on to purchase our books no matter what really frees us up to not think about sales to such a large extent and to do the really risky projects. So whether it's us or Archipelago or Open Letter or And Other Stories or whomever, get that subscription.
***
Scott Esposito is the co-author of The End of Oulipo? (Zero Books, 2013) His work has appeared in the Times Literary Supplement, The White Review, Bookforum, The Washington Post, The Believer, Tin House, The American Reader, Music & Literature, and numerous others. He edits The Quarterly Conversation and is a Senior Editor with TWO LINES.
Behind the Scenes
&
Presses
/
Comments Off

on Two Lines Press: Interview w/ Scott Esposito
December 10th, 2013 / 11:35 am
The Center for the Art of Translation is running a donation/giveaway contest through Jan. 11th of 2010. Here are details:
Give $5 or more to the Center between now and Jan 11, 2010, and you'll be entered into a drawing for books featuring Lit&Lunch translators, as well as Wherever I Lie Is Your Bed. It just takes a minute to donate online.

First prize is a three-book package featuring two of this year's most exciting translators:Natasha Wimmer and Breon Mitchell. The winner receives translator-signed copies of Roberto Bolano's 2666 and Gunter Grass's The Tin Drum, plus a copy of the newest Two Lines anthology, Wherever I Lie Is Your Bed.

Two runners-up will each receive a translator-signed copy of The Tin Drum and a copy ofWherever I Lie Is Your Bed.

Every donation really counts, which is why we brought the threshold for this giveaway to just $5. Those who pledge $20 or more will get 3 chances to win, and those who sign up for a recurring donation totaling $50 or more over the course of next year will have 5 chances to win these excellent books.
Contests
/
Comments Off

on Center for the Art of Translation Contest
December 15th, 2009 / 5:30 pm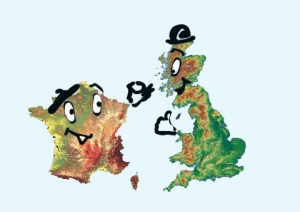 Bolaño fans will be interested to see this interview with translator Natasha Wimmer over at the blog of the Center for the Art of Translation.
Scott Esposito: First I wanted to ask you about these new Bolaño texts they're digging up, particularly El Tercer Reich ("The Third Reich") and the supposed sixth book of 2666.

Natasha Wimmer: I've read "The Third Reich" (and in fact, it looks like I'll be translating it, though I have yet to sign on the dotted line). It's about an elaborate board game called "The Third Reich" (Bolaño was a great fan of war games), it takes place on the Costa Brava, and it pits a German tourist against an enigmatic South American who rents paddle boats on the beach. I loved it.

I haven't read the purported sixth section of 2666, or even really heard much about it. Maybe it will remain forever ghostly—the spectral answer to all our 2666 questions.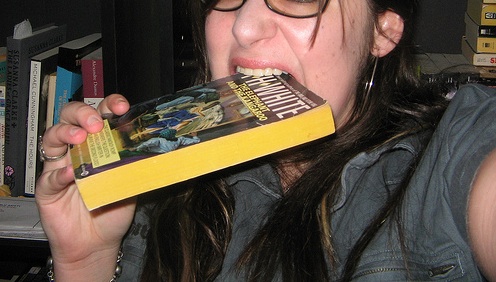 Scott Esposito has begun posting at Conversational Reading a series of interviews with various publishers of small presses. Here's what he has to say about the series:
In order to get some a picture of how publishing beyond New York's giants is faring, I'm going to be conducting interviews with presses and publishing them here. I'll be interested to see if they're feeling the pain every bit as much as the big guys, or if their different publishing models are yielding different results. I'll also want to see what they're doing to stay competitive in this market and if they think the recession is going to shake up publishing at large.
So far he's heard from Declan Spring of New Directions, Fred Ramey of Unbridled Books, and Richard Nash of Soft Skull/Counterpoint.
The series can be read at this link.