Judge: Brian Oliu
ToBS R3: "Everybody Has a Story" (1) v. Literary Marriage (5)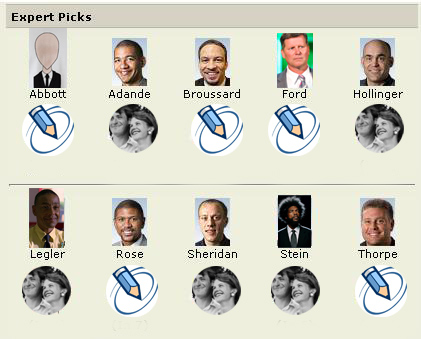 [matchup #55 in Tournament of Bookshit]
Midwest Round of 16, Sprint Center, Kansas City, Missouri
After a mathematically efficient run through the opening weekend of the tournament, "Everybody Has a Story", the First Day of Your Undergraduate Intro to Creative Writing Course Skyriver Conference Champion, faces off against perennial underachiever Literary Marriage, an at-large team from the Contributor's Note America-12 Conference in what promises to be a contrast in styles.  "Everybody Has a Story," the number-one seed in the Midwest Bracket and Bookshit Final Four mainstay got to Omaha with a tactical waxing of "Show Don't Tell" in the opening round of the tournament, followed by their devastating disposal of "Following 1000s on Twitter", whom despite their up tempo "40 Minutes of Hell" defense were eventually overwhelmed by the methodical pace of "Everybody Has a Story".  Literary Marriage, on the other hand, squeaked out a dramatic win against potential bracket buster Child of Famous Author's Novel in the 5 vs. 12 matchup in the opening round followed by a hard fought victory over favored NaNoWriMo, who had a large early lead in that game but eventually ran out of steam, which led to an awkward finish in which NaNoWriMo (#12 in the AP poll) publically celebrated their victory on various social networking platforms despite falling short by at least 13,000 points. 
The pedigree of "Everybody Has a Story" is something that cannot be overlooked in this matchup:  simply put, "Everybody Has a Story" has been here before.  This marks the 14th trip to the Bookshit Sweet 16 since the Bookshit field expanded from 48 teams to 64 with the invention of the Internet, winning the title in 1997 (55-48 over alt.writing usenet signatures with quotes in them), 2000 (61-55 over listing poetry as one of your interests on your makeoutclub.com profile), & 2008 (67-64 over 2007 Mean Week).  There is a cult of personality that is associated with this club:  the familiar chants of "Everybody Has a Story" ("Everybody Has a Story"'s calling card—a greeting between those members of "Everybody Has a Story"'s faithful:  their "Aloha"; their "Namaste"; their "Peace, brother, sister.") echoing through the annuls of history and time and hallways of higher learning where saddened adjuncts use the phrase as a rallying cry in order to erase their students' lament of imaginary forcefields such as "Writer's Block", or "Nothing interesting ever happens to me."  The true fans of "Everybody Has a Story" are found not only in classrooms but come spilling out of the mouths of the proletariat:  our mothers and fathers, uncles and aunts, who hear about our short stories, our numerous "projects", our catalogue of villanelles, our copy & pasting of GChat conversations say these familiar words to us as a way to suggest that perhaps we are wasting our time—that our mothers and fathers, uncles and aunts also have stories that wish to be heard, about that time when, or how crazy my life is.  "Everybody Has a Story" is a way to say that "yes, I have a story—yes, it deserves to be heard."  Even those who feel hatred boiling in our hearts for the clean-haircutted, plays "the right way" pedigree that is associated with "Everybody Has a Story" finds themselves uttering those words from time to time—notably on airplanes when a chatty woman in a non-hooded sweatshirt notices the book that we are reading does not have any stickers on it and we are forced into a conversation about literature and they tell us that they, yes, they, should write a book one day, and us, yes, us, in our charmingness tells them that, yes, "Everybody Has a Story" in a way to encourage them to follow their hearts, follow their dreams, use Microsoft Word right-click Thesauri like they are experts in word choice, and to type "http://www.howdoipublishmybook.com" into the google search bar.  The adage is true:  everybody loves a winner, even when we hate the ones who are winning.
But is a raucous partisan crowd and the allure of legacy enough to knock off "Literary Couples"—a team that has underachieved this season, but finds itself with a chance to advance to the Elite 8 for only the second time in its history?  "Everybody Has a Story" seems to bring out the worst in their opponents:  quite frankly, teams tend to play sloppy against them with no real answer or comeback for their methodology.  This could cause significant trouble for "Literary Couples" who rely upon tumultuous threads in order to execute—at times it as if they are perfectly in sync with each other:  one tweets from their iPhone on the couch while the other tweets from the desk in the kitchen, a beautiful harmony, always crisp, and often spectacularly entertaining.  In an odd twist, "Literary Couples" tend to rely a little heavy on their freshman class:  wide-eyed and opportunistic individuals who are simply happy to be there and play with reckless abandon, whereas the tactical presence of the seniors occasionally works as a disadvantage: at their best they are a stable rock that keeps the group grounded, yet at their worst, they fall to infighting and lose what it is that made them love this writing game so much in the first place—too concerned with their own stats and how they stack up with their teammates, where they will be drafted, if they can be included, somehow, in a package deal (and yet they will play as many minutes yet be compensated considerably less and not be allowed to replenish themselves with healthy delicious electrolytes found in Powerade).  At some point they will stop publically acknowledging each other's accolades, and it is there where the tightly woven cloth can become unbound and unpredictable, as in the opening round of the 1963 tournament in which starting Power Forward Sylvia Plath after being involved in a tie-up with her own teammate, shouted "I Am the arrow!" and kicked over the time-keeper's desk when the ball was awarded to their opponent (and 1963 Tournament winner, "Turtlenecks").
The methodical pacing and relentless attack of "Everybody Has a Story" might simply be too much for "Literary Couples" to overcome—I expect "Literary Couples to start strong but fade into jumbled chaos at the end.  However, the individual explosiveness of such a fallout might cause for a spirited run late in the second-half, and it will be up to "Everybody Has a Story" to maintain their poise.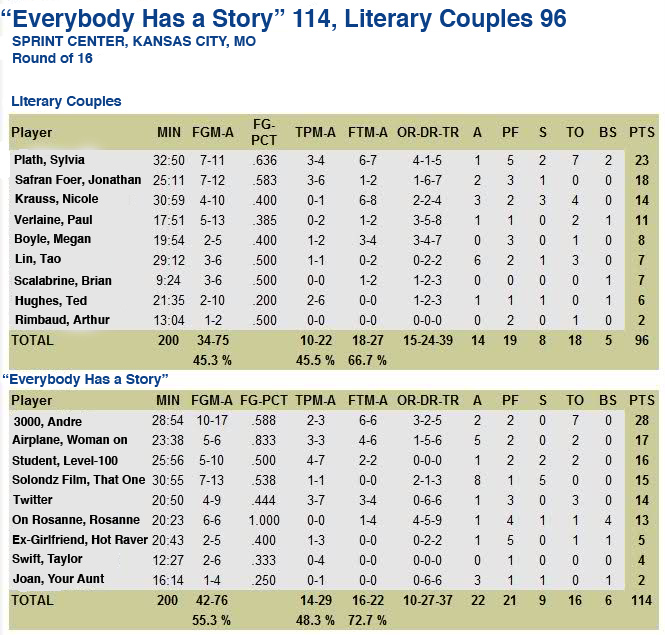 – – –
WINNER: 'everybody has a story'
Tags: everybody has a story, literary marriage
4 Comments