Lily Hoang
meta-blah
I'm reading Clarice Lispector's The Hour of the Star. Lispector is a powerhouse writer, no question about it. Her sentences are like the rapture, like the world is ending all around me and there's only this, her words, and I want to grab them by the fistful and hide them in my shirt pocket for safekeeping, even though doom and thunderbolts are all around me. BUT, but, even as I read, I'm skeptical because the book is metafiction, and I've found myself increasingly bored with metafiction.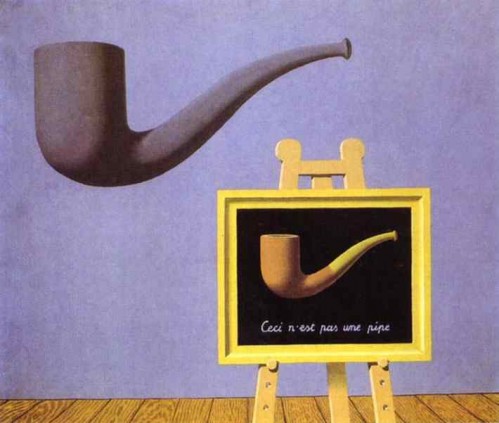 So let me back up a bit: I remember the first meta books I read, Gass's Willie Master's Lonesome Wife and Federman's Double or Nothing. I came to metafiction late, the summer before grad school. I remember the epiphany, like wow, I didn't even know fiction could do things like that. I mean, I'd read books with meta elements in it before, for instance, a lot of Calvino and Carson, but there was something about Gass and Federman that really drove it home for me.
Flash forward a year and a half later. I'm still in grad school, but I've read a lot more. I'm on a train, from South Bend to Chicago, to get on a plane to go to Texas, I think, if memory serves me, and I'm reading Salvador Plascencia's People of Paper, and I'm loving it, like loving it more than many other books I'd read. The story is smart, the form is exciting, etc. etc., and then, bam! It turns metafictional. The moment Saturn is revealed to be Salvador Plascencia, I lost interest. One trick pony kind of thing, only the pony is missing a leg, which isn't clever or unique but malformed and a bit pathetic. I finished the book, unimpressed with the way the narrative turned.
Last fall, I taught PoP to my Advanced Fiction Writing class. Most of the class suffered through the first third of the book. They had a hard time understanding how the narratives fit together. They couldn't make the connections, BUT THEN, the second section, Saturn is given an identity and the book turns meta, and the students LOVED it. This made the book work for them. They had the same reaction I had to meta when I first came across it. They rejoiced, many of them chanting: I didn't know fiction could do that. And yet, this was the precise moment when I grew bored. And second, third time around, I was even more bored with the trick.
And it continues, the boredom. Even as I read Lispector or Sorrentino (who I love), I'm weary of it. I want something new. So I wonder about the form. I've read meta recently that works and works well, but there's something about the mournful writer writing about writing, ugh, just so exhausting. I appreciate meta when it's smart self-consciousness, but it seems like a lot of meta stuff I've read lately is plain boring.
Earlier today, I had a conversation with Matt Bell about metafiction. Here's part of it, many of these statements were "probed":
I think there's a lot of tired ass metafiction out there, but that's a limit of imagination, not of form. I remember reading Egger's HBWOSG, which is probably a book I'd struggle to get through now, but ten years ago, when he'd break the story to acknowledge the fact that he was fabricating the scene you were reading, and then the characters in the scene are discussing that, etc., I was kind of blown away. Like, OH NOW EVERYTHING IS POSSIBLE, which is such an ignorant reaction—I just hadn't read anything yet.
Or think about this: the OED says metafiction is: Fiction in which the author self-consciously alludes to the artificiality or literariness of a work by parodying or departing from novelistic conventions (esp. naturalism) and narrative techniques; a fictional work in this genre or style.
Given this definition, how can metafiction be boring? How can it be tired? And yet, it's both these things. It's been done very well, by many people, and now, what's left? But here's my problem: I write metafiction. Almost all my books have some metafictional element, so selfishly, I want to know which aspects of metafiction are worthwhile, which need abandoning, because despite the overall tenor of this post, I don't think metafiction is dead. Prove me right, metafiction, prove me right.
66 Comments