February 26th, 2013 / 1:42 pm
Events
Adam Robinson
Literature Party 2013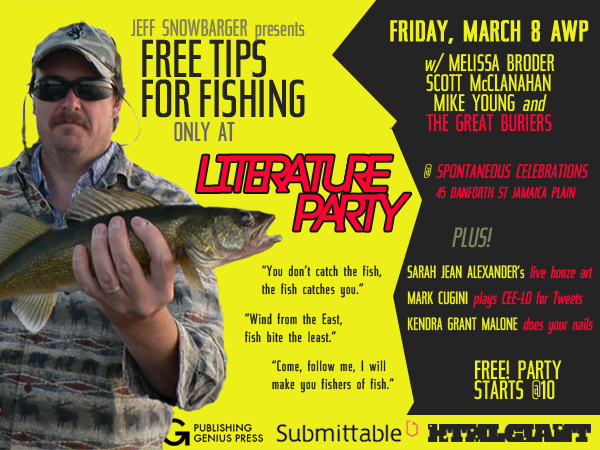 We were like nah let's not do a literature party this year
But then my Boston friend was like we could do something at a place I know

And then HTMLGIANT and Submittable were like yeah, sure, we'll hook that up
I thought people need a place to hang out and have fun on FridAyWP
And I mean look at that lineup
Fishing tips? Dice games? Art made from beer? Get your nails done up wack?
Plus of course more normal stuff like Melissa Broder, Mike Young, Scott McClanahan incorporating music into their sets?
And a rock band called The Great Buriers?
So this year Literature Party is free (thanks to HTMLG and Submittable) and drinks will be cheaper than anywhere else you'll find in Boston (thanks to me)
Better get there at 10 though cuz space is tight and if you've seen Departed you know those Boston cops don't clown
Any questions?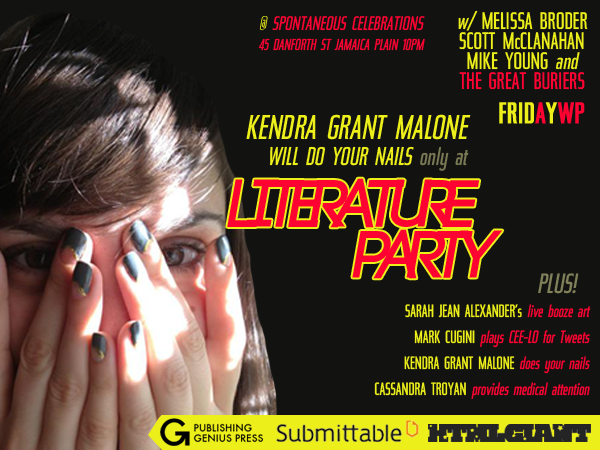 Tags: literature party, Submittable
4 Comments