March 4th, 2011 / 5:42 pm
Events
Ryan Call
Look! Freaks and Feathers on the West Coast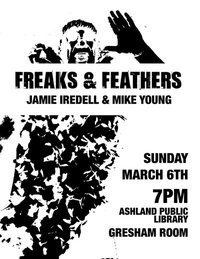 Mike Young and Jamie Iredell are flying out to the west coast today (on an airplane, I think). They want to read to people on the west coast. They are nice people. They are calling their reading tour "Freaks and Feathers." If you're on the west coast and interested, check out their reading schedule.
Pilot Books, Seattle WA (TODAY 7pm)
Ampersand, Portland OR (3/5/11 7:30pm)
Ashland Public Library, Ashland OR (3/6/11 7pm)
Rancho Parnassus, San Francisco CA (3/7/11 7pm)
John Natsoulas Gallery, Davis CA (3/8/11 8pm)
KKUP 91.5 FM, Cupertino (3/9/11 8pm)
Cal Poly, San Luis Obispo CA (3/10/11 tba)
Skylight Books, Los Angeles CA (3/12/11 5pm)
If you can, say hi! They'd like to see you too.
Tags: jamie iredell, Mike Young
5 Comments