jamie iredell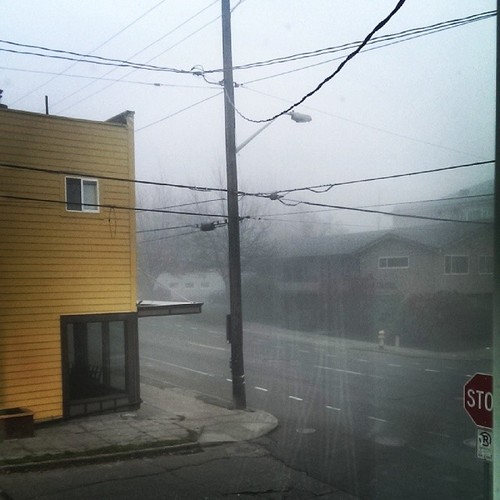 We had some plans but an unexpected medical procedure canceled those plans. READ MORE >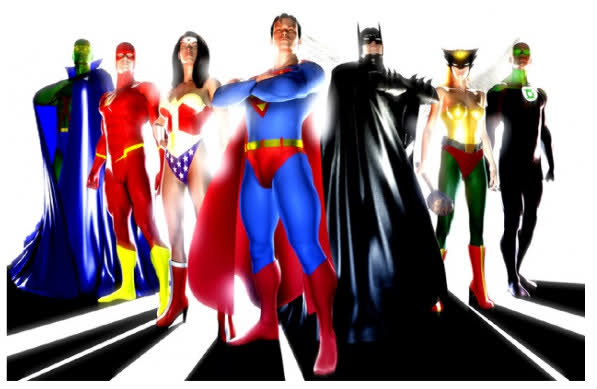 This July my wife, daughter, and I visited my family in California and on our return flight to Atlanta we met with a reprieve when our one-year-old fell into a deep sleep in our arms. She didn't even wake when my wife had to use the bathroom and shifted the baby into my lap. I took this quiet opportunity to scan the movie offerings on those individual screens that some Delta flights afford passengers. The movie choices are not usually very good and the descriptions of the plots are vague, especially if you're like me, and you hardly watch television and so remain ignorant when it comes to pop culture. I ended up selecting one of these vague choices, with an equally vague title. I didn't know anything about Chronicle. The plot synopsis was something like "three friends chronicle their lives through a camcorder when suddenly everything changes." I didn't recognize the actors' names, and I think that's why I chose to watch it; I figured I'd try something completely unknown.
I got lucky with this choice. The movie is not very long (at 83 minutes it's closer to the length of movies that I grew up on and not the typical two-hour epics that are common today), and I didn't know when my daughter might wake, which would end my movie-watching experience. But she snoozed right through the whole thing, which afforded me the time to think about the ideas that coalesced in writing the first draft of what you're reading. READ MORE >
Jamie Iredell is giving away his killer new book,  the weird faux-encyclopedia of trash talk and straight talk: The Book of Freaks. Here follows the scheme from Jamie himself — MY
"I want to give away some copies of The Book of Freaks.
I'm thinking that the most entertaining way I might achieve this is to have other people write their own entries to The Book of Freaks.
For examples, some of the entries that I wrote can be found
at Hobart
at the2ndhand
at PANK
at Robot Melon (x2)
at Mad Hatter's Review
at Servinghouse
Write your freakish entry. It can be about anything you damn well please. Post your entry in the comments here. Entries will be judged by Roxane Gay and Mike Young. Three winners and a runner-up will be selected to receive a signed copy of the book and some other junk that I decide to send your way." Post your comment entries by Thursday May 12th.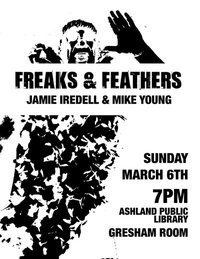 Mike Young and Jamie Iredell are flying out to the west coast today (on an airplane, I think). They want to read to people on the west coast. They are nice people. They are calling their reading tour "Freaks and Feathers." If you're on the west coast and interested, check out their reading schedule.
Pilot Books, Seattle WA (TODAY 7pm)
Ampersand, Portland OR (3/5/11 7:30pm)
Ashland Public Library, Ashland OR (3/6/11 7pm)
Rancho Parnassus, San Francisco CA (3/7/11 7pm)
John Natsoulas Gallery, Davis CA (3/8/11 8pm)
KKUP 91.5 FM, Cupertino (3/9/11 8pm)
Cal Poly, San Luis Obispo CA (3/10/11 tba)
Skylight Books, Los Angeles CA (3/12/11 5pm)
If you can, say hi! They'd like to see you too.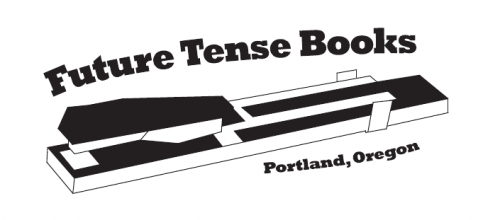 [In closing out Kevin Sampsell week, Kevin gave us the inside track for the next two releases of his press Future Tense Books. If you aren't familiar by now, give it a peek: Kevin truly makes releases that are unlike any other press around. – BB]
From the desk of Kevin Sampsell (Portland, OR)
As many of you know, we're on the brink of releasing the poetry collaboration, OK, Goodnight, by Zachary Schomburg and Emily Kendal Frey (March 2010), but I've also been poring over manuscripts to figure out what other treasures Future Tense can deliver this year. This week we were excited to acquire two books that will come out this summer and fall.
In June, we will release a chapbook called Ventriloquism by Prathna Lor. I've been buttering up this hot young Canadian for a while now. I've sent him knitted hats and coffee-flavoured chocolates. I've spelled words like colour and favourite with the extra u in it. Finally, he sent a batch of story-type things. Ventriloquism features works that do that wondrous thing I love so much–when a piece of writing feels so fresh and original that you're not sure if it's prose poetry or flash fiction. It's beautifully uncategorizable, with body parts flitting their way through deeper emotions that Lor's language tries to dissect with grace and force and unexpected humour. It reminds me a little bit of my all-time favorite story writer, Gary Lutz.
Prathna Lor lives in Toronto, Ontario.
Links: http://prathnalor.bearcreekfeed.com / http://prathnalor.blogspot.com
In November, we will release a paperback book tentatively titled The Book of Freaks by Jamie Iredell. This is another book that seems so fresh and weird and laugh-out-loud funny, I'm tempted to compare it to modern cult classics like Letters to Wendy's and The Age of Wire and String. The story about discovering this book is a recent and happy accident. While in Seattle just two weekends ago, I saw that Blake Butler and Jamie Iredell were reading at a place called Neptune Coffee. I was excited to meet Blake for the first time and hear him read. I was not familiar with this Iredell dude. At the reading, Jamie read a few parts from his great new book, Prose. Poems. A Novel. And then he read parts of this Freaks project. There was unexpected laughter. There was surprise. There was sheer uncut artistry at work. A few days later, he sent me the manuscript. A few days later, I wallpapered my bathroom with it so that I could always have it near. Sometimes, magic happens fast when true talent is involved.
Jamie Iredell lives in Atlanta, Georgia.
Link: http://jamieiredell.blogspot.com
We're thrilled to be publishing these two brilliant writers later this year. Both of their books display an effortless and immense kind of entertainment value that we feel is both accessible and revolutionary. Thank you for reading. Please stay tuned to futuretensebooks.com and/or email me to get on our email list: info@futuretensebooks.com
Kevin Sampsell
editor & publisher
(along with Frayn Masters and Bryan Coffelt)