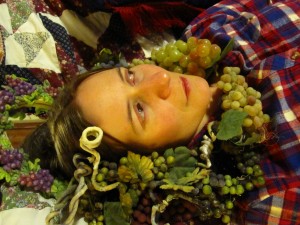 Amina Cain's summer reading recommendations:
***
Work from Memory by Dan Beachy-Quick and Matthew Goulish (Ahsahta Press, 2012)
My first three recommendations are books I myself plan to read this summer (and you should too!) and this one is at the top of my list. Work from Memory is in response to In Search of Lost Time by Marcel Proust, and Goulish is a performer whose work with Goat Island I've loved as much as any of my favorite books and those performances have taught me as much about writing as reading has. I'm also fond of Dan Beachy-Quick's work because of what feels to me like a deep calmness within it. I can only imagine the territory the two of them cross into here.
Murder by Danielle Collobert, trans. Nathanaël (Litmus, 2013)
This is a short novel I've been waiting for all year, dedicated reader of Danielle Collobert (and Nathanaël) that I am. Another title by Collobert, It Then, is one of the most brutal books I've ever encountered, performative in its brutality and fragmented in a way that is more elegant than I thought fragments could be. Murder was written during the Algerian war and originally published by Éditions Gallimard in 1964, and from what I can tell, looks closely at the severity of human existence.
Burial by Claire Donato (Tarpaulin Sky, 2013)
As written on the Tarpaulin Sky web site, "Set in the mind of a narrator who is grieving the loss of her father, who conflates her hotel room with the morgue, and who encounters characters that may not exist, Burial is a little novel about an immeasurable black hole." I like very much what I've read of Donato's work and I can't wait to read this book.
The Sad Passions by Veronica Gonzalez-Peña (Semiotext(e), 2013)
I'm reading this novel as we speak and falling right into it. There's something Gonzalez-Peña does with sentences that amazes me: one thought/sentence is able to hold another, right inside itself! A story told by five women from one family, a narrative begins to emerge that is embodied and full of voices, and that presses forward with a beautiful sort of urgency.
The Apple in the Dark by Clarice Lispector, trans. Gregory Rabassa (University of Texas Press, 1986 edition)
This is one of my favorite novels of all time, and it seems for some reason to be less widely read than The Hour of the Star, for instance. It's perfect reading for summer, set as it is on a hot, remote farm in the interior of Brazil. There's a slowness to this book I find mesmerizing. As a reader, you can almost sink completely into the landscape and the strange relationships between its characters: Vitoria, Ermelinda, and Martim.
***
Amina Cain is the author of the upcoming Creature (Dorothy, a publishing project, 2013) and I Go To Some Hollow (Les Figues Press, 2009). Her work has appeared in magazines such as Denver Quarterly and [out of nothing] and is forthcoming in n+1 and Two Serious Ladies. You can read more about her here.

Tags: amina cain, reading list, summer reads