amina cain
"I'm not sure why I've written so many flat male characters. I think it's more that I have wanted to pay attention to the female characters and so I have."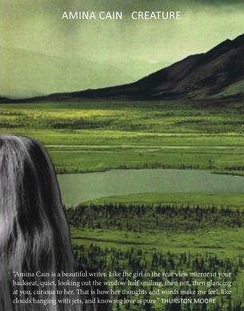 Kate Zambreno first changed my life when she wrote Heroines, and second when she wrote on her Facebook page that she can't wait to read Amina Cain's new book. I read Creature as soon as it was released and it also changed me, but in a familiar way. I felt instantly connected to Amina's writing and her characters in particular—the first person narrative, the painted landscape of the mind, the abstract settings. I had only discovered Clarice Lispector a year before, and I felt a resonance between the two. Part of the reason I love Lispector's writing so much is her ability to reach so far into her characters' psyches. Amina Cain, in a completely different way, also reaches into her characters' psyches. Amina's way feels much more meditative and connected to the earth. Lispector is often very much "above" the earth. Amina's stories are mysterious, full of curiosity, and very dark and then suddenly extremely funny. When I saw the name Clarice used as one of the character's names in a story, I knew it was no coincidence. I also knew I had to contact Amina Cain immediately.
***

LW: When did you start writing?
AC: I began writing during my last year of college. I started out as an acting major, which I quickly gave up, switching to Women's Studies. I knew I wouldn't necessarily do anything specific with this major, but I was interested in the classes. Then, when I took my first creative writing workshop, I knew I had found what I wanted to do with my life.
There are many references to Clarice Lispector in your work and in your story Queen you quote from The Hour of The Star: "forgive me if I add something more about myself since my identity is not very clear, and when I write I find that I possess a destiny. Who has not asked himself at one time or other: am I a monster or is this what it means to be a person?" When did you first discover Clarice Lispector? Would you say you connect similarly to her themes of the metaphysical experience of "finding yourself" through the process of writing?
I relate very much to the idea of finding oneself through writing, though what "oneself" is I think is malleable. And that Buddhist idea that to study the self is to find the self and to find the self is to lose the self resonates a lot for me. I've been curious lately about why I am so driven to write first person narratives (that are both not me and me) as opposed to third person, for instance. It's not that I want to tell a story of myself, or even of another, it's that I want to inhabit something—some feeling, some space (physical or psychic, and yes, even just the space of writing), or voice, and the first person, for whatever reasons, allows me to do this in the strongest way. I certainly think that Lispector's fiction does this too, much more so than simply telling a story. She creates these charged psychic spaces we can walk into as readers. I first read Lispector the second time I lived in Chicago. I checked out from the library Family Ties, a collection of short stories. Then The Hour of the Star.
So many of your stories seem to be about a central narrator. They can be separate and yet they feel a part of a continuous story. Can you talk about the narrator of your stories? Do you consider her a persona? Do you see her as existing in each of your stories? Or is she different, a new character, each time?
I see the narrators in Creature as different beings but as sharing a single heartbeat. I wanted them to be both separate and connected. In Tisa Bryant's amazing Unexplained Presence a beautiful continuum comes into being, or else a soft light is shone on connections already present between people who existed throughout time but never knew each other, or even knew to know each other. I was so struck by that when I first read Bryant's book, and I think the idea of the continuum has stayed with me since, though of course in a different way.  
There is a quality of bleakness to your characters, or to quote from one of your titles, "a threadless way" about them. They are very honest about the fact that they don't know what they are doing or how to connect to others. (And yet, because of this, they do know—like what you were saying about finding the self to lose the self, etc.)
This is a sharp contrast to what we are used to seeing in a lot of contemporary literature. (Of course, "flawed characters" are everywhere—but usually they don't know they are flawed and when they do, their revelation is fleeting or they step into denial.) Your characters have the ability to speak, feel, and live out their insecurities, distastes, annoyances, melancholy, and this gives them a strange hopefulness and positivity. 
I think that most of my characters are searching for something, are always in process with the world around them, and that much of what gets expressed in the stories are the things that are usually not said, supposed to be said, voiced. In fiction, I'm as interested in an inner life as an outer one, and I want to write that life. I think it can propel a narrative forward as much as plot can. There is drama there, and conflict, and relationship, and even setting. I'm glad that the characters feel hopeful to you. Sometimes there is a focus on the sadness and vulnerability in my stories, elements that are certainly present, but to me there is also absurdity and humor. READ MORE >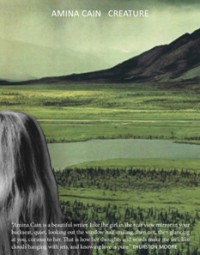 Creature
by Amina Cain
Dorothy, a publishing project, 2013
144 pages / $12.20 buy from Dorothy, a publishing project
1.     I am ashamed of what I think about book reviews.
2.     "I'm […] ashamed of what I think about literature—I can only open up to a few people in this way." So says the narrator of "The Beak of a Bird," the fourth short story in Amina Cain's Creature (Dorothy, 2013). For now, I am hovering 40,000 feet above the Earth.
3.     My thoughts about texts exist as emotional impressions, and what interests me most as a reader is ambience and affect—words as molecules of emotion, states of agitation, decorative illuminations, background noise. Readerly impressions in my bones are intimate like pages; they are, as in Creature, "the place where [my] life unfolds." I want to recite my Creature to you, but instead draw inward toward the place where my body's median axis, its midline, is askew.
4.     Preoccupied with atmosphere and feeling as I am, I am ashamed of what I think (or don't think) about literature, and so I choose not to write about books. But Amina Cain's Creature is different: Amina Cain's Creature resides out of harm's way, although it exists in savage and erotic twilight. "I expressed myself through the violent putting away of a pan." "Myself, alone, in my bed, is a story." "Write about the arm when the whole body is being abused." "We watch something violent on my laptop. It will help me wear this dress." In this darkness, I read and write and think-along, and feel involved in every sentence. This involvement is key to my wanting to recite my Creature. Involved in it, I am pleased to feel ashamed of what I think.
5.     Creature begs to be watched. Passing over one's horizon of attention, the book is a meditative practice, which is not to say Creature is necessarily a meditation, for a person does not read Creature so much as she suspends it in space. 40,000 feet above the Earth, she observes its sentences, lines of thought that move across the mind, and breathes them in and out. There are momentary pauses of deep calm. It is likely the mind wanders. And as Creature unravels, the body sheds itself.
6.     I am ashamed of my physiological responses to literature. See Exhibit A, which I am sorry to describe. In this disgraceful scene, I am hovering 40,000 feet above the Earth reading Creature's "Attached to a Self." I am attempting momentary pauses of deep calm. In the midst of this exercise, I cross a passage wherein Cain refers to a Benedictine monk: "The word is supposed to send a person into great silence," she writes. "Just a little bit of reading is enough." I suspend the statement in space, let it resonate. My eyes trace the sentence and tear.
7.     Am I crying because of the story, someone asks, or because of the space?
8.     Am I crying because of the space, I wonder, because this is the space where my life unfolds?
9.     And is it really me if I'm not there?
10.  To answer these questions for you, let me describe where Creature rests in my body—deep within my thoracic spine, in the middle of my vertebrae alongside photo booth-sized images of unrequited knives. I am conscious of it as I watch my body read. Its language moves and settles. This process of watching—as opposed to thinking—may seem enigmatic. It is. READ MORE >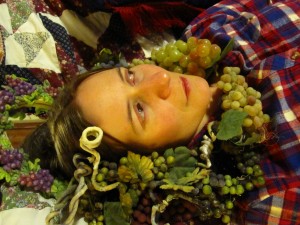 Amina Cain's summer reading recommendations:
***
Work from Memory by Dan Beachy-Quick and Matthew Goulish (Ahsahta Press, 2012)
My first three recommendations are books I myself plan to read this summer (and you should too!) and this one is at the top of my list. Work from Memory is in response to In Search of Lost Time by Marcel Proust, and Goulish is a performer whose work with Goat Island I've loved as much as any of my favorite books and those performances have taught me as much about writing as reading has. I'm also fond of Dan Beachy-Quick's work because of what feels to me like a deep calmness within it. I can only imagine the territory the two of them cross into here.
Murder by Danielle Collobert, trans. Nathanaël (Litmus, 2013)
This is a short novel I've been waiting for all year, dedicated reader of Danielle Collobert (and Nathanaël) that I am. Another title by Collobert, It Then, is one of the most brutal books I've ever encountered, performative in its brutality and fragmented in a way that is more elegant than I thought fragments could be. Murder was written during the Algerian war and originally published by Éditions Gallimard in 1964, and from what I can tell, looks closely at the severity of human existence.