October 13th, 2010 / 10:34 am
Film
Lily Hoang
Irrational Hatred of Characters
Back in Season 1, back when Betty Draper was sadly profound and profoundly sad, she said: "I know people say life goes on, and it does, and no one tells you that's not a good thing. Why is that?" I loved this Betty. I empathized with her sadness. Plus, she's a babe.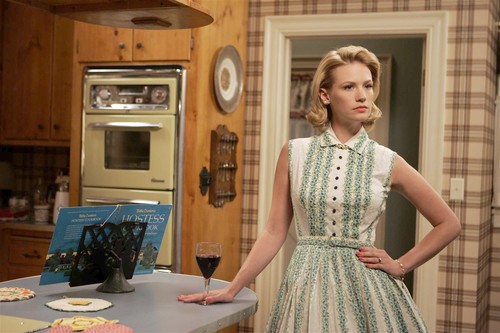 But Betty Draper, now Betty Francis, has become a completely odious character. When did this happen? Do you hate Betty?
My hatred for Betty has caused me some turmoil. Yes, turmoil. I am a sensitive thing. It bothers me that I hate her, even though this is what the writers of the show have manipulated me to feel. What is fascinating to me about Betty Draper is that back in Season 3, I was rooting for her. I wanted her to have an affair. I wanted her to divorce Don because he was a cheating asshole, a loveable cheating asshole yes, but a cheating asshole nonetheless. She was a victim of her time and place. She was a victim of beauty and suburbia. I wanted Betty to be empowered. And yet, my disdain for her derived exactly because she did divorce Don and then she failed at empowerment.
Instead of watching her develop in a positive way, we see her fall. We see, week after week, a chronicling of her instability and increased bitchiness. We see her flail at being an empathetic character, which does not even mention her failures as a mother.
Even as I type this, I can see how irrational my hatred is. Clearly, my emotions are being manipulated, as is the case in ALL good fiction. And yet, she isn't a villain. This is what makes her so fascinating and complex.
So: what non-villain fiction characters do you love to hate? And what is it that makes them so hatable?
Tags: betty draper, Mad Men
14 Comments