February 20th, 2012 / 8:01 am
Film
A D Jameson
So Why Have You Not Seen "Hail the New Puritan"?
When I was a Master's student at Illinois State University, I helped start and run a film club. We specialized in more obscure cinema. And one film I always wanted to show was Hail the New Puritan (1985–6), a fictionalized documentary by Charles Atlas about the British dancer and choreographer Michael Clark. It's punk ballet!
The only problem was, I couldn't find a copy of the film…
The only bits I had were two excerpts that a friend had copied for me on a VHS tape. (They were all he had, and he couldn't remember where he'd gotten them.) It was also hard in those days to find any information about the movie. I wasn't even sure what its name was; I variously thought it was called All Hail the New Puritan, or The New Puritan Dances.
So, since I had only two brief excerpts, I showed those, as part of a music videos program (2 October 2001). The few people in attendance liked them and wanted to see more…and I couldn't help them.
At that time, I was limited in terms of material. I lacked physical access to the video, and physical access to more information about it. There weren't any books or websites about it (as far as I could find), and no one around me knew anything about it.
As it turns out, the film had been released on video—just not widely. Instead, it was (and still is) distributed in the US by Electronic Arts Intermix, a video art distributor located in Manhattan. They rent and sell primarily to universities and museums. Visiting their "Ordering Fees" page for New Puritan, we learn that:
renting a VHS copy for educational purposes costs $100;
renting a screening DVD costs $200;
renting a screening DVD for exhibition costs $1,100;
purchasing a VHS copy for educational purchases costs $300, and a DVD copy, $500;
purchasing an archival copy costs somewhere between $1,400 and $2,525.
Small wonder I wasn't able to find a copy! (Mind you, I'm not knocking these prices; as far as I know, they're totally fair in this particular, institutional world.) A search of the I-Share library catalog—a consortium of seventy-six Illinois university libraries, including UIUC, one of the largest academic libraries in the world—fails to turn up a copy. (It does, however, find several other Charles Atlas films.)
Ten years later, the situation is totally different. Today, one can easily download a (bootleg) copy of the film, taped from a TV broadcast. (It aired in 1986 on the BBC's Channel Four, and includes vintage ads for Tampax, Fage, Maxwell House, and more; this is how I learned that Raisin Bran is called "Sultana Bran" in the UK.) And 40 minutes of the video (out of 85) are up at YouTube. One can also find articles about it online; I myself wrote a post about it last year. Access to the film, and information regarding it, is no longer all that difficult to come by—it is less restricted, more common.
That said, Hail the New Puritan remains an obscure film. (Have you seen it? Had you even heard about it before now?) A glance at its IMDb page reveals that it has a rating of 5.9…but that's the result of only 8 votes. (I myself gave it a 10, bumping its score up from 5.8.) Besides cast and some crew, there's not much information there—just a link to one external review, and one (mixed) user review. It's sole plot keyword is "ballet," which must really bring folks in. (I just suggested adding the keyword "punk.")
That Big Other post that I wrote, which I put up on 5 October 2010, has to date received 630 page views (31 of them so far this year!). So that's something. The YouTube excerpts, which were put up a year ago, have done much better:
And there are three shorter clips that have been much more widely seen:
(#s 1 and 3 are the clips that I had on VHS.)
These days, if I want people to pay attention more attention to Hail the New Puritan (for whatever reason), then the challenge, it seems to me, is no longer physical but ideological—because access to Hail the New Puritan is now restricted in terms of knowledge. Simply put, most people find it perfectly easy to make their way about the world on the daily basis without thinking of the film, or even knowing that it exists.
Me, I couldn't stand not knowing about it; I think it's one of the most beautiful things I've ever seen, and I think about it regularly (maybe not every day, but at least once every few months.) It's part of an aesthetic heritage that I lay claim to ("punk ballet"). It was and is a common aesthetic reference between me and some of my close friends, such as Jeremy M. Davies. And when Jeremy and I co-directed a couple of small operas a while back, we showed those VHS clips to the other participants, as a model, or a guide.
What has always surprised me about Hail the New Puritan, in terms of it not being more popular, is not that it features Michael Clark, or that it was directed by Charles Atlas, or that it was designed by Leigh Bowery—because who are all those guys? If you recognize one name in there, it's probably Charles Atlas's, and then probably due to the muscle-man ads he (in punk fashion) took his name from. Leigh Bowery (1961–1994) might be the most famous of the three—his influence on folks like Boy George and Alexander McQueen and Antony and the Johnsons and the Scissor Sisters (and, yes, Lady Gaga, too) was simply huge—but he's still pretty obscure, an artist's artist. (Charles Atlas made a fantastic documentary about him and his legacy: The Legend of Leigh Bowery (2002), which you can watch in its entirety at YouTube.) (Tim Jones-Yelvington, you have no excuse not to watch that video! And I'm still awaiting your term paper on Klaus Nomi…)
No, the reason why I'm surprised this film isn't better known is the fact that Mark E. Smith is in it (as we saw above), and it features a lot of music by The Fall. The film's title stems from Mark E. Smith's cryptic interest in puritans new and old: see The Fall song "New Puritan," on their 1980 live album Totale's Turns, as well as 1979's "Specter vs. Rector"—
Those flowers, take them away;
they're only funeral decorations.
This is The Fall and this is a drudge nation.
Your decadent sins will wreak discipline.
You puritan, you shook me.
I wash every day.
—a live version of which Clark & Company dance to, in assless stretch pants. (See clip #2.)
And there's also music by Glenn Branca, who's less famous but also fairly well known; he helped give Thurston Moore and Lee Ranaldo their start, and Sonic Youth is deeply indebted to him.
And there's also music by Bruce Gilbert of Wire! You think Pitchfork would be all over this, arranging free screenings at the Empty Bottle…
(There's also music by one Jeffrey Hinton, a club DJ about whom I know very little. Here's a recent interview with him:
Jeffrey has actually done a great deal and it's simply not written down, from holidaying with the legendary author and addict William Boroughs [sic] in New York in the late 70s, to organising fashion show music recently for the late great Alexander McQueen […].)
One way to interest people in someone or something is to connect him/her/it to people they already know and care about. …Are you more interested now in Hail the New Puritan now than you were before? There's a reason why I led with an image of Mark E. Smith, and not Michael Clark.
You may not have heard of (or seen) Michael Clark before now, despite his being a pretty famous dancer and choreographer (in the UK). But you might have seen him (as I first did) in Peter Greenaway's 1991 adaptation of The Tempest, Prospero's Books, where he played Caliban: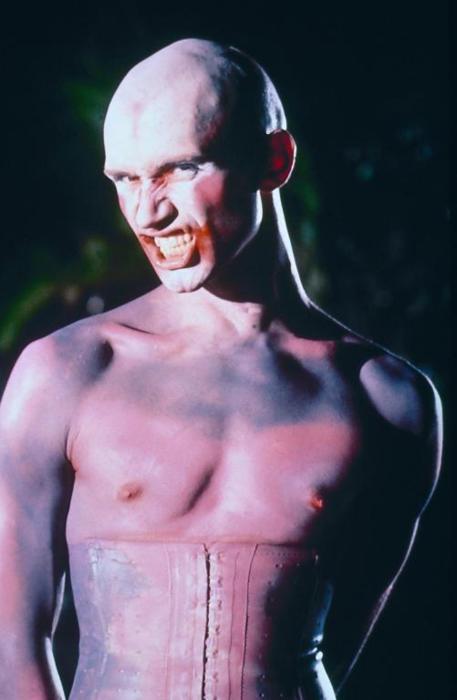 (You can watch a clip—guess where?.) He also had a small role in The Cook the Thief His Wife & Her Lover (1989)—which has much more exciting IMDb plot keywords: "Male Frontal Nudity," "Excrement Eating," "Sex In A Kitchen," "Clothes Torn Off," "All Seeing Eye," "Stabbed In The Face," "Child In Peril," "Eating Penis"…and "Scene Based On Painting."
But despite Hail's rather prestigious pedigree, and the various connections we can make between it and better-known people and things, the film has somehow slipped through the cracks. Until a few days ago, it didn't even have a Wikipedia entry*! Hence my desire to now help spread the word.
. . .
Had I been able to find a physical copy of the film in 2002, I would have screened it at my film club. And how many people would have seen it? The largest attendance we ever had was around 100, but usually we drew somewhere between five and fifteen. (It was downstate Illinois.)
Hundreds more than that will read this post—in which I've given you all the info you need—even actual links—to watch excerpts, if not the whole thing. You could watch half of it right now, the whole thing by tonight. From this point on it becomes a question of desire, of relevance, of concern, of need …
… So why have you not seen Hail the New Puritan?
* I of course made one. Before that, searching for the title returned a page on the New Puritans, a short-lived writing movement that seems to have been influenced somehow by The Fall—although looking at their manifesto, I see a connection in name only. If you're curious about them, you might learn more in this 3:AM Magazine interview …
Tags: Bruce Gilbert, Charles Atlas, Glenn Branca, Hail the New Puritan, ISU Cinema Society, Jeffrey Hinton, Lee Ranaldo, Leigh Bowery, Mark E. Smith, Michael Clark, Peter Greenaway, Prospero's Books, Sonic Youth, The Cook the Thief His Wife & Her Lover, the fall, thurston moore, Wire
13 Comments