Jimmy Chen
Haut or Not: 3 balls in a sack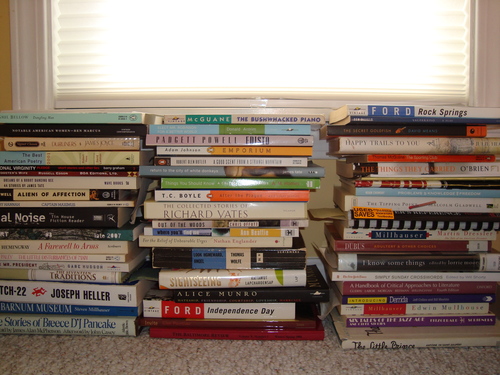 Ravi Mangla
Thing Things They Carried: all the crap on the floor because there wasn't a table. Catch-22: there's no table and all the books are on the floor. A Farewell to Arms: how about a farewell to crap on the floor? Independence Day: forget about pastoral America, first get your shit off the floor Ravi. The Tipping Point: it don't matter if anything tips over cuz everything is already on the god damn floor. Introducing Derrida: are you serious Ravi? You actually care about post-structuralist linguistic theory? Dude, here's a pre-structuralist theory: If Ravi gets his ASS to IKEA and gets himself a fucking table, he can put his lame shit books on it one day and not be such a carpet whore.
Rating: Not
—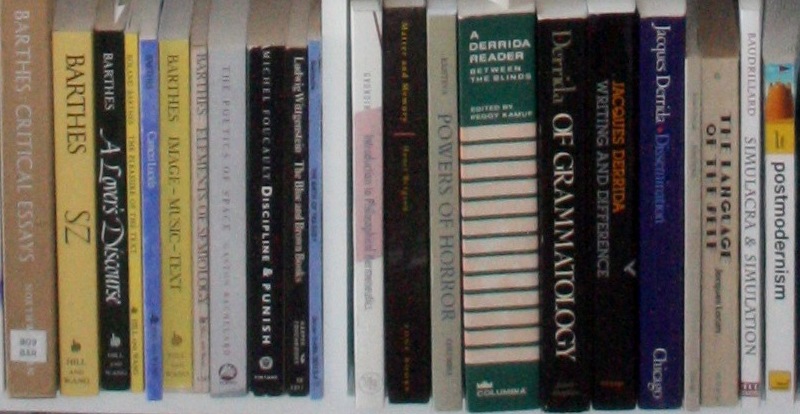 Mike Kitchell
Mike sent in a gigantic pic of a gigantic bookshelf whose books were all, like, 'extremely intense' in that PhD awful existence kind of way. Though the cropped portion (you're seeing about 1/10th of his collection) was the most offensive, trust me when I say his entire collection (enough to cover a wall) had the same 'head-fuckness' to it. I'm all for an occasional dose of theory but man, can you imagine trying to have a beer with this guy?
"Mmm…nice hops."

"The medium is the message — if by 'hops' you, as the author and co-conspirator of these words, mean the semiotics which represent (or more accurately re-present) the post-colonial ideals of 'exotic spices' merely propagated by your semantic shell of a being.

"Bro."
I didn't know Derrida (who is so obvious I call him Derri-duh) was the rage all of the sudden. It's ironic how the post-structuralists said, basically, there was no 'absolute' — how everything was a semantic construct — and that that was…um…the absolute. They relied on the very medium (language) which they attempted to usurp in order to convey its critique. Ironic, or just French? Mike, let's grab a beer, not the words which form the construct of 'let's grab a beer.'
Rating: Not.
—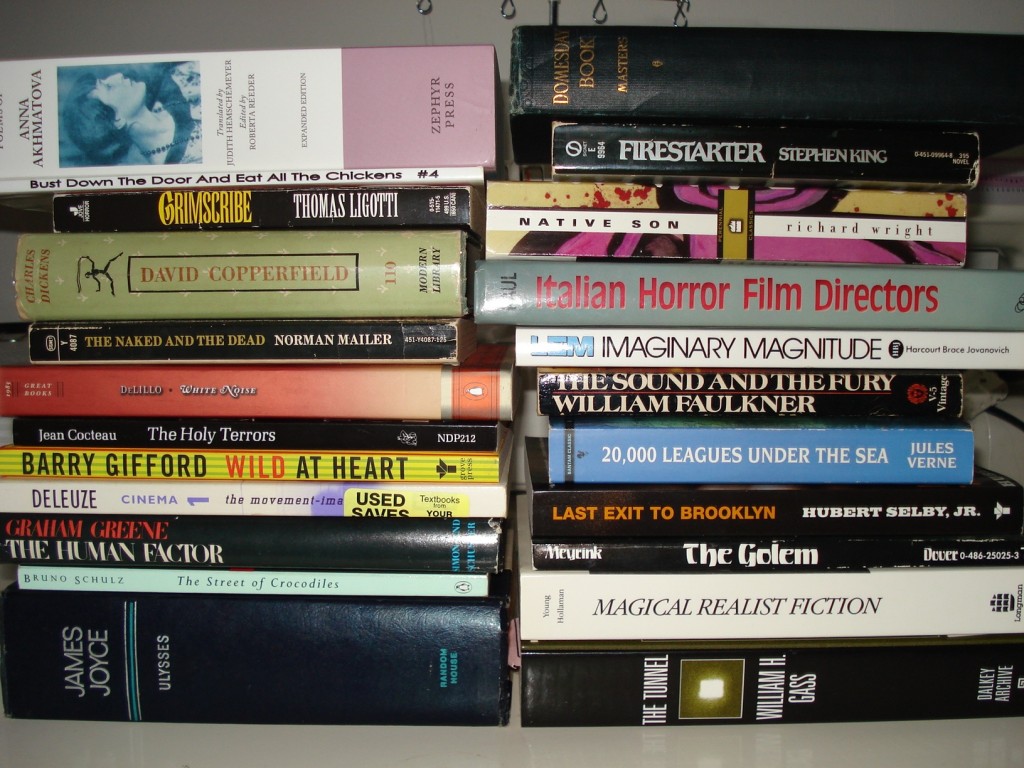 David Peak
There's a certain 'best of' feeling to this, like David is more interested in having read an author's 'most notable work' than her/his oeuvre. There's a fickleness towards the authors that concerns me; it's like Joyce's Dublin and Faulkner's Yoknapatawpha County are incomplete. David Peak reads like a tourist, without curiosity.  Tossed in are some sorta kitschy 'nerd' paperbacks. Man, I didn't know the french fruitcakes were so in all of the sudden. And then there's the lovable 'magical realist fiction' anthology. One can imagine Italo Calvino snuggled comfortably in there. Mmm…If on a winter's night a tourist…
Rating: Not
Tags: david peak, Mike Kitchell, Ravi Mangla
81 Comments