david peak
The excellent David Peak and Mike Kitchell have new books from SOLAR LUXURIANCE, in an edition of 30 and 10. Grab one up before they're gone. Here's half a descriptor for Mike's piece: One morning I woke up to find my browser open to an archive of an online Deleuze & Guattari mailing list. Scrolling through it I was struck by a narrative text by a user who went by the name of "rongrong." Nobody at any other point in the archive made any reference to rongrong's enigmatic post. I thought it was amazing, a hybrid theory/text that was interesting, distant, and intelligent. I decided, as an homage to the hidden mysteries of the web, that I would rewrite rongrong's text, leaving occasional fragments verbatim.
The Destruction Loops, Parts 1-8
I've let my blood out in a steamy bath
I've jammed a butter knife into the toaster
Lied down on my back and dropped a shot put on my face
I stuffed balls of newspaper print in my mouth
And spelled the state capitals in alphabetical order
I allowed myself to be hypnotized at the count of 8
The snap of my neck like the snap of a hypnotist's fingers
The hypnotist showed me the earth as the angels see it
The streets are a twisted maze and we are lost in the maze
We are born walking into the world's maze
At the count of 4 you will forget your confusion
The bathroom is filled with steam and the mirrors are steamed over
You cannot see yourself or your face in the mirror
The maze is all right angles
You are born into a confusion of angles
You will realize your confusion at the count of 4
1 – turn right
2 – turn right again
3 – turn right again
4 – turn right again
You are where you began
You must make this circuit twice
You are no longer lost in this section of the maze
I hear the snap of fingers like the snap of my neck
I am alone in a great square in a gray city
There are clouds adrift in the swollen sky
The clouds are swollen with acid rain
The gray city is one of many on an island in the ocean
The ocean is green
Its green waters are a bath of acid eating away at the coastline
You cannot see yourself in the mirror
Soon the clouds will open up and let loose their rains
You will strip naked and let them eat away at your skin
In the morning your skeleton will be found by a group of hungry lions
The lions will have ribs like wishbones pushing out at their fur
And they will pick you clean
You have given them a fullness
The meat on your bones will have completed its circuit
You will feel that you have done the right thing
You will feel an angel place a heavy hand on your shoulder
You will close your eyes and count to 8
You are clean now
You have smeared jam on your toast
You are no longer hungry
It is warm here in the lion's den
David Peak is the author of a novel, The Rocket's Red Glare (Leucrota Press), a book of poems, Surface Tension (BlazeVOX Books), and a chapbook, Museum of Fucked (Warm Milk Press). He lives in New York City and blogs at davidpeak.blogspot.com.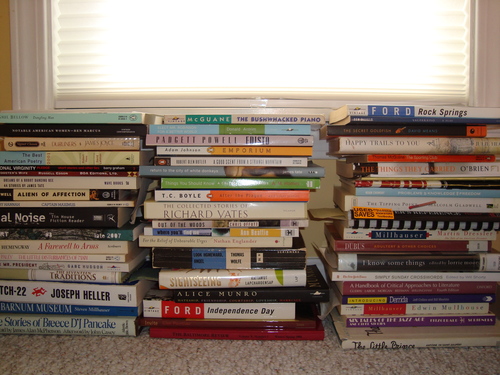 Ravi Mangla
Thing Things They Carried: all the crap on the floor because there wasn't a table. Catch-22: there's no table and all the books are on the floor. A Farewell to Arms: how about a farewell to crap on the floor? Independence Day: forget about pastoral America, first get your shit off the floor Ravi. The Tipping Point: it don't matter if anything tips over cuz everything is already on the god damn floor. Introducing Derrida: are you serious Ravi? You actually care about post-structuralist linguistic theory? Dude, here's a pre-structuralist theory: If Ravi gets his ASS to IKEA and gets himself a fucking table, he can put his lame shit books on it one day and not be such a carpet whore.
Rating: Not