Jimmy Chen
I like Stephen Dixon a lot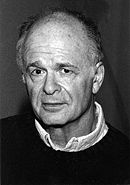 Stephen Dixon's stories, like Beckett's, flourish despite — or perhaps because of — their constraints. There's probably a better way to talk about it, but I think of it as 'dense minimalism,' wherein scarcity is conveyed through excessive means in writing. I've been very interested in Dixon 's methods and with this post I will try to investigate him formally. To do this, I will use three fairly random (of course, I had to find something to get the point across, but the search was pretty casual) excerpts from 30: Pieces of a novel. My goal is to convey how constructed his narrative space is. The blockquotes are sentences from 30: Pieces of a novel.
He looks at the postcard she must have written last night before she came to bed.
Here Dixon uses a postcard to contradict, or at least bring into question, the location and relationship of the characters. He looks at the postcard she must have written alludes to the traditional orientation one has with a postcard, that it was sent from far away. The end of the sentence […] last night before she came to bed explains that 'she' who wrote the postcard was with him, bringing to question: Is it a postcard she wrote a long time ago that he kept? Is the unsent postcard written for another person? Who? Do they communicate in-person via postcards? There is an enormous juxtaposition of space – the breadth of a postcard's implications to the intimacy of sharing a bed. With one simple sentence, Dixon has traversed/implicated miles and years.
He could do nothing today. Yesterday he could do nothing too.
Dixon could have simply wrote "He could do nothing," but instead, opted to use both sentences to suggest a pattern. Could he do something/nothing the day before yesterday? What about tomorrow? With Dixon, every turn of phrase and oblique juxtaposition is constructed. His sentences are small compact riddles, that when solved, get you half way to solving the story itself, which is another matter entirely. His structure reminds me of Faulkner's omnipresent subjectivities (i.e. multiple unreliable narrators forming an objective account) happening all at once. His stories tend to start in the middle, and end at the beginning, so it's read like 2 – 3 – 1 instead of 1 – 2 – 3. 
On the street she pushes the wheelchair about twenty feet toward Columbus Avenue and then says, "Something's not working, I can't go any further. Let me sit."
Again, he uses a signifier (this time a wheelchair) to thwart reader's expectations. A wheelchair is meant to be pushed by a non-owner, someone who doesn't need a wheelchair. It isn't until 'Let me sit' that we know 'she' has been pushing the wheelchair herself. "Something's not working" may be a description of either the wheelchair or the person's leg/hip/foot etc. Dixon, again, describes a very complex matter in an extremely prosaic manner. This at heart, I think, is what Dixon 's writing is about – the exploration (and exploitation) of language's constraints in the telling of unlikely truths. I like Stephen Dixon a lot.
Tags: 30: Pieces from a Novel, Stephen Dixon
39 Comments