Stephen Dixon
One of Stephen Dixon's favorite strategies is telling the same story repeatedly, but changing a variable in the cause-and-effect chain with each telling — having fate deal a slightly different event, for example, or causing a key agent to make a different choice — and then exploring how time rings the changes differently in the lives of the characters. Sometimes we seem to be reading a study in worry — what will happen to me and the people I love if I don't rightly account for all the possible permutations of even the smallest choices I make? — and sometimes we seem to be reading a study in the futility of trying to fight the forces of fate, since maybe there's no accounting for the consequences of our choices as they play out along the cause-and-effect chain when so many things are so far beyond our control. Agency is everything and/or there is no agency.
The most focused of Dixon's fictions that employ this strategy can be found in his novel Interstate (which was a National Book Award Finalist in 1995, and yet is now, sadly, out of print, and ripe for reprinting by an outfit like Dalkey Archive Press or New York Review Books — whichever wises up first.) Interstate tells the same story eight times. A guy is driving a car on the interstate, his two daughters with him, and some rough-looking guys in another car show a gun. In each of the tellings READ MORE >
Stephen Dixon, in a new interview with Sean P. Carroll at Bookslut, says:
Fantagraphics became involved because Melville House, the publisher of three of my novels, didn't want to bring out the three collections in one book. They thought it would be too expensive and a losing proposition. I thought the collections would generate no interest if published one at a time. That publishing 62 stories, never in book form and all rewritten, except for the unfinished ones still in manuscript form, which I finished for the collection, would be interesting and unusual if not unique as a body of work.
This is not the first time the people at Fantagraphics have proved themselves to be heroes of literature. Their catalog includes Joe Sacco's Palestine, the Hernandez Brothers' Complete Love and Rockets Library, Daniel Clowes's Ghost World, R. Crumb's The Book of Mr. Natural, and Chris Ware's ACME Novelty Library. New releases in 2011 include Usagi Yojimbo: The Special Edition, Dave Cooper's Bent (with an introduction by Guillermo del Toro), and David B.'s The Littlest Pirate King. You can find out more about all this goodness at http://www.fantagraphics.com/.
Blake Butler
—
New Stephen Dixon story 'Wife In Reverse,' written at the same time as his unpublished new novel, His Wife Leaves Him, is at Matchbook, "The story originated as a compressed, reverse version of the novel, though it didn't turn out exactly that way."
Block Tests 01 from Dylan Hayes on Vimeo.
This person has taken Street Fighter and broken it down to its simplest shapes.
So, this and fiction. I'm not just thinking about minimalism v. maximalism here. I'm curious about breaking a story down to a simple shape. I'm thinking about Stephen Dixon's amazing story "Said," in which the dialogue tags remain, but all the dialogue has been removed. A pair of lines from the story (which, sadly, I don't have in front of me) can be as simple as:
He said.
She said.
The actions, free of dialogue, remain.
I've been writing a story in nothing but dialogue for the past couple of weeks, and trying to figure out what, when you strip away the other constituent parts of a story, needs to remain.
This is what I think needs to remain. I came up with this watching that video.
The story must, no matter what you take away, move. In the video, Blanka and Ken continue to contend, lacking arms, lacking faces. They continue to move. In Dixon's story, he says, she says. We don't have anything other than context to interpret what would happen before or after the dialogue tags.
So. Move. Maybe? Just a guess, I suppose.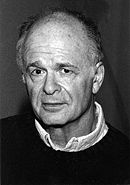 Stephen Dixon's stories, like Beckett's, flourish despite — or perhaps because of — their constraints. There's probably a better way to talk about it, but I think of it as 'dense minimalism,' wherein scarcity is conveyed through excessive means in writing. I've been very interested in Dixon 's methods and with this post I will try to investigate him formally. To do this, I will use three fairly random (of course, I had to find something to get the point across, but the search was pretty casual) excerpts from 30: Pieces of a novel. My goal is to convey how constructed his narrative space is. The blockquotes are sentences from 30: Pieces of a novel.