October 20th, 2008 / 12:30 pm
Mean
Blake Butler
Mean Monday: Bukowski dick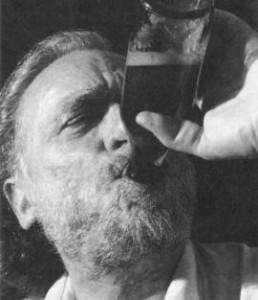 God, Bukowski. Did that guy really ever have to exist? I think it was funny and 'connective' as a 17 year old seeing books with titles like 'sometimes you get so alone it just makes sense' or whatever permutation of that title was on that book cover. But like Nirvana to rock music, an 'innovator' who makes a whole previously quieter genre big bucks famous, Bukowski is probably more responsible for boring, retarded writing than, well, anybody maybe, except for Thoreau?
Nah, it's Bukowski.
Case in Point: this dude on 3:am. 3AM is confusing in that they seem split between interesting, weird writing (mostly culled by Ellen and Tao) and the UK grime / 'Brutalist' garbage, which is often like the ULA junior.
I think about the time I was offered coke at college and replied that I wasn't thirsty. When a taxi-driver asked if I liked 'bud' and I thought he meant Budweiser.
I think I wrote something a joke like this when I was 17, before I'd tried beer.
This set of 'poems' newly published on 3AM, I'm really not sure who thought this would be interesting, maybe they know their market or something, but ruminations on reality TV, cokeheads, and bad parents, well, hrm, those are all things that are hard to talk about well probably, and especially not in the manner of Dr. B.
Add that the 3:AM dude looks like Billy Corgan on meth, and yip. But that's below the belt.
One day they will publish a selected works of Bukowski that will be worth buying, as 1 in 18 of his poems will sometimes knock you on your ass, but otherwise, well bub, thanks a lot.
78 Comments