August 10th, 2012 / 10:55 am
Music
A D Jameson
Pitchfork's Les Misérables List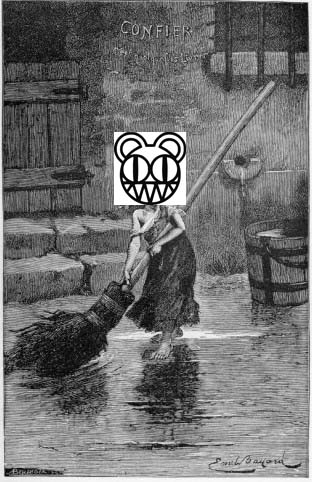 Have you seen that Pitchfork Media finally wants input from their readers, asking folks to vote for their favorite albums 1996–2012? (That's years 1–16 Anno Pitchfork.) Between this and The Dark Knight Rises, 2012 sure has been good for the proletariat: rise up, ye 99%, and go watch a movie, and vote online! When you're finished, you can share your list with friends via Facebook and Twitter. If you like, you can even write a little something about your #1 pick for possible inclusion in the final feature!
You can also check a box to enter a Sweepstakes to win a Trip to the Pitchfork Paris Music Festival, but make sure you READ CAREFULLY the Official Contest Rules…
Me, I can't wait to share my commoner's thoughts, little though they are. Off the top of my head:
1. Sonic Youth: A Thousand Leaves
2. They Might Be Giants: Mink Car
3. R.E.M.: Up
4. The Strokes: First Impressions of Earth
5. Smashing Pumpkins: Zeitgeist
6. Tori Amos: Scarlet's Walk
7. Weezer: Raditude
8. Pearl Jam: Binaural
9. Flaming Lips: Zaireeka
10. Save Ferris: It Means Everything
11. UNKLE: Psyence Fiction
12. Travis Morrison: Travistan
13. Drowning Pool: Sinner
14. Neil Young: Fork in the Road
15. Lou Reed & Metallica: Lulu
16. Linkin Park: A Thousand Suns
17. Stone Temple Pilots: No. 4
18. Mr. Big: What If…
19. Counting Crows: Recovering the Satellites
20. Dave Matthews Band: Big Whiskey and the GrooGrux King
After that, I start running out of ideas. Maybe there haven't been any other great albums since '96? Oh, wait, Atlas Shrugged…
Let's see if I can't predict the eventual People's Favorite Five:
5. Dismemberment Plan: Emergency & I
4. Neutral Milk Hotel: In the Aeroplane Under the Sea
3. Radiohead: OK Computer
2. Arcade Fire: Funeral
1. Radiohead: Kid A

Very helpfully, when you do start voting for your own favorite albums, "to help you get started," Pitchfork provides its staff lists from 1996–2011. If you want to include an album not in Pitchfork's database (i.e., one they've not reviewed, or one they've deleted because their review embarrassed them later), you have to add it.
So that means I can search on Joan of Arc albums up until 2005, but for anything after that—the year Pitchfork simply began ignoring the band's existence—I have to enter it myself. Time to start typing…
Update: Related, of course.
Tags: Joan of Arc, pitchfork, The Dark Knight Rises
26 Comments