February 18th, 2009 / 1:50 pm
Presses
Blake Butler
Amelia Gray's AM/PM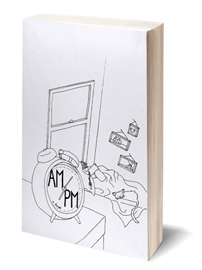 Out this month from Featherproof, as a kickoff to their brand new and already brain-changing Paper Egg Books: Amelia Gray's fabulous AM/PM, a short novel that follows "23 characters across 120 stories full of lizard tails, Schrödinger boxes and volcano love."
I was already really excited about this before I saw how beautiful the book is (as is to be expected in the nimble hands of designer Zach Dodson), having continually been wowed and had my skirt blown up by Amelia's work in the past, such as this amazing story in the Diagram Innovative Fiction finalists, and Caketrain, American Short Fiction, etc.
Last night, though, reading AM/PM from cover to cover before bed, I could not stop rotating between the sharp, quick gut giggles that Amelia's layered one liners continually deliver, and awe at her unmatched ability to meld the everyday minutiae of houses and people-talk with moments of pure existential terror and sublime gloaming.
Her sentences, whittled into these tight-packed paragraphs surrounded by the white space their intelligence requires for those who read to breathe, operate like a dissector, a stand up comic, and slant-eyed philosophy all at once. The result is kind of like a marriage between the surprising microworlds of Diane Williams, in the way they make you look and look again, to those of Carver or Yates or even at times Denis Johnson, in the way assume a simplicity of delivery and diction that gets right to the meat, without any dragging on. And yet so funny, in a way that seems truly, distinctly, Amelia.
Here is one section, chosen mostly at random, as as I went on reading, jotting down my favorite pages, I ended up giving up the list, as they are all so nice:
The truck, advertising FISH and MEAT and GOURMET BRANDS, got stuck on the hump between the parking lot and the road in front of the deli next door to our apartment. We went outside because we wanted to count the wheels still touching the ground but the driver waved us away. So we went back inside, where we could only see the back of the truck from the window, and just barely the cars in the street, swerving to avoid it. Somebody said, What would happen if the back end disconnected from the front end, and rolled in through the window and into our home? Killing us all? And causing thousands of dollars of structural damage for our landlord? And somebody else said, I think you have sufficiently answered your own question.
AM/PM is a refreshing, magical book, equipped with so much lucid linage that its hard not to want to read each page again and again, extending each small punch of threaded pleasure.
And the catch? Well, AM/PM is free! with your subscription to Paper Egg's yearly series, which are extremely reasonably priced at $20 for 1 year, $35 for 2 years, and $50 for 3 years, with two books coming in each period (AM/PM not even counting at one of the two for the first year…). This offer is good for the first 250 people who sign up, and will begin in subscription with Christian Tebordo's THE AWFUL POSSIBILITIES by Christian Tebordo.
Get it while you can. This new model, which to me seems a great stride in the way books should be sold and delivered, is already making waves.
Tags: am/pm, amelia gray, featherproof
36 Comments