Ben Segal
An Open Letter to Readers and Writers on the Internet Regarding the Founding of El Aleph Press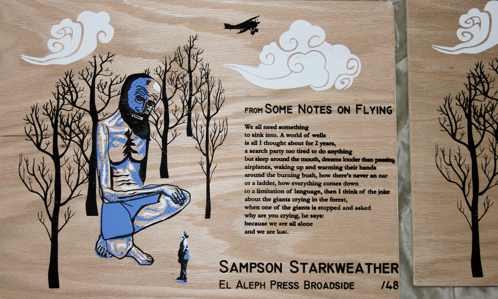 Dear Internet Readers,
You know that boringly recurrent conversation in which someone laments the end of print and someone else talks about how craftsmanship, design, and embracing new media can actually make small presses more viable and exciting than ever? In that conversation you are the second (more optimistic) person. Or at least you like to hold out hope that that person's correct. And because of that you really should know about El Aleph Press.
In the interest full disclosure and as proof that I know what I'm talking about, I should say that I've known and been friends with El Aleph's founder/editor, Michael Bagwell, for several years. I like him, I trust his aesthetic. So naturally I was excited to hear that he'd started a press. Then I actually got my hands on the things he was doing and got even more excited. El Aleph makes books, broadsides, t-shirts, and now an anthology. Their website features writing, of course, but also short films and, soon, a whole host of other multimedia work. They're getting involved in a lot of projects across a range of media, and everything they touch is beautiful and careful and medium-specific.
Let me give two examples of the work El Aleph is putting out. Their first broadside features a short Sampson Starkweather poem with a color illustration printed gorgeously onto solid wood. Their first book, Or Else They are Trees, is a collaboration between Bagwell and the artist Rebecca Miller. It's similarly gorgeous, a mix of poems and full-color artwork. If there's an early hallmark of El Aleph's work it's that language and design are equally meticulous.
I should also mention that El Aleph is currently looking for submissions for their forthcoming anthology. From what they've published and what I know of Bagwell's aesthetic, you'd be well served to send in formally adventurous works, lyrical weirdness, and texts that are equally surreal and sincere. You should also send reviews, comics and more traditional stories/poems.
All of the information on El Aleph, their projects, and submissions guidelines are available at their website. So check out/submit/support, etc.
Very Best,
Ben