November 12th, 2008 / 2:23 pm
Presses
Blake Butler
New York Tyrant will eat your eyes
New York Tyrant launched their new website this week. It is a very tasteful flash affair jam packed with insane shit and new info, including the aforementioned new issue with the greatest cover ever, which is as such: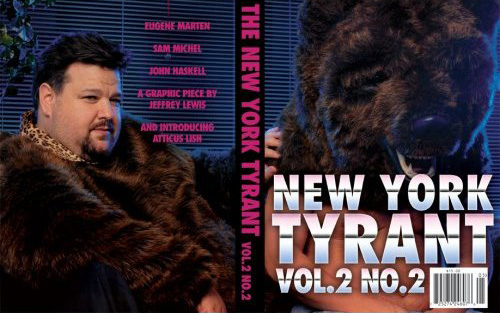 Yes, that is Chris March from Project Runway in a bear suit. Fuck yeah.
The line up on the new issue is kind of a feat in and of itself I think: Alex Balk, Eugene Marten, Jason Schwartz, Eva Talmadge, Gordon Lish, Atticus Lish, Sam Michel, Brad Gayman, John Haskell, Cooper Renner, Michael Scott Ryan, Oscar Williams, Ryan Call, Blake Butler, Julian Zadorozny, Ronald Hobbs, M. Thomas Gammarino, Conor Madigan, R.E. Bowse, Justin Taylor, Julian Kudritzki, Pasquino, Greg Mulcahy, M Sarki, S.G. Miller, Joshua Furst, David Nutt, Sarah Manguso, Patrick Leonard, Jeffrey Lewis, Thomas a Kempis, Jody Barton.
You can now order the issue from the site, which I suggest you do soon, as the last two have sold out before they could really even make it on the web.
Also unveiled in the site is the forthcoming Tyrant Press, which will feature titles from Eugene Marten, Michael Kimball, and Brian Evenson. Already a legend and they haven't published the first book yet.
In addition to all this, submissions have reopened, so all of ya'll who submit, should get on it. And buy. Buy the issues, esp. if you never have. Don't be the guy sending blindly to anyone who will read your electronically.
Tags: chris march, gordon lish, new york tyrant
31 Comments