Blake Butler
Prurient's 'Rose Pillar'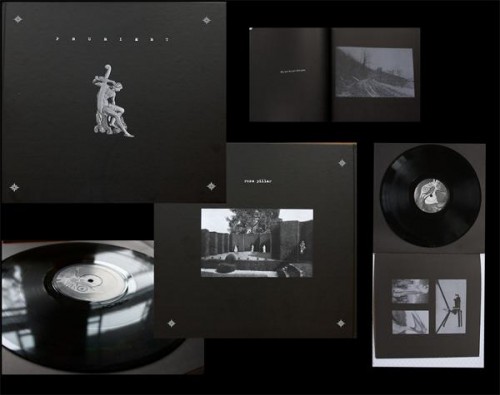 Goddamn, I want this:
After two years in the making, Heartworm Press is proud to present Rose Pillar by Prurient.

The Rose Pillar in traditional Roman culture is used to mark the graveyard or mosualueam, as a signpost of death. Usually they contained carvings of birds and plants signifying rebirth. Taking inspiration from authors like Whitman, Lechev and Rumi, Prurient delivers its first major literary endeavor in Rose Pillar. Prurient combines text, image and sound in this uniquely packaged and presented release by the Heartworm Press.

What separates Dominick Fernow's Prurient project from the rest of the contemporary underground cannon is its unyielding personal subject matter. From the inception of Prurient the concept has always utilized intimate details, photographs, letters and other ephemera culled from places where most artists would choose to obscure. Prurient draws these details into focus more than ever on Rose Pillar, a 180-page hardbound book of Fernow's collage work and text supplied by his mother Jean Feraca from her previously published memoir I Hear Voices. Feraca tells the story of the death of Stephen, the brilliant but troubled older brother, an anthropologist who was adopted into a Sioux tribe.

Feraca's text is juxtaposed with Fernow's collages of fallen empires, plant-life and industrial decline. The imagery presented is both stoic yet strangely profound and revealing as an analogy of death.

Rose Pillar also contains an 11" vinyl LP containing new material from Prurient that is the most profound and fully-realized work of his career. Prurient is not about an attack but rather a cry for help. Prurient takes the listener to the ends of human emotion as the range of sounds swell as the light of life fades. The climax of the album is the track "spins the worlds wheel again" which contains the most densely melodic frozen drone ever contained on a Prurient recording. What's evidenced in these recordings is a sense of loss and destruction that can't be replaced. The sound feels more like an erosion of steady decline, ebb and flow, storms, power controlled and power unleashed.
Noise albums with art books, texts. Heartworm Press is getting an order from me real soon. As soon as I can find $100 for this 'Rose Pillar' (I was slightly skeptical about spending $100 until I heard the preview track 'Spins the Worlds Wheel Again' from the accompanying record that you can hear via the Heartworm Press myspace, which may be one of the blackest and most ready things I've heard in a while.
(Shoutout to Sam Pink for getting me deep into the 'Black Vase' album, which has become I think my favorite and most brutal noise record acquisition of the past several years.)
I would love to see more crossover between noise music and text, which Heartworm seems on top of, opening doors. (They've also released a poetry book by Eric Paul from Arab on Radar, as well as several other titles.)
Beautiful, fucked shit. Yes.
Tags: heartworm press, prurient
20 Comments