October 24th, 2010 / 8:32 am
Random
Kyle Minor
Harkness Gospels, Xanten Tanakh, Turkish Qur'an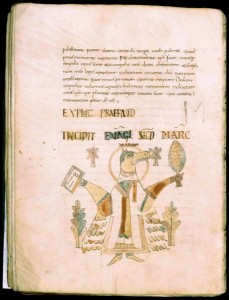 The online portion of the New York Public Library's Three Faiths exhibition includes images of the Harkness Gospels of Landevennec, Brittany, in Latin; the Xanten Tanakh of the Lower Rhineland, scribed by Joseph ben Kalonymus; and a fourteenth century Turkish Qur'an signed by Husam al-Faqir al-Mawlavi, disciple of Jalal al-Din Rumi. (Did I mention they're all beautiful in a way books aren't anymore?) Check out the photographic reproductions here.
One Comment
October 24th, 2010 / 9:25 pm JustinTaylor—

Hey, thanks Kyle. That Harkness stuff is fascinating–I'm gonna get myself over to the NYPL sometime this week.