September 23rd, 2009 / 11:13 am
Uncategorized
Adam Robinson
60 Word Short Story Reviews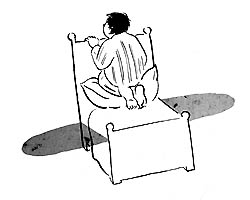 Baltimore's City Paper is currently running a series of short story reviews in 60 words or less. It's insanely difficult to try to capture something that briefly. I'm not thrilled with my encapsulation of Giant contributor Ryan Call's story "I Pilot My Bed Deep Into the Night," which appeared in Keyhole 7, but what the heck. It was fun trying. Or maybe it was stressful, because I had to keep throwing away words and I thought I was killing his amazing story. Other reviews include a Breece Pancake story from Justin Sirois (who chose to use the expletive "damn" as one of his words), Barry Hannah's "Constant Pain in Tuscaloosa" by Tim Kreider, and a couple dozen others. Here's a writer to know: Dambudzo Marechera, covered by Bret McCabe.  
The Bar-Stool Edible Worm
by Dambudzo Marechera

I am against everything
Against war and those against
War.
Against whatever diminishes
Th'individual's blind impulse.

Shake the peaches down from
The summer poem, Rake in ripe
Luminosity; dust; taste. Lunchtime
News – pass the Castor Oil, Alice.
I think the most remarkable review is Jamie Gaughran-Perez's take on "Hills Like White Elephants," because he doesn't shy away from quoting the word "please" for seven of his 60 words. There are 27 reviews in all, which means you can can get mildly familiar with 27 stories and only have to read 1620 words.
Tags: Baltimore City Paper, Dambudzo Marechera, ryan call
18 Comments