October 25th, 2011 / 12:15 pm
Random
Sean Lovelace
A System?
Couldn't locate a book today. That made me a tadpole late for class. But I required down sticky/icky low immersion, that Cormac thing, to show a student. Student penned a meth flophouse story. I needed to tell this student, "Get your story grittier. You went so far and you got squeamish. Go further. Get more squeamish. [Here I am making a squeezing hand motion, God knows why.] Boil your stomach in its own rank juices! No disgust in the writer, no disgust in the reader. Something…" Etc. I wanted to show him Suttree, of course, page where Harrogate gets a side job cleaning out a totaled car at a junkyard. Five "boys" were in the car when it was "Run head on by a semi." Then this:
He propped his feet against one door and gave it a good kick and it fell open. Some kind of globular material hung down over the steering column. He climbed out of the car and bent down to find the heads of the bolts beneath the seats. The carpeting had been rained on and was lightly furred with pale blue mold. Something small and fat and wet with an umbilical looking tail lying there. A sort of slug. He picked it up. A human eye looked up at him from between his thumb and forefinger."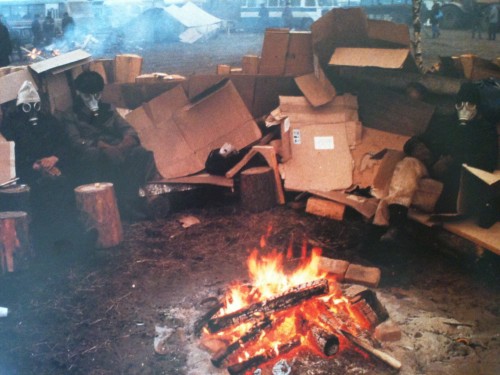 But I couldn't find Suttree, damnit. (In the end this was the fault of Matt Bell, Charles Bukowski, and Philip Young—their three books are the same cover hue [brown] as Suttree so I kept grabbing the wrong title.) I knew Suttree was there—I could smell the thing, all that leprous river mud and catfish whiskey breath. For not the first time I gazed googly-eyed at my tumuli of books and thought, "Do I need a system?" I see the practicality of a system, but also the danger. (Oh, all those failed systems) And I see book-piles as thickets and wonder-clumps, not some cultivated shrubbery/statue garden. I like heaps. Slippery heaps of books. But that isn't going to work. Do you have a system? How do you find a written thing?
12 Comments