HTMLGIANT / lovelace
Sean Lovelace
-Black "Neff" beanie
-Black umbrella
-Black/red polka dot umbrella
-Navy speckled umbrella
-Digital camera with case (must fully describe to claim)
-Silver earring
-"Association of Objectification of Women School Broadcasters" certificates
-Elimae
-Black/gray running shoes
-Black "Mike Young" tennis shoes
-"Mockingjay" book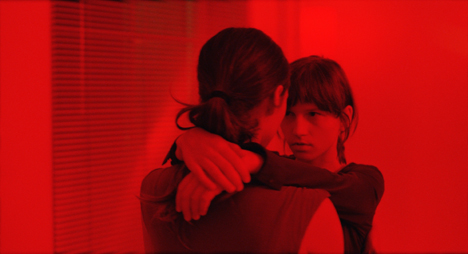 -Orange "Sky Zone" sock
-Black sunglasses (2)
-Black sunglasses with silver frames
-Leopard print sunglasses
-Racist Cell phone car charger
-Headphones with remote controls
-Black "ACE" bandage
-Sweater with red/pink hearts
-Gray "Adam Robinson" sweatshirt
-Black brassiere
-Prescription glasses with gold frames
-"No Colony" art posters
-"Kathleen Rooney" headlamp
-Blue bag with drinking glass and plate
-Clear drinking glass with "Sigma Chi" ink pen
-"Molly Gaudry" bowling ball
-White folder with class notes
-"Mary Miller" Bungee cord
-"Kentucky Chen" water bottle
-"Memorex" CD ("#8")
Random
/
9 Comments
October 7th, 2014 / 10:44 am
Sean Lovelace
Q: Was your writing encouraged at home?
A: Mostly not, no.
Q: Have you matured as a writer?
A: What is my hot material? My Midwestern childhood, my parents, their marriage.
A: I'm that oddity of a writer who had a good high-school experience.
A: I had an idea of the social novel that I didn't realize was already outmoded.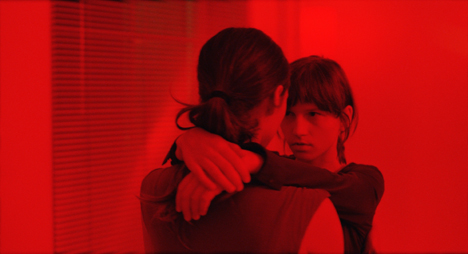 A: But that didn't stop me from trying to write a Corrections-like book.
Q: Is that obsession with appearances still a concern to you?
A: Most of the book.
Q: You've described your first two books as "systems novels."
A: Cigarettes had made me smart, and smart had been the organizing principle for a couple of books. Smart had been the locus of my manhood, but it was no longer getting me anywhere.
Q: Blake Butler?
A: I built an office up in Harlem in 1997. The people at the Swedish Academy, who bestow the Nobel Prize, recently confessed their thoroughgoing lack of interest in American literary production. The conflict in my marriage could no longer be ignored.
Random
/
3 Comments
October 6th, 2014 / 10:11 pm
Sean Lovelace
I talk to you on the phone you tell me I'm a great
writer
and everytime I read you in print you're putting me down.
What is it with you?
the knifer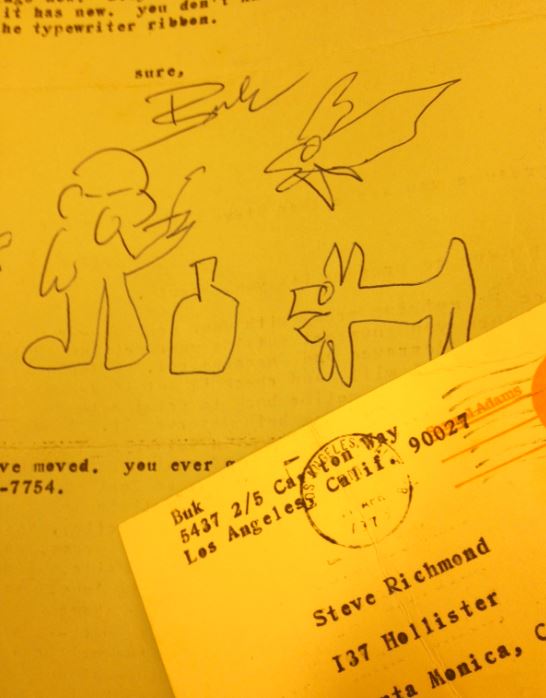 I presume you are either Steve Richmond or Harold Norse.
I'll have to presume it's you, Steven.
there is nothing wrong with your writing—Or Norse's.
it's when you guys get outside your writing that you
often get depraved and nonsensical. I don't want to
say it, but I will, and check it out if you please.
I asked Martin sometime back to print both you and
Norse feeling that you both deserved it. I have backed
both your and N's writing—in forwards (forewords) to
your books and even by word of mouth over a bottle of
beer. and I don't do it out of good feelings or comradie,
I do it because I believe in the artistry of your work.
then Norse attacks me in print (indirectly), asserting
that I have come between him and Sparrow, ruined his
chances when I have done just the opposite. I am not
out to get anybody; you guys are ridiculous. stick to
the facts. and on those 300 poems you showed me that
night, babe, since you hardharp it so much—most of them
did happen to be bad. all right, I've written some bad
ones too, plenty of them. we run into slumps of spirit
and life…now, do you understand? I say you're
a very fine writer but you're too jumpy about movements
in the fog. relax. I defended your work against a
certain guy you know quite well who said you couldn't
write.                       (over)
HE CAME BY A WEEK AGO
I told him that I thought you were one of the most
powerful and original writers alive. I don't want
to tell you these things but you fore ce me to. now
if you'll get your head on straight and get into
doing the WORK you're capable of instead of imagining
I wish your beath death, then we'll both feel one hell
of a lot better.
I hope you're getting some good ass and some love
and that the lines are falling into place. I've come
off a couple bad days drinking but am back to getting
all things now. stay with it. Some day it will come to
you    it has now. you don't know it. get your teeth
into the typewriter ribbon.
Sure,
BUK
p.s. I've moved. you ever got any need to phone, o.k., it's 661-7754.
Random
/
No Comments
June 27th, 2014 / 8:13 am
Sean Lovelace
Hello Big John:
Here is further from the novel FACTOTUM. I feel it is picking up now and getting lively. I felt it would if I gave it a chance. Some things must begin slowly and build up their own steam. If it stays lively enough for me I will finish it. I include an excerpt I am sending out as a short story. It runs a little smoother, just a touch, which shows that minor re-writing has its value.
I am also including a poem which I don't believe I sent you a carbon of but which is in the current issue of INVISIBLE CITY, Vangelisti's rag.
My spirit is back up for a while. I don't know why. But when I feel good I allow myself to.
Vangelisti who was about out on his ass at S.C. tells me he has won a Fulbright and will be teaching at univ. of Rome (?) come Sept. and that he intends to translate Bukowski to Italian. Heat up the sphagetti, pardner…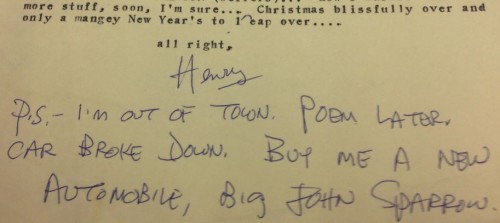 Sometimes I really enjoy writing…like the excerpt, SOMETHING LESS THAN ANGEL, I grinned all through it, glowing, flipping out the words, feeling damned near immortal like Dante or somebody, or anyhow, feeling fair enough, knowing it could probably be better written but I couldn't write it better without that exact strain of work like changing a tire, and I don't like the to change tires.
So, hang in, Old Black Sparrow and tell Mrs. Sparrow, Bukowski says good things are possible if you don't fight the sun too much…which reminds me of some good told time titles—KNEEL TO THE RISING SUN (Caldwell), and better yet, BE ANGRY AT THE SUN (Jeffers)…how I warble on…more stuff, soon, I'm sure…Christmas blissfully over and only a mangey New Year's to l eap over….
All right,
Henry
P.S. –I'M OUT OF TOWN. POEM LATER. CAR BROKE DOWN. BUY ME A NEW AUTOMOBILE, BIG JOHN SPARROW.
Author Spotlight
/
1 Comment
June 12th, 2014 / 4:00 pm
Sean Lovelace
James Franco is in new Diagram.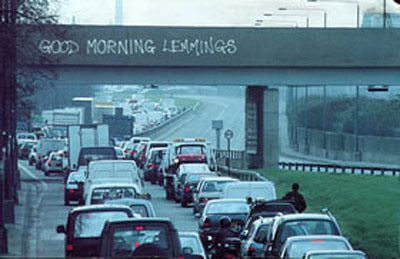 Author Spotlight
/
No Comments
February 23rd, 2014 / 6:47 pm
Sean Lovelace
Shattered clock of memoir flashes. Thinking Abigail Thomas, John Edgar Wideman (in Harper's or some mag like Harper's a while back), Baudelaire, Between Parentheses, fuck I don't know. Calling for flash nonfiction collection authors.
The cover has a guy holding tiny baby chicks, as you can surmise. The chicks look like clay or bewildered paper balls.
The real angling or net fishing is memory.
Can you recall 5 stories from when you were age 10, maybe 5 interactions with dogs? Neither can I. Where did they collapse?
Every flash, all 100, is 100 words. That's called a drabble in fiction. Not exactly Oulipo but it has an effect, like a painting of a vulture in a mirror. Aesthetic restraints lead to increased creativity (and technique), not decreased. Perec taught us the wanderer can own the wall.
Language leads on like a forehead, and seems to fulfill at time, the writer.
I sense a cobweb fatigue with pretentiousness. You can feel a jacket being shucked and thrown crumpled to the floor.
Writer asks, wonders, "Who was this Jack?"
Shame, for example. A drowsing duck inside the chest cavity.
My favorite line: I was wooing a Kansas City woman. Very Chinquee, in its direct way.
I also enjoyed, "She died from alcohol, but nobody ever saw her take a drink." READ MORE >
Author Spotlight
&
Random
/
No Comments
January 28th, 2014 / 3:46 pm
Sean Lovelace
Here's a gift idea: a two dollar bill. They're fucking cool. It's so usual and unusual. Here's another one: a book of linked poems.
An analogy is a comic roast. YOU ONLY ROAST THOSE YOU LOVE. Same with shooting a book. I only shoot books I love.
Damn, that woke the neighbors.
Tiny compressed mythologies.
Fun fact: Thomas Jefferson was a bad, sloppy dresser.
Numbering all whacked.
There is a running, weeping elephant in this book.
Random
/
1 Comment
December 20th, 2013 / 1:49 pm
Sean Lovelace
I saw Nick Sturm once in a dive bar, I think. He had a ponytail. I thought, "I like guys with ponytails."
The cover of A Basic Guide is either a yarn mobile, the meanderings of a dragonfly when stimulated by a drop of sugar, or a rough sketch of a sailing frigate. It's by Amy Borezo, who has a history of time and motion, intersections of paper, interactions of words…It seems an apt choice for a book cover, this artist.
I have a ponytail. My enjoyment of ponytails is entirely self-serving. It makes me feel less alone.
A guide is an appropriated form. The world is potential structure. Lorrie Moore wrote a guide. Ander Monson wrote a guide. Here's a cool one by Melanie Rae Thon. A guide seems to imply an alembic of knowledge, this idea possibly used as ironic, as conceit, or as straight up earnest.
It is not light that we need, but fire; it is not gentle shower, but thunder. We need Sturm, the whirlwind, and the earthquake.
There is a wistful nostalgia here that kindles of Richard Brautigan. This longing is transferred through an accumulation, not through explicit yearning, so then A Basic Guide becomes a sort of kitchen drawer or curio cigar box—it shows, but yet stores away, creates a poetic idyll, a space: horses, petticoat, jubilee, levee, these types of wonderful that might be leaking away, might be in need of storage, little mysteries to keep in a Mason jar.
"The way the kiss stays locked in the machine."
"…but the past was like a bleached coral reef."
Once my ponytail was "He's sort of a cute hippie." Now my ponytail is all, "age-inappropriate/flaky/I bet he has a 'writer satchel'/guy you see at AWP" sort of thing. But that's OK. Things change. Like can be hard, but there are beautiful things, too, you know. READ MORE >
Author Spotlight
&
Random
/
1 Comment
July 17th, 2013 / 10:40 am