February 8th, 2011 / 8:26 pm
Random
Roxane Gay
Bitches Be Trippin'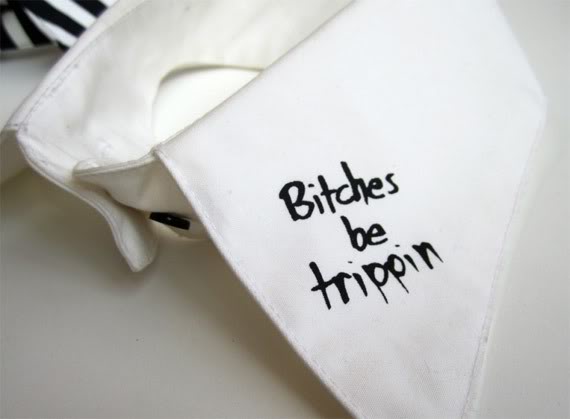 I love the Urban Dictionary because they seem to have a definition for everything. I spend a lot of time looking up dirty words and phrases. I learned what a snowball was via Urban Dictionary. It has nothing to do with the snow, that's for sure. I love the phrase "Bitches be trippin'." I don't know why. On a whim, I decided to look up the phrase on Urban Dictionary. Sure enough, there was a definition. According to them, the phrase is "used primarily by heterosexual males to justify the irrational behaviors of women." For example, when women bring attention to certain pervasive and longstanding disparities, one might say, "I don't know what all the fuss is about. Bitches be trippin'."
I wasn't going to write about this at length but then Matthew Simmons e-mailed asking if I was going to write about this. I guess I am. There has been a lot of talk over the past week about VIDA's new set of statistics revealing some insight into the status of women in publishing. Go take a look, if this sort of thing interests you. The numbers are startling and yet they aren't. With very few exceptions, women are published far less than men at some of the most influential publications in the country, both large and small. Of course, statistics never tell the whole story and it is easy to whip up some numbers to tell any story you want. Last year Charles Seife wrote a book called Proofiness about statistical manipulation and in the book, he writes, "In skillful hands, phony data, bogus statistics, and bad mathematics can make the most fanciful idea, the most outrageous falsehood seem true. They can be used to bludgeon enemies, to destroy critics, and to squelch debate." Throughout history people have always used numbers to their advantage hoping that the gravity of statistical proof would help them sway a debate in one direction or another. I understand why people might look at the numbers VIDA has presented and regard them with some skepticism and want more information.
In this day and age, we are inundated with statistical information, often incomplete, and one more set of numbers isn't necessarily enough to make us believe the matter of gender and publishing is as dire as the numbers would have us believe. We are also talking about a really complex topic. There are many historical, socio-economic and institutional factors that have contributed to gender inequities and statistical information cannot adjust for those factors. I also think more could have done with the presentation of the data. The VIDA post is just a long list of pie charts without a lot of context or discussion. Then again, is it VIDA's responsibility to do that work above and beyond the exhaustive data compilation they already conducted?
Whenever this conversation, this tiresome talk of women and men and fairness and parity, comes up, everyone immediately becomes defensive and morphs into statistical experts, trying to find ways to discredit the numbers or to manifest parity when clearly there is little or none. People belittle the issue, make jokes, dismiss the problem, offer pithy commentary, and otherwise avoid engaging the issue in any sort of meaningful way. I get it. That approach is easier. People also like to say publishing is run by women, citing the many women working at publishing houses, working as agents, etc. as if that somehow brings more balance to a reality where men out publish women, often at a rate of three to one. There is no correlation between those things.  The gender breakdown of who is submitting might help to get a clearer picture of the disparities we continue to talk about year after year after year but we cannot lay the "blame" for the lack of gender parity in publishing at the feet of the submission queue. We cannot dismiss this issue by catering to the notion that men are simply more willing to put their work out there because that's what men do. I had an entire rant planned but then I realized I'd either be preaching to the choir or preaching to those who could never be converted.
This conversation is stalled. We keep trying to find ways to "prove" there is a problem. Many people want to understand why this disparity exists instead of working to address the disparity itself.  I'm not going to do that anymore. There is a problem. I am comfortable with that making me a bitch who be trippin'.  There is work to be done—let's get to it.
Until today, I had not checked PANK's numbers for gender parity across issues because I was confident we were pretty even in the number of men and women we publish. In PANK 5, there were 44 women (or writers who identify as women) and 33 men. In PANK 4, there were 32 women and 37 men. In PANK 3, there were 31 women and 35 men. In PANK 2, there were 13 women and 17 men. In our first print issue, there were 11 women and 14 men. We have too many online issues to tally them all but in the January issue there were 8 women and 11 men and in the December issue there were 14 women and 7 men. I don't have the time to run the numbers on submissions but in general, we receive about 70% of our submissions from men and 30% from women. Lest you think because I'm a woman I am more open to women writers, my co-editor ran PANK alone for the first two issues and the gender ratio was still close to 50/50 and he is a man. We have never considered gender when trying to assemble an issue or accept a given submission. These numbers have happened naturally. If I look at an upcoming issue and see a strange imbalance, I will move things around across future issues but that kind of work never happens during the editorial process itself. What do these numbers mean? I'm not sure but I think we're doing pretty well with trying to represent men and women equally despite the character of the submission queue. Why? I'd guess it's because we're open to all kinds of writing and we make it clear we're open to all kinds of writing.
Sometimes, people need to be explicitly told they are welcome. Last October at PANK, we had Tim Jones-Yelvington guest-edit a Queer Issue. Since then, we've received many submissions from queer writers who explicitly stated, in their cover letters, that they were submitting because of the queer issue, because they felt welcome, because they had a sense that queer writing was welcome in PANK. Until we started receiving these submissions I would have never guessed that some writers needed to be told, in no uncertain terms, that their writing was welcome. I know now and can make sure we continue to create an open atmosphere for writers from all walks of life.
Some of the solutions are going to be as complex as the problem itself. We have to think about how women are socialized and educated and how we can ensure that both women and men are encouraged to be ambitious, to write, to be creative, to experiment, to be the best. I assumed this to be the case because I have always been encouraged in these ways but since these new numbers were released, I've read so many accounts of women who have not had that experience, and I wonder how we can change that for women. And of course, there are the people who will say, "Well I put myself out there and I was never encouraged," and that's great but that doesn't address the needs of those who work differently.
Editors have a great deal of responsibility here.  Until we can address some of the more systemic issues embedded in this problem, editors have the most responsibility because they are on the proverbial front lines. If publications aren't receiving enough submissions by women, perhaps it is time they start aggressively seeking more women out. It certainly troubles me to think about assembling a magazine using a checklist of some kind to ensure diversity among contributors. Where does the tallying stop? It feels antithetical to editorial vision and common sense to take a Noah's Ark approach to publishing a magazine where we ensure there is one of every kind of person but the more I think about this problem, the more I see parallels to segregation and how schools had to be desegregated by force, with police and military protection because people were so unwilling to educate their children with children of different races and ethnicities. Schools had to be desegregated by force because it was the right thing to do. It was the only thing to do. It is 2011. We don't need guns. Instead, we need editors who take a stand, editors who say, this is the only thing to do, who say, "I will not publish a new issue until I have an equal or close to equal number of women and men represented." Maybe that sounds a little radical, but radical measures often lead to radical and important change.
A while ago, an editor e-mailed me saying something to the effect of that he was not going to publish another issue featuring a white man until he found the right story by a woman or someone from a different demographic. Then he told me not to tell anyone as if there was something wrong with taking that kind of stand. There isn't. I didn't know how to respond at the time but the more I thought about that e-mail, the more I believed that editor was doing something great. Taking a stand is important. If we take these stands now, we won't have to have this same conversation in ten years because gender equity will have become something we take for granted. Perhaps I am reaching for a perfect world but I am ambitious and I believe more editors need to take a stand instead of trying to dispute statistics or justify longstanding disparities.
This is not to say editors should compromise on quality or editorial vision. It drives me crazy when people imply that "the best work" can only come from men or that to try to achieve gender parity would somehow mean compromising editorial standards. That can only happen if you allow it to happen. Beat down the doors of women writers until you find what you're looking for. Editors might not be able to always have gender parity in their publications but it would be great to see more editors trying and putting in genuine, concerted effort to make it so we can talk about the words rather than the writers. I'd rather talk about the writing than gender, race, sexuality, and such. We all would. We're not there yet even though sometimes we convince ourselves we are.
We also have to look at the editors themselves. Is there gender parity on the editorial staffs of the publications VIDA analyzed? Women have to be included in  cultivating a magazine's aesthetic and the decision making processes. This is not to say women are going to be naturally inclined to accept the work of other women but I believe editorial diversity will translate well into contributor diversity.
How do we create more parity between men and women being published and in whose books are being reviewed by major publications? That's the question we need to be dealing with because until we find reasonable answers, bitches are going to continue to trip and rightly so.
P.S.
Here's a roundup of people currently talking about the VIDA numbers and the gender disparity in publishing:
Hairpin
The New York Times
Bitch
Double X
Beyond the Margins
The Missouri Review
The Southern Review
We Who Are About to Die
The Bark
Tags: gender, Proofiness, Publishing, VIDA
167 Comments