April 25th, 2011 / 10:12 am
Random
Sean Lovelace
Book + Beer: Jac Jemc and Magic Hat Wacko
Jac Jemc has a rejection blog, though it often includes acceptances.
Jac Jemc's These Strangers She'd Invited In arrives at my door with fragments of maps and playing cards and a GREYING GHOST pin and a belly band. The paper is of very high quality. The front matter includes some drawings of a nautical bent, possibly mid-19th century in feel, several fish and then several paragraphs—possibly found text—explaining the economic superiority of trawl fishing (thank you, dear Britain, for inventing the otter board). I feel an aesthetic immersion here, to wet my toes, to enter the water, to prepare myself for the feelings of shift or chill or floating or to hold breath. To be caught? The cover is the color of the Bering Strait (known to natives as Imakpik). Hand pressed love like vodka trains. Siberia is 1/12th of the entire earth. Belly bands are generally cool.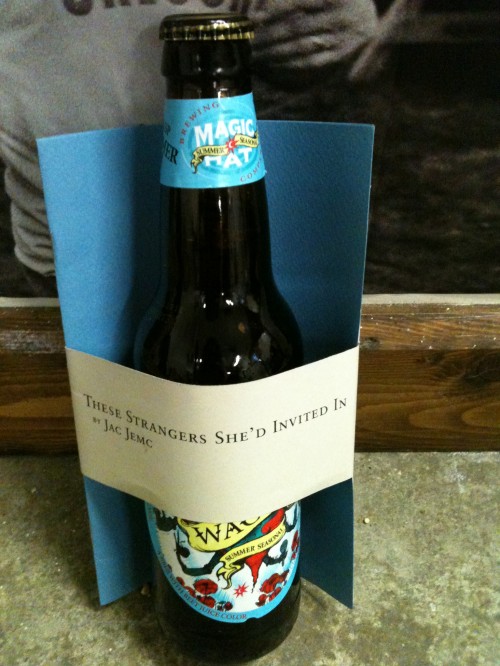 Magic Hat Wacko claims to be the liquid song of summer but it is damn well not the liquid song of summer.
It is an English Ale (otter boards!) with Appolo hops, pale malts, and a gravity of 11.00 Plato.
You can only find Wacko from April 1 to July 31. Magic Hat marketing campaigns are fat and bloated. They rely highly on being clever. If you want to make a gazpacho from this beer, and I suppose you do, you are going to need olive oil, 1 clove garlic, 1 medium red onion, 1 small shallot, 1 large ear fresh corn, OR 1½ cups frozen corn OR 1 (15-ounce) can corn, 1 medium cucumber, 1 red or yellow bell pepper, 1 green bell pepper, 1 pound very ripe plum tomatoes, 1 (15-ounce) can whole tomatoes, fresh cilantro, fresh basil, chili paste with garlic (sold in the Asian aisle of the supermarket) or hot sauce to taste, balsamic vinegar, honey, orange juice, sesame oil, 1 (12-ounce) bottle Magic Hat Wacko.
I would now like to discuss sad Russians.
Yevgeny Valerianovich Samilov can't sleep. Elina Bystritskaya fell off her front porch in some type of spider web accident. Kondrat Yakovlev trades history books for food (pretty cool, IMO). Before I address these three characters or more the watery world (to extend my metaphor) I am wading into, I would like to note a small typo in the very first sentence, on the every first page, page 1. This was probably annoying to Jac Jemc or possibly not. Did I find it annoying? No, not really, but I did stop, and I drank one long drink of my Magic Hat Wacko–I found the taste to be low alcohol. Very faint floral/herbal aroma. Somewhat of a sweet alflafa flavor, very slight herbal/floral, and I mean like the edge of a feather an itching in my throat. As it rises up in palate-flux I get a little bit of ginger in the aroma.  Body and mouthfeel are average.  Crisp finish, but pretty light, with a slight, slight bitterness curdle—and I thought about doing a whole other HTML post about typos, about how all books have them, they do, or even HTML posts (especially the drunk ones), or discussion of copy editing in general, it's pitfalls and ways and elevations, or if someone was actually going to argue typos are an elegant part of the text, the way people argue around here, or the way people argue missed calls are part of the experience of baseball, and nothing is perfect in nature, but then such a digression seemed unnecessary and I didn't want to write a whole other post because I came here to talk about sad Russians, the name I call this rather beautifully crafted chapbook. Oh, the actual typo is two words smoooooosed against one another, like this, "necessarilybegan," but I am now, now as in right now, wondering why in the hell this beer has a sickly red color, I mean WTF?
Anatoly Solonitsyn was martyred by lions. Olga Mihaylovna Bebutova seemed to agonize during music lessons and would "hurl her face at the keys." I would like to pause with Olga Mihaylovna Bebutova. I find it a fine example of something I admire in this assemblage of Russians: each one seems a set piece, interchangeably, a curio on a slanting cabinet shelf, a mix of play and seriousness, a way of spooling up emotions and spinning them into tiny, hushed things. I would not be surprised to see this thing—poem, hybrid, flash?—alongside the gold-plated petrified bones of a deep sea fish or a looking glass or a dagger or a thimble made of crushed and varnished black bread or maybe even a type of large gleaming hook, I mean to say, well, and Greying Ghost Press as I said they add to the admirable effect by including fragments of maps and playing cards and bottle openers and a drawing of the number 4, and OK, OK, here now:
5

Olga Mihaylovna Bebutova, swore she could see Mars in the middle of the day.

She asked interviewers to describe her as saturnine.

"How would you describe yourself?" they asked.

"Cheerful. Positive. But I'm sure you find me saturnine."

The interviewers would jot this word down to look into later.

She wanted to think she contained multitudes.

She tucked orange blossoms behind her ears but ended up looking dirty instead of fresh. The flowers wilted so quickly in her dry hair.

She cut twine to the desired length and performed tricks at parties where she should have been poised.

She wore patterns.

At lessons, she would err and take criticism poorly. "It's very difficult!" she would cry, and hurl her face at the keys.

And everyone around her would wonder, How do we prove Mars is invisible to the naked eye?
Can I just say the beet juice coloring of the Magic Hat Wacko is complete horseshit? Clever, clever. There. I said it. To get that out of my system. Strange. For a second it looked like pink lemonade. Has hints of pink grapefruit juice…Beets? Oh, fuck beets. WTF kind of beer is this wretched red? Sorry, I…OK, look, there are several very drinkable Magic Hats, but not this one, especially this early in the morning.
(Voodoo Gran Met uses beets and it tastes just fine.)
Yes, yes, I wanted to sleep with Fania Marinoff and this would have been no large thing since, "She was a woman that came home late at night, a different bed every time."
And sometimes one sentence contains worlds. Example: Alla Demidova.
She had just published her collected diaries and was now traveling the globe to buy them all back.
CURVE BALL:
There is no #12. The book just skips from #11 to # 13. This is odd. I like it. I mean many, many people would skip #13 or something like #7, but 12? I mean there is a page 12, but no actually heading, and to this point I though the numbers were the titles, like each life a number, a repeating, a counting, a grain of sand another grain of sand another like me or you or _______ and now where in the hell is 12? I think I am confusing myself. Certainly I'm drunk or not drunk.
The pour? You are one of those people who get all into the pour? Um, OK. Pours an effervescent pink tinged orange with 1 finger of eggshell colored head. Some lacing & zero head retention.
THE LAST LINE:
Natalia sat in the second room, trying to figure out what to do about this stranger she'd invited in.
Stranger, strange, strangeness, and I am reminded actually of one Russian: a smidgen of Mikhail Zoshchenko certainly. And then throw a few pleasurable twisted sentences to make Diane Williams proudly and maybe even a tad peppering of Brautigan.
End matter with more drawings. Several types of hooks. Possibly a sketch of a large steak. A nice looking steak. It would go well with a better beer. This book is about sad Russians and is a wonderful thing and deserves a better beer.
There are 84 copies in existence, though some claim 85. There are actually 84. Get one! The book, not the beer. The book.
Tags: A Moby Dick Chekhov, chapbooks of beauty, Greying Ghost Press all speedy and deep like a fish!, jac jemc, rejection blog
13 Comments