December 30th, 2009 / 4:49 pm
Uncategorized
Sean Lovelace
Book-o-the-Day: A Heaven Gone by Jac Jemc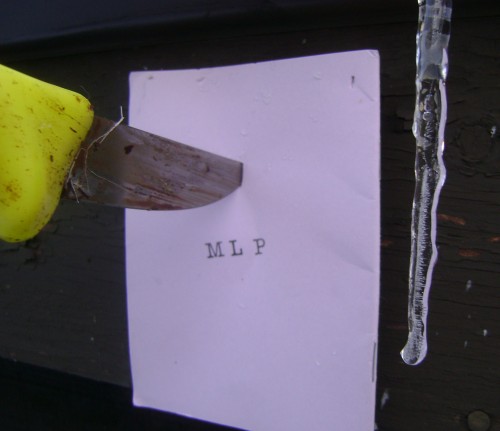 Jac Jemc all micro-fiction/poem (ah, genre, ala Charles Baxter: "…they are between poetry and fiction, the story and the sketch, prophecy and reminiscence, the personal and the crowd."). Short form. Something has happened, much of it off the page, much of it white space, white blizzard whirling around tight words. Residue. Stumble. Off the page one serious advantage of microfiction. Some see space. Some use the space (example Joseph Young, example Chelsea Martin). Example Jac Jemc.
Jac Jemc has a razor name and wears killer boots while out in Chicago.
Jac Jemc spits on rejection, polishes it up, tacks its forehead to this wall with a knife.
Jac Jemc opening page:
"Windows of humor roll down low & whistle

At our glorious legs & eyeball the stiff &

Enthronging death of accidents.

The humpbacked light of the moon is the

Funnel cloud of direction, sawn off & mighty.
Jac Jemc and the sound of words, the juxtapositions of assonance/consonance, the tighly constructed, the tone colours, the oblique: spiky versus whales, cozy & cool versus fossilization…left hemisphere, right hemisphere—I read and know something is missing, something happened, something to run from.
These characters seem to be slogging from a trauma, from the bleeding edges of the page. I am trying to state the power of the absent, of the void, the blankness around the words. (And this why each micro word must be taut, to exist in this void.)
But I said that.
"I am growing fat even now beneath this hunger…"
Amen to that one, too.
Jac Jemc worth our "clustering eyeballs." You want to know how to make prose into poetry, yes. You want to know how to make poetry into prose, yes. Well, here you go.
Jac Jemc knows we are out of breath. Out of time. Out of breath in this time. The page is a lung now. Some say this is the growth of micro, of FF–we are all living panting days, short breaths, as time evaporates.
This book is 8 pages long.
This book will take you 51 minutes to read.
That is all.
Tags: a heaven gone, jac jemc, microfiction
10 Comments