July 13th, 2012 / 8:36 pm
Random
Jimmy Chen
Britney Crying
On Thursday May 18, 2006, Britney Spears, then 24 years old with 8-month-old son Sean Preston Federline, was photographed in a restaurant between the Ritz Carlton and New York-Presbyterian Hospital, crying. Perhaps it was Postpartum, or the Paparazzi, or just the onset of life formerly dodged by her pigtail'd statutory look. The resolution is grainy, captured by an unfair stranger who made a lot of money that day. The "extra" glimmer in her eye — not of the cornea, but a welled tear — may be described by a solid square pixel, void of knowing what it was portraying, the incandescent camera's flash hitting a bulbous mound of saline. The celebrity photo, taken in one moment forever gone, much like painting, prospers by its sole uniqueness as it nails itself into some history of who we are, what we want. Britney may be a gross American, but she may also be our first sacrificial lamb. (One imagines likely contemporaries Avril Lavigne, Lada Gaga, and Ke$ha as being less sad, perhaps more complicit.) A virgin with stretch marks is obviously not a virgin anymore. As for the girl with the pearl earring, her own glimmers painted in by a dead man, she lives somewhere in a dank gallery inside The Hague, a quick train from where kids with new passports go to get high.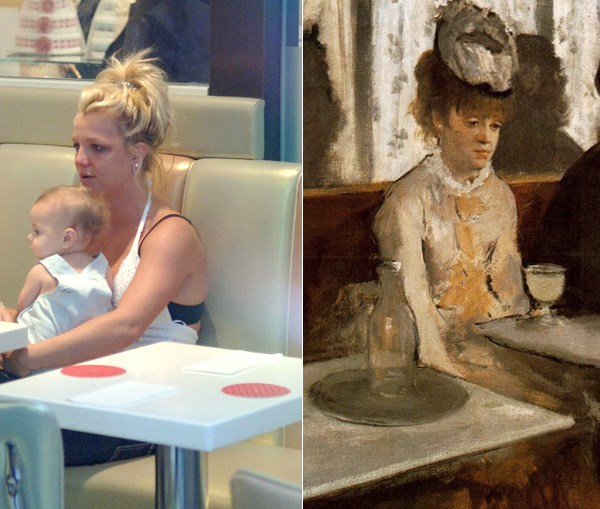 Degas' L'Absinthe (1876) was formally known as "A sketch of a French Café," then "Figures at Café," then finally changed to reflect the greenish hallucinogenic drink before one Ellen Andrée, a modest looking French actress at the time. Whether or not she was actually there, to pose, or merely in Degas' mind, will not be known today. The cafe was Nouvelle Athènes, a common meeting place for impressionist painters located in the 9th arrondissement. In the 1940s, it was known as the "Sphynx," a striptease joint frequented by the Nazis during their occupation of Paris, the flowers of the Tuileries bowing under the rotting flesh. The world has always seemed on the verge of ending, though some times were more convincing than others. Degas, hypo-famously on his deathbed, said he only wished he had more friends, so as not to have to paint that much. That he was an arrogant prick, and regretted it. That no light is greater than its origin. The anthropomorphized sun with a warm smile carved into it. Of course, these are more and more my words. If you look at the empty carafe, you'll see a generic reflection of light (painting's greatest and most petty trick, the highlights) perhaps coming from the doorway out, if only our actress had somewhere to go.
According to some gossip column from 2006 making a face-dive to 404 Not Foundland, Britney goes to the bathroom and comes out more composed. She then takes her son the New York-Presbyterian Hospital to attend to the minor difficulties of simply being alive. When a hospital is named after someone's surname, you know they spent millions of dollars. Faith is more convincing when you can count it, as if the eponymous benefactor could toss in an extra word and count on it. When a hospital is named after a Church, its inhabitants — the newly born; the giving birth; the tried to die; the not wanting to; the brain dead; the almost dead — may all hope that God will somehow be involved, regardless of how He looks, or what book He prefers to read. Desperation is more convincing than class. The pressure of being our daughter, our whore, and now our mother (at their respective narrow weight margins) was maybe too much. A chubby stranger snaps and we have so fucking much to say. Shocked we were when she shaved her head, entitled to those Aryan wisps of a nicer planet. Somewhere out there is a lambswool sweater, soft, sheered.
10 Comments