October 31st, 2008 / 11:15 am
Uncategorized
Blake Butler
Caketrain 6 for presale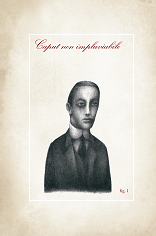 Anytime there's a new issue of Caketrain, I immediately place an order. If you ask me, Caketrain has taken up the space left by the void of 3rd BED, as each issue is packed with new words, weird words, innovation of form and content and etc. They take care to make the words look their best on clean, nice heavy paper with lots of white space and good images. You know when you buy Caketrain you will be able to read it pretty much from cover to cover. That's often a rare find.
CAKETRAIN 6 is now available for preorder, to be shipped in December. It's only $8 including shipping, which, shit, how can you beat that.
There's a full list of the site of who's got what inside but this issue seems to contain a bunch, including Michael Kimball, Norman Lock, Kim Chinquee, Shane Jones, Ryan Call, Brian Foley, Joshua Ware, Sara Levine, Jac Jemc, Forrest Roth, Kate Hill Cantrill, and etc.
Get this. Get the back issues if you don't have them. They are all issues I go back and read over and over again, and that's not a stretch.
Tags: caketrain, kim chinquee
8 Comments