HTMLGIANT / kim chinquee
Sean Lovelace
I got on my starting blocks and put my mind on something else: cereal, weeds, my father's hands, my mother's dirty apron.
They all wanted Cokes and the grandma said a beer please, and the boy's father went and ordered, delivering while the pins clinked and banged and rattled.
Another train ride, and here I am with your goddamn strawberry lotion.
She tried to hide her breath, said she had a good day.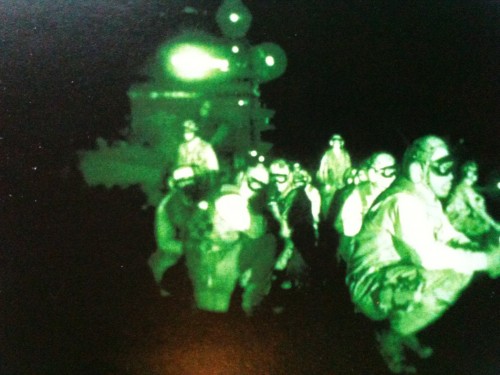 The lights were on and so I knocked and then the lights were off.
She was healthy and her laughter proved it, her laugh was like a cluck, like the chickens she used to feed, watch hatch, then butcher.
"What do we do with him when he's dead?"
"She loved God," the chaplain said. He was getting wobbly on the drum.
Later, lunch at Denny's, we talked about what to do with the lorazep, trihexphen, risperidone, fluoxetine, the haldol in the lock box.
Author Spotlight
/
5 Comments
October 20th, 2011 / 8:41 am
Sean Lovelace
And the trouble people took to attach a modern-sounding label to these texts and to create a special genre-haven't there been short texts since way back when? So people were, perhaps they still are, fidgeting with blaster, sudden fiction, flash fiction, prose poem and attempting to segregate these texts. The quality of the thing ought to be foregrounded. -Diane Williams
I believe a reader must work harder in interpreting flash, filling in those gaps with his or her own experiences. -Kim Chinquee
I love the immediacy of the medium–of reading a story that is not only compressed, but memorable in the images that are presented. -Meg Tuite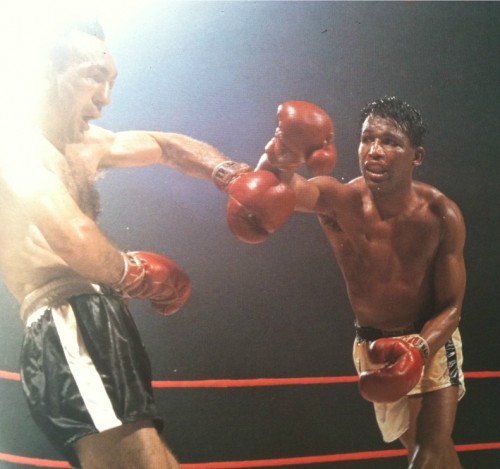 I had long admired the very short stories of Kafka, Borges, Hempel, others, before I gave the idea of length any real thought. -Pamela Painter.
I've been very interested to see what different writers have done with the very short form. It can go in so many directions, and whether one chooses a sort of mini-essay or mini-narrative or prose poem, meditation, etc., each will be quite different because the mind of each different writer comes through so clearly–the writer's way of thinking, viewing the world, and then of course his or her way of handling language. In such a short form, each word has to be right. -Lydia Davis
I think my stories start fairly short, somewhere in the neighborhood of 200-300 words, and often stay there. -Chella Courington
I've always read the shortest stories I could get my hands on. It's always appealed, the power to receive the full scope of a piece, to tour all the feelings the writer wants you to feel in one uninterrupted moment. It's so easy to be brutal without consequence to characters in the shortest form. -Amelia Gray
I also think it's the least egotistical form of writing. Not a lot of show-offs go into writing flash. None that I know anyway.  -Mary Hamilton
Author Spotlight
&
Random
/
4 Comments
October 6th, 2011 / 10:35 am
Ryan Call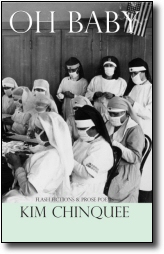 Last night, I dreamed that I was in a clearing in a forest, and my wife was below me, yelling that I should fly higher to avoid danger. It was nighttime, there were some stars. I felt scared as I rose, but then I felt very happy, because my wife joined me over the forest, and we escaped along the mountain ridges.
It is a dream I have not had in so long. It is the kind of dream that I've missed having, one that I had so many times before when I was a young boy. Most of you have probably had this dream as well: the flying dream. Yes, when I was little, I often dreamed that I could fly. In my dream, I floated out of my room, down the stairs to the landing at the front door of our house, and outside.
Random
/
3 Comments
May 11th, 2011 / 10:02 pm
Sean Lovelace
Like it was her Place by Kim Chinquee (Mud Luscious Press). The cover is a muted blue of soapstone clay. Kim Chinquee is a high-caliber writer of flash fiction. Many writers do not hold their own voice. She holds her own voice. Concern for verisimilitude, deterministic tone—this leads to this to this, narrator observing bemused or watchful or somehow self is outside of self, or narrating quietly, distance, a feel of floating, well, you know her voice, you have read Kim Chinquee I hope by now, by gods, by help yourself buy or find yourself to her words. Like it was her Place a floating "she" visits house of former ______, of former self, of former lover/hater/friend:
She was passing through now.

She wasn't ready to go up yet, to his bedroom.

The key still worked.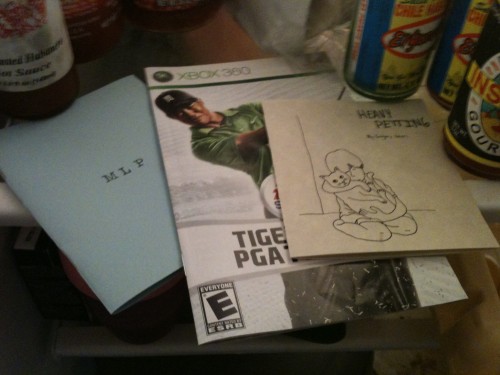 XBOX 360 Instruction Manual: Tiger Woods PGA Tour 2009. The cover is the glossy of lips. Tiger Woods in his green Friday shirt, in follow-though of an iron shot. It is all 2009 and a Band-aid on his finger from a broken hand mirror. His mind is a fluttering caddy-book of sticky pages, baby diapers, golden trophies, and ghost phones. Like many of us, I am self-disgusted by the allure of Tiger Woods while at the same thankful I learned the finer points of Ambien sex through media reports of his unraveling personal life. The XBOX manual is a helpful mix of images, charts, and technical jargon, but then often an unexpected glimpse of word-play:
IN THE BAG: Be as funky or smooth as you want to be by choosing your swing and purchasing animations.
or
Loft.
Author Spotlight
&
Random
/
3 Comments
May 2nd, 2011 / 9:30 am
Sean Lovelace
1. Ken Sparling. 2. Stace Budzko. 3. Kim Chinquee 4. Elysia Smith. 5. Shya Scanlon 6. Aimee Nezhukumatathil 7. Mark Ehling.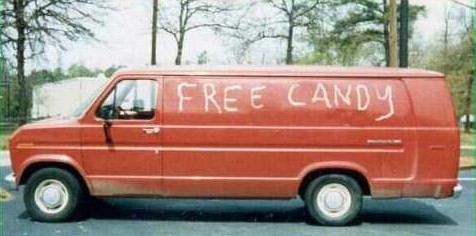 8. Damian Dressick. 9. Jac Jemc. 10. Peter Gradbois 11. David Shumate. 12. Jesse Goolsby. 13. Caroline Zilk. 14. Molly Gaudry.
Author Spotlight
/
8 Comments
July 6th, 2010 / 8:54 am
Ryan Call
Kim Chinquee is the author of Oh Baby, a collection of short shorts from Ravenna Press. She has won a Pushcart Prize. Her work has appeared in various places, online and in print: 3:am, Caketrain, Conjunctions, elimae, Fiction, Hobart, Keyhole, NOON, Phoebe, Post Road, Sleepingfish, Willow Springs, etc. She teaches at Buffalo State College. It is cold up there, I imagine. Probably snowy also.
I had to include Phoebe in that list, as that's how I first really saw her work up close, if that makes sense. I emailed with Kim after accepting a handful of her short short pieces for an issue. I was (and still am) impressed with the precision of her writing. The stories in the collection are tiny and wonderful. So, if you happen to miss out on the giveaway, you really should click over to Ravenna Press and order a copy of her book all the same.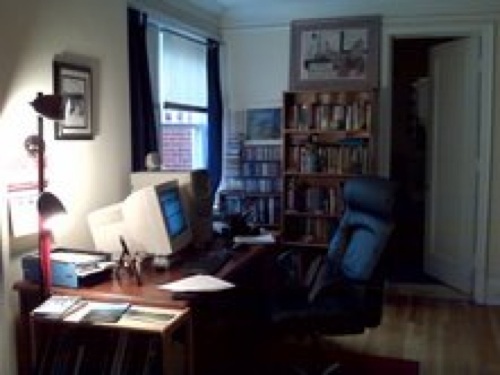 Here's what Kim has to say about her new office, which she just moved into last year upon arriving in Buffalo:
This is my home office, a corner of my studio apartment, and I took this photo after moving to Buffalo in August. It's a little different now, more "moved in," so to speak, with papers and tablets and books and the drawers are sometimes open, and I've been working on a laptop.

The window looks down into a courtyard, that was pretty colorful in August. Now, mostly snow, and it's really nice when the sun is
shining. I'm on the fourth floor. The bookshelf belongs to my son, who didn't think he could fit it in his dorm room back in college, and some of the books are his: books on drawing, guitar, and lots of classics. On the top shelves, I've included books by my teachers and friends and favorite writers and journals. Some CDs, mostly classical: Ravel, Chopin and Mozart, though I don't listen to music while writing, only when I'm sending out work, responding to an email. One of the paintings I made as an undergrad rests on top of the bookshelf, but only because I don't have the heart to throw it out, and I don't know where else to put it.

A framed picture of my son sits by my computer, a recent photo from his high school graduation.

The desk is new for me, but a very old desk, from a generous
colleague. We both left Michigan at the same time; she moved to Boston, and didn't have the space. I did, and didn't have a desk of my own. It's huge. It's heavy. It's ancient and holds everything.

I spend the majority of my time at this desk. It's the first place I
go when I wake up, though I do most of my writing late into the night. The chair is pretty comfortable, though I never sit in it the way I'm supposed to. I sometimes prop my feet up on a stool underneath the desk. Or I curl up, sitting at odd angles, like right now, as I write this.
Thanks, Kim, for sharing, and thanks, everyone, for reading.
And now, another book giveaway; I asked Kim if she would like to send a free copy of her book to a lucky HTMLGIANT reader, and she agreed. So you have until, let's say, noon CST tomorrow (1.22.09) to email us your mailing address; subject line of the email should be OH BABY. If you've already won something, maybe step out of this one, thanks. I'll let you know if the random integer generator smiled upon you. Send to htmlgiant [at] gmail [dot] com.
UPDATE: Congratulations to Evelyn Hampton, winner of the Oh Baby giveaway. Thank you to the other people who entered the contest – one day your time will come.
Word Spaces
/
14 Comments
January 21st, 2009 / 5:24 pm
Blake Butler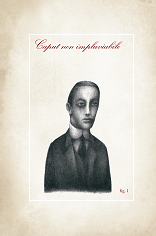 Anytime there's a new issue of Caketrain, I immediately place an order. If you ask me, Caketrain has taken up the space left by the void of 3rd BED, as each issue is packed with new words, weird words, innovation of form and content and etc. They take care to make the words look their best on clean, nice heavy paper with lots of white space and good images. You know when you buy Caketrain you will be able to read it pretty much from cover to cover. That's often a rare find.
CAKETRAIN 6 is now available for preorder, to be shipped in December. It's only $8 including shipping, which, shit, how can you beat that.
There's a full list of the site of who's got what inside but this issue seems to contain a bunch, including Michael Kimball, Norman Lock, Kim Chinquee, Shane Jones, Ryan Call, Brian Foley, Joshua Ware, Sara Levine, Jac Jemc, Forrest Roth, Kate Hill Cantrill, and etc.
Get this. Get the back issues if you don't have them. They are all issues I go back and read over and over again, and that's not a stretch.
Uncategorized /
8 Comments
October 31st, 2008 / 11:15 am
Blake Butler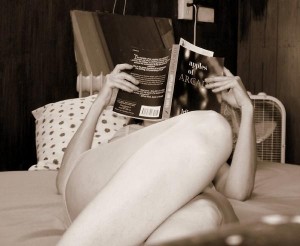 There is a new issue of Elimae up for October, and it is pretty huge and sexy.
It has work from people I know like Stacy Kidd, Kim Chinquee, Angela Woodward, Brandon Gorrell, Mike Topp, Forrest Roth, Kyle Minor, Brian Beatty (no mean week posts yet on Beatty, for or against, I need to make some assignments?), Sean Patrick Hill, Ravi Mangla, Ben Segal, J.A. Tyler (aka the exploder, how does he do it?), Noah Falck, and Jamie Iredell (Atlanta represent).
There are also a lot of others I don't recognize the names of, which is great.
I like how elimae's size varies each month depending on how much stuff Cooper got that he liked. There is no size limitations, the issue does not 'fill up' and there's no 'good work gets turned down.'
Elimae is a role model like my dad except I think Elimae sometimes smokes pot, and it probably goes with hookers.
Elimae is a great example of minimalist design making the language look really good, there is just something clean about it, despite the hookers.
Read em up.
Uncategorized /
22 Comments
October 15th, 2008 / 2:18 pm