March 4th, 2013 / 1:25 pm
Random
Ben Mirov
Chateau Wichman IV and V by Ben Pease
Here are the latest installments of Ben Pease's epic video poem, Chataeu Wichman. Previous installments in the series can be found below.
Watch the Wichman Overture and read poet/video artist Ben Pease's explanation about the process of making his video-poem series.
Watch parts 1, 2, and 3, here.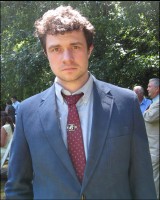 Ben Pease is a poet and visual artist with degrees from Emerson College and Columbia University. He hails from Ludlow, MA, the setting for his next book, Fugitives of Speech. He is an assistant professor at ASA College in New York City.