July 2nd, 2009 / 3:05 pm
Uncategorized
Matthew Simmons
Clerihew Thursday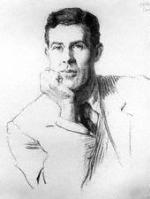 Follow this link for a series of clerihews by my friend Brad.
A clerihew is a four-line biographical poem. They are characterized by a whimsical tone, and I thought maybe today we could use some whimsy. Included is this one about Dennis Cooper:
Party-pooper,
Dennis Cooper:
First violent erections…
Then, alas, vivisections.
(For the record, Brad is a big fan of Cooper's work. Whimsy.)
More (including Foucault) after the jump
MICHEL FOUCAULT

Michel Foucault,
When moanin' low,
Wrapped up his nethers
In studs & leathers.
And another:
SLAVOJ ZIZEK

Communist Slovene, Slavoj Žižek
Cashed a shameful if handsome paycheck
From the decadents at Abercrombie & Fitch
Thus admitting an unseemly itch to be rich.
Meter's a little off on that one, Bradlum. But I like it nonetheless.
And finally:
EUDORA WELTY
Eudora Welty
Never once felt she
Need fly down to Rio,
Content at the P. O.
31 Comments