Mike Meginnis
Cover Fail
The difference between a press you've admired for years and a press you've never heard of is the former is willing to pay a little money for its covers. There are presses that have been around for decades, that pour their sweat and tears into publishing more words than any of us realize, and that absolutely no one but a tenure committee cares about because they can't be bothered to pay for a decent cover. I'm not above designing without the proper training myself, but I at least pay for raw art to use on my magazine's covers — and I do try to actually design. I didn't want to call anybody in particular out, and it's insanely easy to replicate the bad covers that drive me up the wall, so I made a few shit covers of my own. If your press's output looks anything like this, for the love of God, stop what you're doing and find a freelancer to do something better.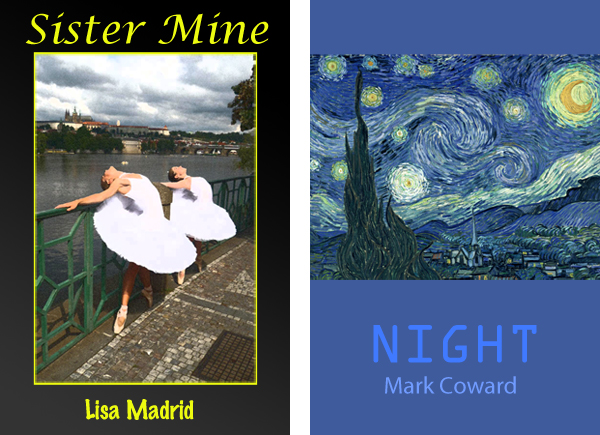 Now let's talk about what happened here:
Sister Mine: What happened here is you had a photograph that you thought would look nice on a cover. You didn't think it quite looked deliberate or stylish enough for a cover, though, so you tried two photoshop filters and the second one stuck. But — in what will become a recurring theme in your life — you discovered that the photo wasn't quite big enough to fill the cover. So you did what any editor in chief of an over-funded, under-read university press would do, what they've all done throughout the ages: you gave the photo a border, put a "tasteful" gradient behind it, and framed it with text. Speaking of which, nothing says "literary fiction" like two mismatched fonts that vaguely suggest handwriting.
Night: Starry Night is public domain, right? It's gotta be. The theme for the rest of the cover is "adjacent shades of blue on a color wheel." Is the text centered? More or less. The title font suggests a science fiction poem. The font used for the author's name tells us that the author has a name.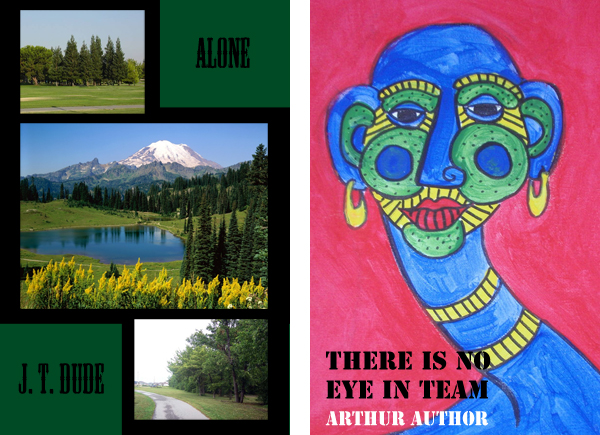 Alone: What happened here is a google image search for "nature." If you put these pictures next to each other like this it becomes a collage, which makes it legal. The black and green scheme communicates seriousness and reinforces the theme of "nature."
There Is No Eye in Team: Writers get really excited when they meet someone who practices any other kind of art. It's almost as good as having a close black friend. If you are a painter who knows a writer, take comfort: at least one person in this world thinks you're a genius. You can't get any gallery shows, no one ever comments on your DeviantArt page, and your musician friends probably know better than to let you anywhere near their records, but if you don't mind working for free then you can be a cover artist! Just let them flip through your sketchbook for a little while at the cafe where your paintings have been displayed for two hundred dollars or fair trade for the past eighteen months. They're sure to find something inside that's just perfect. The black and white text evokes the novel's theme of racial tension, and the stencil font suggests that while race is a construction, our nation's race relations are under construction.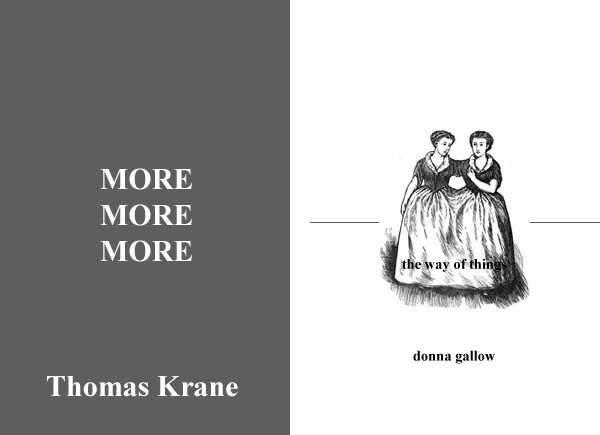 More More More: Your press respects language too much to sully your covers with things like "representative images" or "fonts other than Times New Roman."
The Way of Things: Nothing says literary resignation like lower-case text! The black and white cover will be cheap to print. History is the best source of clipart. The reader struggles to read the title hidden in their skirts just as the reader must struggle to construct a story from the text. The interrupted line at the center of the cover represents your irrational fear of negative space — and the fact that you don't think it's possible to "erase white" in Photoshop.
Tags: covers, failure, not jimmy chen, shitty design
16 Comments