February 5th, 2010 / 4:23 pm
Random
Adam Robinson
Cream Pies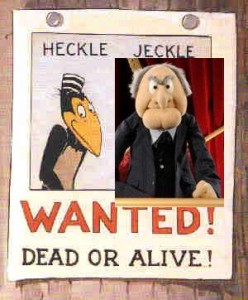 In Meeting People is Easy, that boring-as-hell documentary about Radiohead from back when Radiohead was an important rock band, Thom Yorke goes to a fancy restaurant but can't get in. (A maitre' d with taste!) As he's walking away, one of the meatheads in line goes, "Hey Radiohead, write a song about it!"
I love heckling, and I love getting heckled. Probably the funniest jab at me came when  I was playing an Elvis Costello song at an open-mic when a soggy guy at the back of the bar yelled, "Hey, do you know any Elvis Costello?"
When Bob Mould was playing the Metro in Chicago, maybe this was 1997, he started "The Slim"  — a powerfully internal song, cathartic, Townsend-like in its fervor even on a Takamine acoustic — and found he couldn't play it. He said, "Someone say something to piss me off." Some shit-for-brains offered "Stairway!" but my clever friend Russ called out, "Grant Hart!" which ended the ado and kicked in the sad.
At Wilco shows people are always fawning over Jeff Tweedy and Jeff Tweedy is always like, "Be quiet." I don't appreciate that. Why's he gotta be the only one in the room?
Do you think Jeff Tweedy reads HTMLGIANT? Do you think he has a Google alert set to his name? If brohammers can heckle at fancy restaurants, can I heckle in indie-lit sanctioned blog posts? Hey Jeff Tweedy, write a song about it!
In a bathroom at Frasiers someone wrote, "Graffiti is the only true art because it is not done for fame or profit." I don't know. I think there's a lot that is done just because it's the right thing to do. Like that guy who yelled "Judas!" at Dylan then threw his shoes at Bush: automatic responding rules.
In unrelated news, Azoman is marketing the Klidne as a Valentines day gift.
Tags: heckling
54 Comments