September 8th, 2010 / 5:29 pm
Uncategorized
Jimmy Chen
Fruit Journalism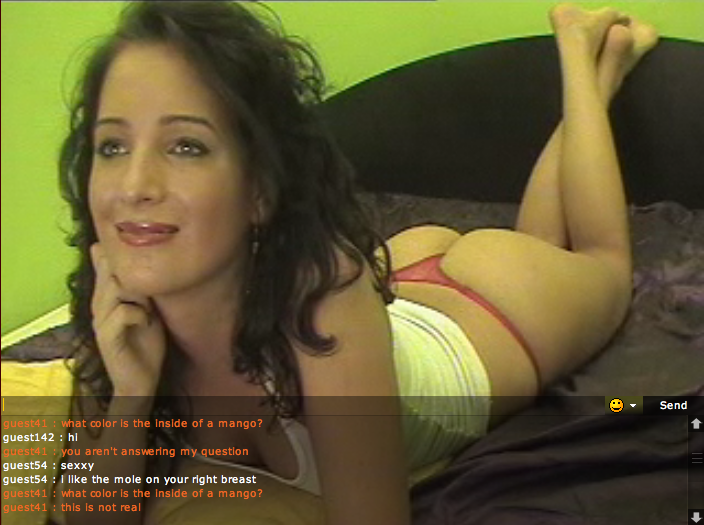 My suspicions that free live sexcam chats (in this case LiveJasmin) were pre-filmed footage of "performers" acting sexy while ostensibly reacting to instant messages w/o actually reading or engaging in clientele discourse were confirmed when I, as guest41, asked PusyKhat what color was the inside of a mango; she had two chances to answer "orange," or [any reasonable color, e.g., yellow, tan, etc]. guest142 and guest54, no doubt less inquisitive than I, offered PusyKhat the usual "hi" and "sexxy," as if such a lovely lady had not been met with those sentiments thousands of times before. I struggled with the thong but finally decided it was safe for work, as our technologies have yet to convey the olfactory world.
—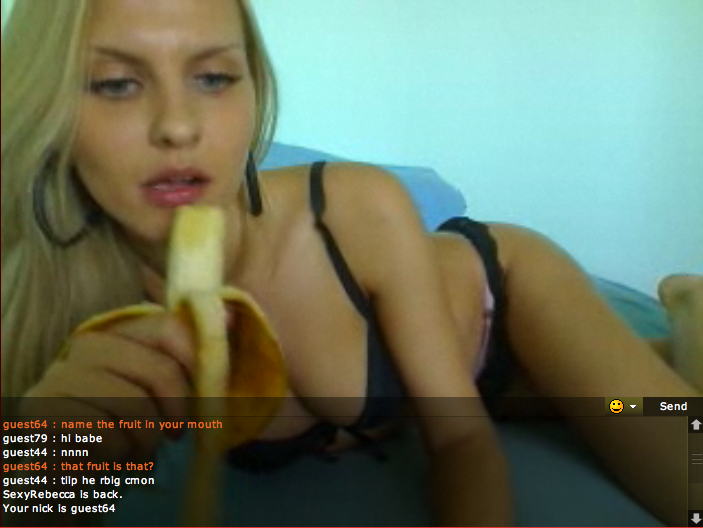 Had I been quicker on the screen-shot, you would have seen SexyRebecca listlessly fellating a banana (notice the ass inside potassium). guest44's "tllp he rbig cmon" is proof that either his heart or keyboard is broken. Perhaps his subsequent "nnnn" was a misspelled mmmm signifying his hunger at a banana crepe. So simple it would have been to name the object of her oral flourishes before going "ape shit," but alas, I was typing into a void.
—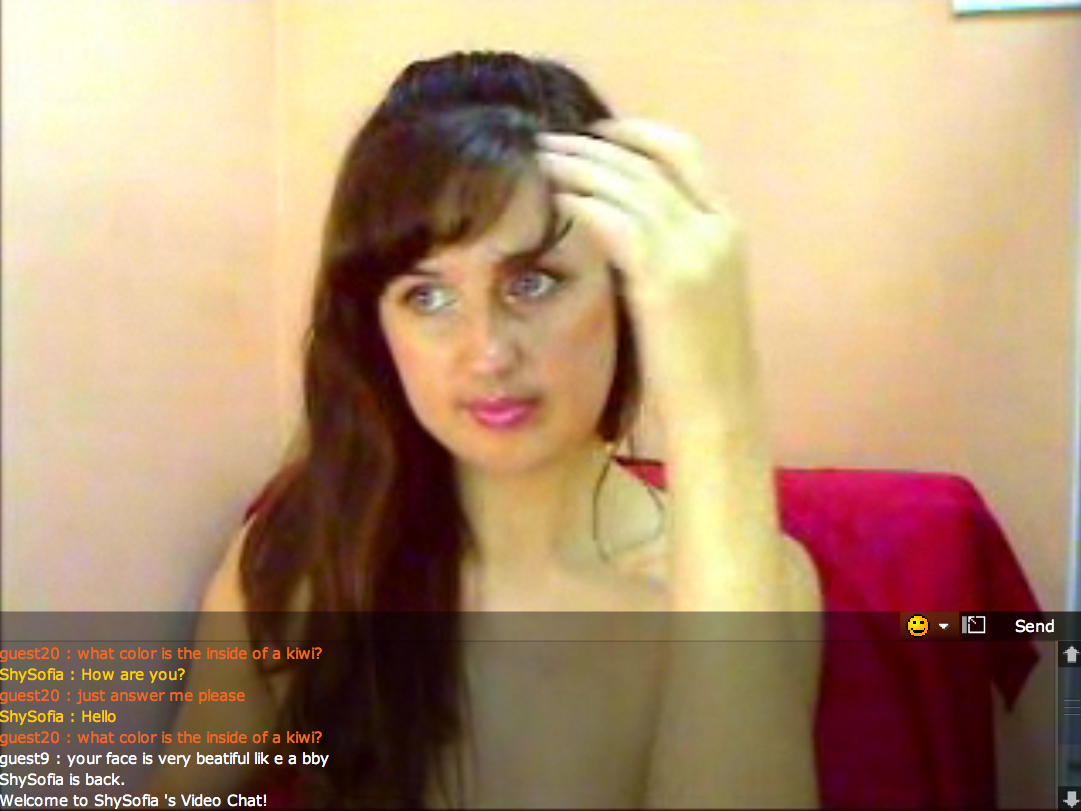 I agreed, post-whiskey, that ShySofia's "face [was] very beatiful llke a bby," [sic] but what really mattered was getting at the truth of LiveJasmin's farce. Sex chat is the new McCarthyism — everyone looks like theys from Russia, or New Zealand, hence the kiwi question. (It's racist to not think it's racist to think someone is from New Zealand just because they're white because one's skin color, however inversely, is still attributed value.) Moving forward, how am I? I'm fucking lonely lady, how about standing up?
—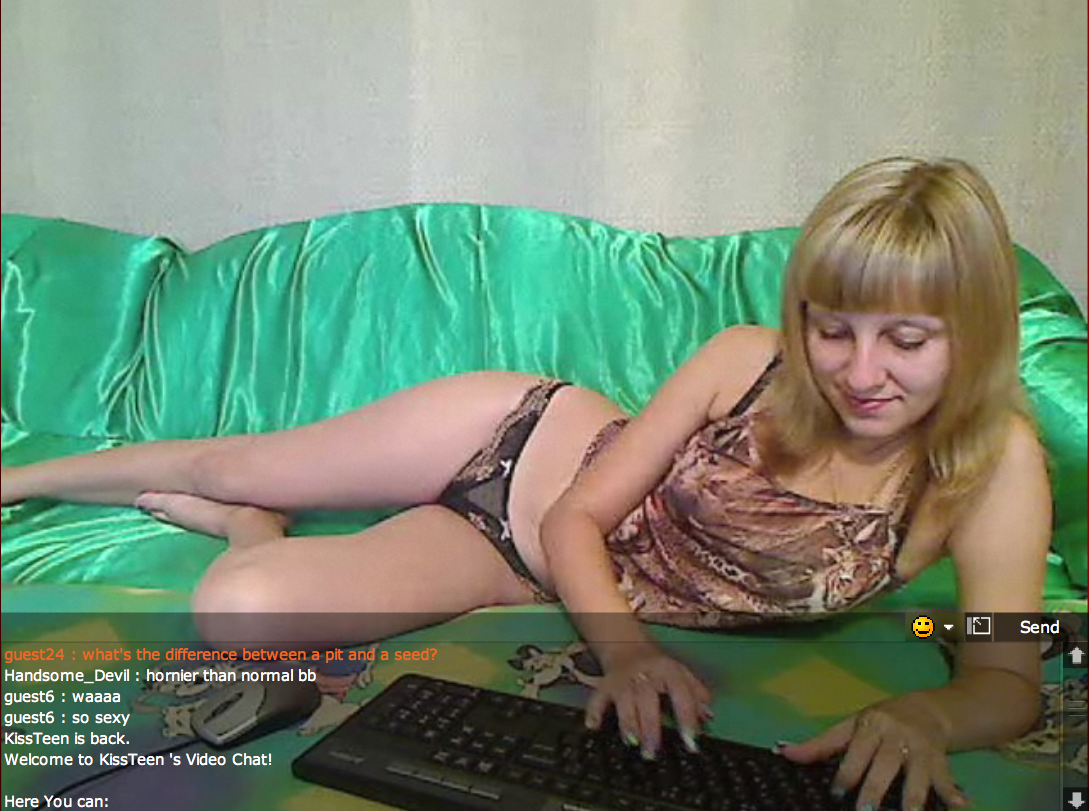 Short of a status update or tweet, we know Handsome_Devil is "hornier than normal bb," the bb I assume short for baby, the sexual vernacular of infantilism, which might explain guest6's nipple-deprived "waaaa." I myself, my pacifier tucked away in other places, only wanted to test KissTeen on her pomology (the study of fruit, not post-modernology). For those of you who don't have an MFA, a pit is the hard shell protecting the seed, and seed is what I abstained from doing in my pants last night in the name of this journalism humbly brought to you here.
Tags: livejasmin
27 Comments