January 27th, 2012 / 11:30 pm
Random
Christopher Higgs
Language is the atmospheric anomaly our fingers and tongues make happen
Consider the singing of suspended telephone lines or the vibration of a car antenna at certain mid-gruesome speeds. (A similar aeolian phenomenon is "flutter," caused by vortices on the leeward side of the wire, distinguished from "gallop" by its high-frequency, low-amplitude motion.) To do so would be synonymous with considering the Kármán vortex street: a term in fluid dynamics for a repeating pattern of swirling vortices caused by the unsteady separation of a fluid's flow over bluff bodies.
Recent studies indicate certain insects borrow energy from the vortices that form around their wings during flight.
Listen to how Amy King makes happen:
"Milk is a mythical moth that sees its own heart, mostly
in summer. Some kind of pillow moves me too
and dissolves my palate; I cannot taste
the shabby white wings
and behold each shadow's infancy
beneath the definition of sleep"
"Feet draw. Knees bend. Shoulders arc. Ears tingle. Meat of palms wrap. Feet in. Out. Left foot withdraws. Bend at knees. Right foot extends. Right arm moves right. Left arm bends at elbow." Fidget, Kenneth Goldsmith.
Or, as Gertrude Stein reminds us in Tender Buttons, "Act so that there is no use in a centre. A wide action is not a width."
A fog bow is not a rainbow. "A, a, a, a, about, and, around, at, be, bed, behind, body, catch…" (Words by Andy Devine) A fog bow is a rainbow minus color. Assholes call fog bows white rainbows. Not I. Though seamen call fog bows sea-dogs, and airplanes see fog bows more often from above given perspective and generosity and equipment. Here is the fog bow, do not look away: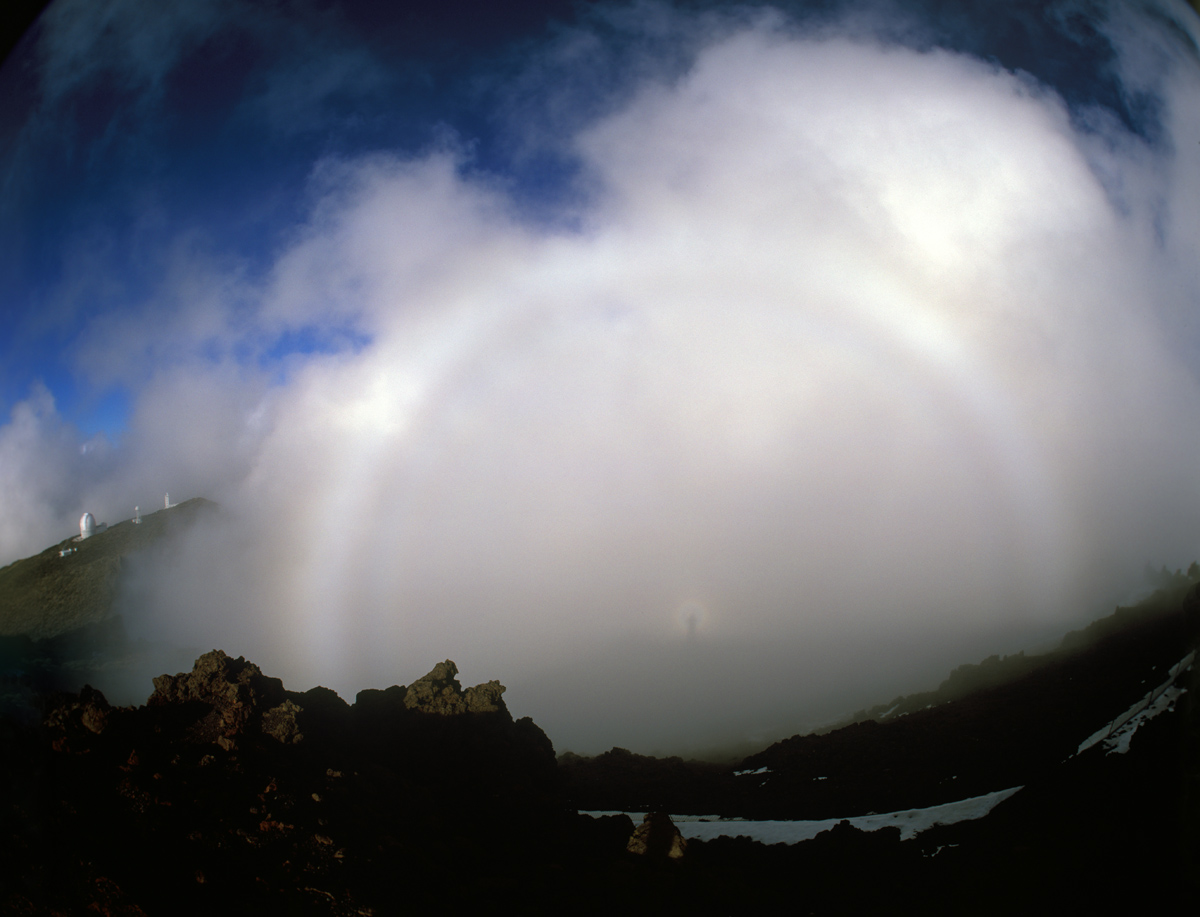 "Fragments attract each other, a swarm of iron filings, black with golden flecks but without a soul." Bhanu Kapil, Schizophrene.
A Brocken spectre, opposite the sun, cast upon the upper surfaces of clouds, but the magnified shadow of an observer, the likeness of which becomes a giant phantom. Here the Brocken entangles with glory:
"The past is another hole in the patchwork. The generator putters one last time as the father flings his body forward through the back door." The Sky Conducting, Michael J. Seidlinger
An optical phenomenon. The glory. Engendered by classical wave tunneling. When nearby light approaches a water droplet, tunnels through the air pockets inside the water droplet emitting backwards due to resonance effects, the polarization befitting of mothers or sons everywhere. Such droplets.
The solar glory.
"Humans cannot live without illusion." John Gray, Straw Dogs.
These are none the Bravais' arc. The circumzenithal arc, which arises from the refraction of sunlight through horizontally-oriented ice crystals. The upside-down rainbow. "Haley Joel Osment looked in her direction without focusing on her face. He touched her shoulder a little and left the car. He jumped over a puddle and went in the restaurant." Tao Lin, Richard Yates.
"I am not convinced that we make a fetish of the preposterous. I think our feeling is that in first gropings there's no knowing what will afterward be the acceptable." Charles Fort, The Book of the Damned.
Go on. Make sense of the parhelion. Beside the sun. A mock sun. A phantom sun. A colored patch of light to the left or right of the sun, 22° distant and at the same distance above the horizon as the sun, and in ice halos. "I've given birth to a tree and so at last you are a grandmother, and one day you'll be the great great great grandmother of a forest." Recipes From The Red Planet, Meredith Quartermain.
Best seen and most conspicuous when the sun is low, we call them Sun Dogs:
To be distinguished from an optical phenomenon in which dew-covered trees of species whose leaves are wax-covered retroreflect beams of light, as from a vehicle's headlights, sometimes causing trees to appear to be snow-covered at night during the summer, named and explained in 1994 by Professor Alistair Fraser. Sylvanshine. I leave it to your imagination.
"When they flaked, he prayed to Satan for one clink of insight. He never showed, so Nate tried Bob's effect, which sort of gave him a great, evil thought. Hunh, wait.
— Fuck, man.
— I told you. Watch. Abracadabra."
Anthelion. Distinct, again. Anthelion occur unaccompanied by other plate crystal haloes: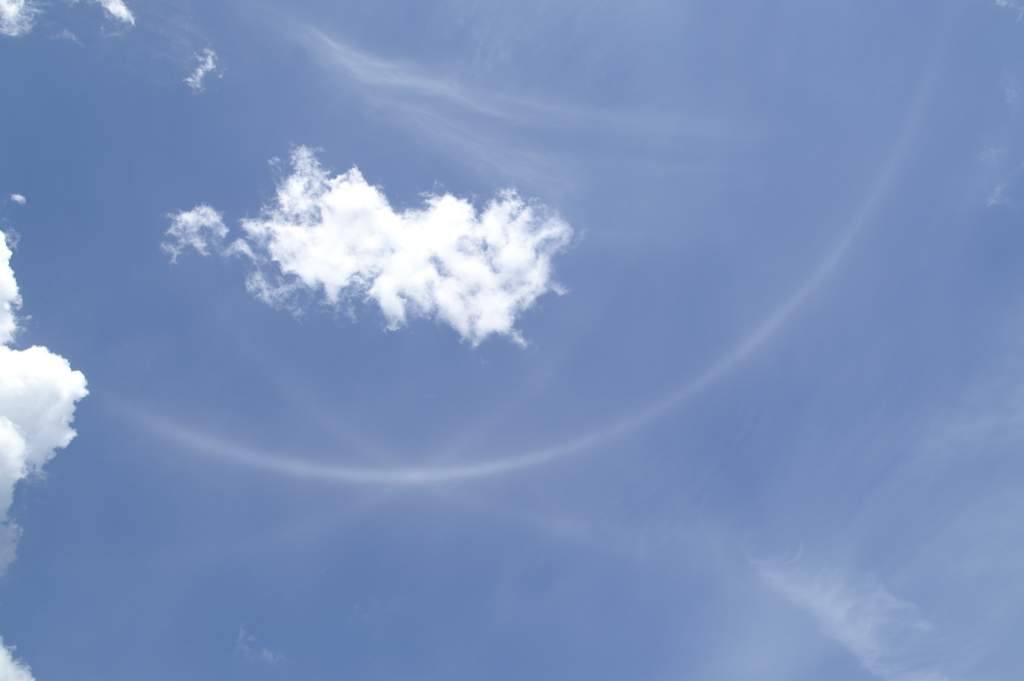 "Dis
embodied limbs cut
and paste them
selves into
collage"
Homage to Homage to Homage to Creeley, Joshua Ware.
But what is this?
What is singing?
What makes what happen?
Krzysztof Penderecki: "String Quartet No. 1":
15 Comments