March was small press month. Here's my haul.
Posted by
Matthew Simmons
@ 3:55 pm on April 5th, 2010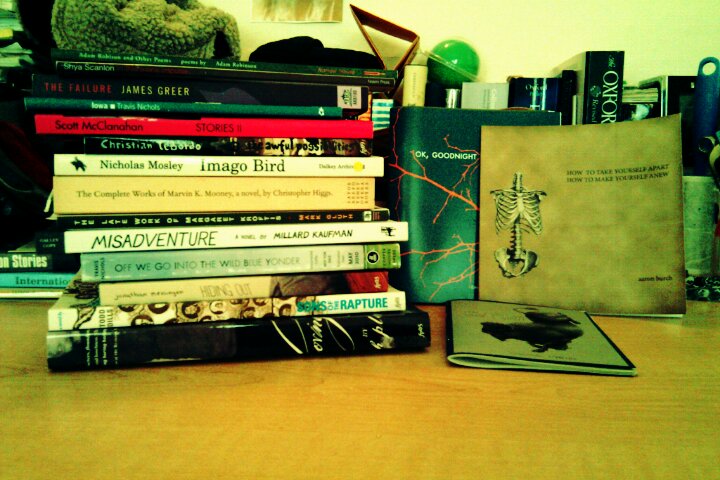 How was your Small Press Month? I got a bunch of books:
Adam Robison and Other Poems by Adam Robinson
In This Alone Impulse by Shya Scanlon
The Failure by James Greer
Iowa by Travis Nichols
Stories II by Scott McClanahan
The Awful Possibilities by Christian TeBordo
Imago Bird by Nicholas Mosley
The Complete Works of Marvin K. Mooney, a novel by Christopher Higgs
The Late Work of Margaret Kroftis by Mark Gluth
Misadventure by Millard Kaufman (galley)
Off We Go Into the Wild Blue Yonder by Travis Nichols (galley)
Hiding Out by Jonathan Messinger
Sons of the Rapture by Todd Dills
Boring boring boring etc, by Zach Plague
OK, Goodnight by Emily Kendal Frey and Zachary Schomburg
How to Take Yourself Apart, How to Make Yourself Anew by Aaron Burch
What I Want and What I Want by Chelsea Martin
How about you?
Tags: book pile, small press month