October 1st, 2008 / 1:31 pm
Uncategorized
Blake Butler
Online Lit Spotlight in the Believer Oct 08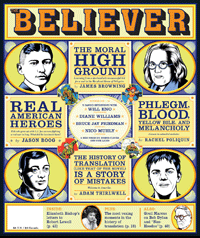 There's a new issue of the Believer out for October, and while the magazine is always a great read, this month is particularly good for two sects of people: those who like Gordon Lish, and fans of online lit.
I'm not sure if it was an editorial schematic or chance, but there's more Lish related stuff in this issue than seems coincidental: an interview with Diane Williams by Kevin Sampsell, an interview with Will Eno by Patricia Mulgraw, a review of David Ohle's The Pisstown Chaos by Benjamin Strong, and a review of Normal Lock's Grim Tales, by, well, me.
Of course you could probably take just about any literary magazine with big names in it and somehow Kevin Bacon it right back to Lish, but this one seems most close to home.
On the online lit side, I am excited about my Lock review mainly because it's primarily an eBook that I reviewed, published online by Elimae and readable here, and also because I got to talk about other online lit sites and eBooks in as awesome a spot as the Believer. The review is also replicated in full online and you can read it here.
Tags: gordon lish, norman lock, the believer
6 Comments