February 9th, 2013 / 4:53 am
Random
Jimmy Chen
Public Collection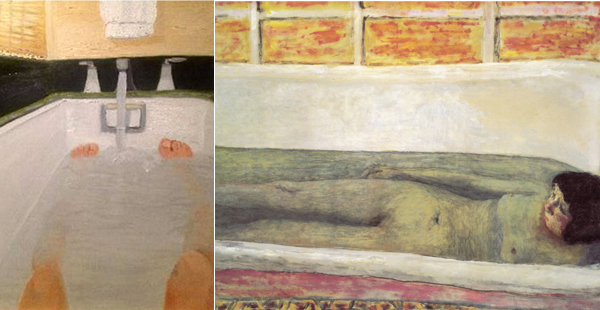 Of a kind of modesty far disproportionate to the attention it's getting — for it would take a hacker to get into our former president's sister's email — amateur yet keenly perceptive paintings by George W. Bush have surfaced. They are remarkable: not so much their rendering or skill, but in their quiet internal repose, evocative of the peculiarities of the Nabis post-impressionist school. An immediate, and easy association — if one considers their respective and mindless havoc onto their perceived enemies — is Adolf Hitler, who also produced unexpected touching watercolors of churches. The imperial hubris with which Bush demonized Afghanistan at large, and later Iraq, is a sad example of turning the enemy into an abstraction. The same can be said for liberal media in their inclines against Bush; and so now, it seems, we are perplexed, and very taken aback at being allowed to see this man in a different light. It is simply hard to imagine such a heartless war monger painting such gentle paintings. Yet, the disparity lies not with Bush's character, but the assumption that artists are somehow — by the very auspices of their art, as if introverted pastime were a moral act — essentially good people. Enter Pierre Bonnard, whose codependent relationship with his wife Marthe has kind of hilariously been documented by the many paintings of the her in the bathtub. She is said to have suffered from OCD and compulsively bathed half-a-dozen times a day, as if trying to wash away the dabs of paint for which she might have been mistaken by her husband. The pairing here is at best merely coincidental, until we look at their perspectives: George W. Bush gives us his own POV, as autoerotic muse, his phallac member just off the bottom of the canvas, perhaps the rod-like stream of water a surrogate hard on. This is the same view Marthe was having back around 1935, and toggling between the two collapses us into a kind of he-said-she-said scenario, of different versions of the same history.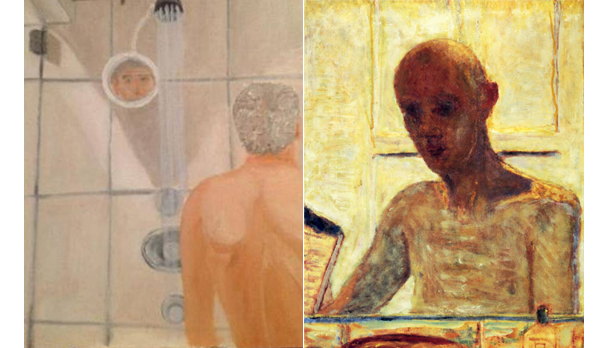 Velasquez and Manet both famously played with mirrors, inaugurating a more pensive modernism that could be self-conscious of the self (which eventually turned into a postmodern self-consciousness of self-consciousness itself). Bush provides us with a mini self-portrait contained inside a larger one, a sentient moon condemned to revolve around its averted host. Perhaps this is his coy way of finally looking us in the eye. That he chooses a rather vulnerable moment — the instant when, dry, one steps into the shower hoping that the water is right — is less a conceit than a confession. Bonnard, trouble with the wife, was known to abscond into hotel rooms for relief studio time. He'd tack unstretched canvases onto the wall adorned with busy wallpaper, which historians figure influenced his frenetic brushwork. Dorian Gray has an attic, but Bonnard and Bush only have a bathroom and their respective aging nakedness. Bush's vanity mirror is kind of rendered like a rope, the trapped face inside limply nodding at his peer Saddam Hussein, who found his own fate blasted all over the 10 o'clock noose. Karma is something losers wish upon the winners, morality the game of spite.
Most images, including the ones herein, are cropped versions which omit the easel and correct the oblique angle at which the photos were taken. Some sites have even photoshopped the images into a museum setting. This kind of journalistic "curation" negates the nonchalant sister, and the humble/hackable exchange of email between a dying dynasty, whose decrepit patriarch once headed the CIA. Things have changed, and you don't need to torture people for the truth, just their password. In a way, we the public deserve these paintings; they are, oddly, a kind of inadvertent apology. Whether our current president is concerned with the public or simply public image, history will tell. He branded hope so well we forgot to check the price tag. George W. Bush was Podium Boy for his dad's administration, a simple day job to help pay the bills. Not too concerned with being liked, mumbling inarticulately with made-up words, then disappearing for worrisome lengths at a time. He came back looking puzzled, yet solemnly humored. We should have known he was a great, or at least okay, artist all along.
Tags: george w. bush
One Comment
February 16th, 2013 / 11:54 am The Saturday Special: Stay in Bed with Tea Edition | MissDirt.net—

[…] hacked George W. Bush's e-mail and found these paintings, which are totally […]