March 1st, 2011 / 12:17 pm
Random
Kyle Minor
Read Away Your Tuesday
Nine short stories (from Kvashay-Boyle, Kwon, Mikesch, Lacher, Campbell, Gay, Traverse, Kesey, and Danticat), an interview with Harry Mathews, and an e-chapbook of poems by Letitia Trent. Here they are:
1. "Saint Chola," by K. Kvashay-Boyle.
An excerpt:
Skater. Hesher. Tagger.

Lesbo-Slut. Wanna-be. Dweeb.

Fag. Prep. What-up.

Nerdy. Trendy. Freaky. In a few weeks it'll be solid like cement, but right now nobody knows yet. You might be anything. And here's an example: meet Mohammadee Sawy.
2. "Superhero," by Reese Okyong Kwon.
An excerpt:

When she was very young, her mother had explained her name to her. "You were named after one of the youngest saints," her mother told her as she brushed her hair. "A martyr. She believed in God, but her father was a strict Roman nobleman and forbade her from praying under pain of death. When she persisted, her father had her whipped until she died. She was twelve or so.
3. "She Sees an Old Boy," by Elizabeth Mikesch.

An excerpt:
Inside that skuzz, a heavy-hipped figure, she sees an old boy.
Vavoom, says the old boy.
He watches her vacuum the crumbs that she slid off the table. The stubble cannot catch the crackers she slathered in stink, the cheese the market sells cheaply the day after cheeses go bad.
4. "Mary Butcher," by Jess Lacher.
An excerpt:
There are days, over the baby crying, when I still think I hear Mary Butcher calling from the broken-out basement windows of the ranch house at the end of the cul-de-sac. I tell myself that this is impossible but when I close my eyes I see her, swallowed up by the wet darkness in the hollows of the window-wells. Behind the teeth of shattered glass she has kept the wide moon face of the child on the missing posters, the ones her mother used to staple to the utility poles on Downer's Court at the end of every month—new Mary Butchers tacked over old Mary Butchers, torn Mary Butchers, Mary Butchers with their faces worn away. The posters are years gone, but their tacked and torn-away corners leave a ghost frame for Mary Butcher, looking back at me from the weathered wood. She is there on the poles, and she is there in the shadows of the basement, and when she calls to me it is with a girl's mouth, still—down-turned and ruddy and mad. In twenty-five years, I have gotten old, but Mary Butcher has not.
5. "Boar Taint," by Bonnie Jo Campbell.
An excerpt:
The road dead-ended into mud puddles in the yard of a two-story wooden house, and one look told Jill that the Jentzens were not hooked up to the power grid. The setting sun lit the western windows, turned them gold, but the others, those not boarded over, were dark, dusty panes, and the barns beyond were already swallowed in shadow.
6. "Girls at the Bar," by Roxane Gay.
An excerpt:
They wear silky thong panties and short denim skirts with frayed hems. They wear skimpy tank tops—the kind with the thin shoulder straps and open backs revealing their fancy bras. The polish on their toenails is chipping and cheap braids of gold circle their ankles. They coat their cleavage with perfume and glitter body spray and just before walking out the front door, they take a quick peek into their bedrooms to make sure they can bring someone home. They hide dirty underwear and scarves and flip flops and mascara tubes and paper plates beneath their beds.
7. The Medical Diaries, an e-chapbook of poems by Letitia Trent.
8. "How to Be Alone," by Maureen Traverse.
An excerpt:
First, tell him it's over. Tell your friends you're satisfied. Take
yourself to movies. Read books in bed. When eating, hide the sound of your chewing with talk radio. For momentum, ride the subway. Spend time with a man who doesn't look at you that way. When the thought of him threatens to turn you into a shiny penny, resist. Live as the addicts do, one day at a time. Give yourself something to anticipate: take up smoking.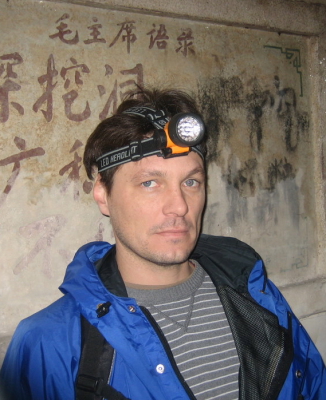 9. "Scree," by Roy Kesey.
An excerpt:
Slips toward sleep, away from it, back toward it, is driving down a Beijing side street and that sound, he knows that sound—idiophonic, the fish, muyu. The river had risen, flooded its banks, was now a rough dark liquid plain too wide to see across. A monk came, stood at the edge, watched. Then a massive fish roiled the surface, disappeared, appeared again and spoke:
10. Harry Mathews, the Paris Review Interview.
An excerpt:
INTERVIEWER
Which of Roussel's methods interested you?

MATHEWS
One method he used for short stories involved making the first and last sentence identical except for one letter. Each word has one meaning in the first sentence and a different one in the last. A word like train might be a choo-choo to start with and a trailing skirt-end afterward. In the longer works, he would take fragments of nursery rhymes and parrot them phonetically and then use the new words to construct a story. For instance, the song "J'ai du bon tabac" becomes "Jade tube onde aubade."
11. "Ghosts," by Edwidge Danticat.
An excerpt:
Pascal Dorien was living in Bel Air—the Baghdad of Haiti, some people called it, but that would be Cité Pendue, an even more destitute and brutal neighborhood, where hundreds of middle-school children entering a national art contest drew M-16s and beheaded corpses, and wrote such things as "It's not polite to shoot at funeral processions" and "I'm happy to have turned in my weapons. What about you?"
9 Comments