May 21st, 2010 / 1:18 pm
Uncategorized
Matthew Simmons
Reality Hunger: A conversation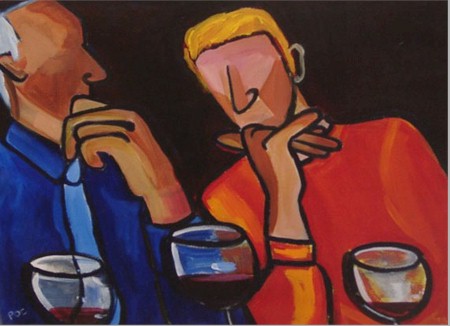 I enjoyed Reality Hunger. Blake, not so much. We had an email conversation about it. Here it is.
M: So, I gave you my galley of Reality Hunger, and saw this on your Twitter feed: "fairly underwhelmed by 'reality hunger' — what's so innovative about making a list of things praising innovation?" I'm not sure that's what I thought I was reading, though—a list of praise for innovation. I think I read an argument for the synthesizing of creative disciplines. Nonfiction and fiction, say, ingesting one another—two snakes swallowing one another whole, beginning at one another's tail. And the thesis, antithesis, synthesis structure feels less linear to me than the word "list" implies.
B: You're correct, it's not quite just a list of praise for innovation–though quite a bit of the book repeats something along those lines of the ingesting as you mention, and does it again, again, again. And it's certainly not untrue: fiction, or any writing, must continually evolve, for fear of that same pattern of repetition, or at the very least no longer being interesting, or "relevant," which I think was Mr. Shields's major point. People get bored. Times change. Sure. My problem with the book, though, is that, well, OF COURSE. Of course things will keep changing, and of course there will be those who feign against it, making more of the same, and that in the end leads to the demise of the interest, and the morph continues etc. These are things we know.

So, then, as I was reading Reality Hunger, and agreeing with the things he said, or appropriated, or intoned, I never got the sense that he was doing something new himself. The book, at some point, became a repeating blinker for me, a "manifesto" (self styled for its form, which almost goes against the grain of its own argument), not building something wholly new or vital out of the text itself, but more just, almost, beating a dead horse. I'd much rather have seen a book that started with these ideas, and then transcended them, made something bigger, a book larger than the sum of its parts, which for me it was not at all. Many of the parts were much larger than the book itself.
There were certainly glimpses, also, where he began to do this, such as the 'ds' section where he began to fold in some of his personal interactions, memories, etc., but way too much of the book for me felt not like a rocketship, but some kind of pamphlet, a thing that could (and likely should) be passed out to undergrads, like "This is something that is going on." The blurbs on the book praising it as some hallmark of the future do it a disservice in that way, I think. I think, too, that there is much more ground gained in books that begin with an important idea, such as Shields does, and then blow it out of the water, such as, recently, for me, John D'Agata's About a Mountain, which could have easily paced in the momentum of its opening third and never transcended itself, and still been a fine book, but not really thrown the gates wide and made something that transcends time, and makes new.
M: I guess I came away from it having felt that I read, at core, a call to blur the lines, but hardly a simple one. In fact, what I read was a methodical dismantling of some very very old ideas about the nature of fiction, the nature of memoir, the nature of influence, of borrowing, of begging, and of stealing.
I wonder, too, if the sense you have of the booking repeating itself could in fact be linked not to its on the page repetitions, but the fact that it may be repeating things that exist in your own head. This may be the nature of the manifesto: that it will sometimes—very rarely—fall into the hands of someone for whom it's radical ideas will ring so true as to seem obvious. I would ask that you consider the possibility that though this book is very much for you, it also isn't really for you. You are a fellow traveler.
I really found Reality Hunger and the D'Agata of a piece, and I'm glad you brought it up. I think About a Mountain will have its detractors. I think Reality Hunger is an articulation—and one that a lot of people may well need—of what is happening in About a Mountain. Someone needed, I think, to gather these thoughts in this way—to pull from the culture at large and get this conversation started.
I absolutely believe that Reality Hunger asks for a deeper conversation to begin. It's a launching pad, not a rocket ship. Maybe that's another thing that made you hesitate. To some extent, you already have this conversation going. Reality Hunger will, I think, open the doors to the party a lot wider, and more people are bound to show up and start talking.
And how could you not get a sense of Reality Hunger's size from its structure? He follows so many branches, and does so with impressive thoroughness. He's even spent time recasting the material he worked with to create this mesmerizing journey through sentences.
B: No, I agree that I'm probably not the target audience, but then when you have your blurbs on the cover from some really big and influential innovating guns, calling the book, in so many words, a game changer, and something that will be around for a long time, etc., I think it kind of assumes that the book aims not to be something like what it professes to want, but a tool toward that end. Which is totally cool, and I'm all for it, and there can only come good things most likely from people reading those branches and thinking about them and implementing them, but for me it also kind of blanks out the will toward necessity of actually reading these objects as they already exist. I was actually pretty surprised a lot of the time at the books that Shields referenced as things he likes as objects, outside the quoted sources, as they seemed not quite in league a lot of the time with what he was calling for.
It also, I think, is dangerous, in that what he's really saying is that big books are dead. He professes to not being able to read anything that isn't in short numbered sections, and at some point in the book says we need to learn how to write for cell phones. Cell phones? I'm sorry, I don't care how important it may seem to certain people that art keep up with technology, but at some point this is a deflation of the process, and to me can have damaging effects. Writing for a cell phone is like training yourself to pee only in little Dixie cups in a moving car. While I'm all for the death of flabby, repeating fiction that is more concerned about narrative and answering questions than it is being something more amorphous, I also totally disagree that the terms of this expansion have to be on par with the terms of whatever iDoodad is currently being fed out, and that we only have to write in these little numbered graphs that add up to something unnameable.
If anything, for me, books are a terrain that innovate on another kind of soil than any other art form. Sure, they incorporate elements of other media, and grow in that absorption, and evolve, but Shields's continued assertion that this can only happen under the frame of 'lyric essay' and 'flash' is off base. I found myself all throughout the reading of the book saying, "Okay, you like essays. Great." Now what?
For me, rather than praising brevity, and the insistence of incorporating the self into one's art over confabulation, I'd much rather attend to Brian Massumi's idea of developing by bringing the foreign element into a body, plopping it in, and watching how it shifts the medium. This isn't a question of attention, or shouldn't be: it should be making interesting, fun, powerful art. And, again, while I enjoyed Shields's book, and could see it bringing benefits to those who haven't thought so much about escaping the undoubtedly dead scene of traditional narrative lit, I'd much rather have seen the book act less as a manual or a 'manifesto' and more as the kind of amorphous, transfixing objects that he calls for. This is more a syllabus, less an art.
All that said, a syllabus can be a great thing. I wish there'd been more feelers that escaped the book, transcended it, rather than a kind of diatribe. Did this book make you think of any other books you'd read, or that it pointed at, and make you reconsider them? Did it activate an awareness for forward movement in your own work that you might not have otherwise?
M: I think, really, the depth of this conversation is a good indication not of the book's failings, but the book incredible successes. I don't think you, Blake, would react this strongly—or reply to my defenses—in such interesting, considered, and (face it) lengthy ways if you in any way were "underwhelmed" by Reality Hunger. Books can be contended with. Some books beg for it. Sometimes a book's greatest gift to a reader is that it causes them mixed feelings about it.
I, too, disagree when he implies that big books are dead, that lyric essay is replacing fiction. Did Reality Hunger convince me to abandon the way I write? Not completely. Will it change the way I write? I think, quite honestly, that I don't, won't, and can't know. And, in fact, I think that's part of the point and part of the book's lesson. Legacy in art is a deeply strange thing. Influence is, as well. Because it bubbles up from a place we don't always have conscious access to, influence happens all the time without announcing itself—without planting its standard in the center of our pages. I found something enormously satisfying about the fact that Reality Hunger acknowledges and celebrates its influences.
Re cell phone writing, yes, I understand and I sympathize, but there's a chance we are reacting because we have our own preferred reading delivery system. Because they are already reading—and writing—novels on cell phones in Japan. I have a couple of friends who really like reading on their iPhones. And, heck man. You edit a web journal. You have published stories on other web journals. Technology already is moving writing, moving some kinds of fiction, toward compression. I don't think that means the death of books, though. I just think it means writers need to learn to adapt to each kind of delivery system.
Have you been following David's books over the last few years? It's really fascinating to watch the way his creative impulses have changed.
B: I have read some of David's books, and I think they are more interesting than this one.  This book is not an object. It's basically Postmodern Tactics for Dummies. Which, again, I'll say can be helpful for those unaware, but is it a second coming, or even vital? No.
If anything, you could spin it back the other way. That by attempting to assemble the 'pertinent pieces' of all these texts are actually their own objects, he is actually destroying them? That by cutting the meaty chunks out of Markson, Didion, D'Agata, and using them to prove their own ends, rather than to make something new, in a new context, he is actually undoing some of their light? I seriously don't understand why taking "Nonlinear. Discontinuous. Collage-like. An assemblage." out of Markson's book and planting it next to a bunch of other quotes essentially saying the same thing does to further the idea of blurring boundary lines. It feels like some kind of light therein is reduced, cooked down into some 'manifestro' (gross word). Why not write a book that actually does what he is asking for? I would say that Reality Hunger fails its own litmus test. It has little resonance outside of its demands, which are basically Shields saying he's bored. Is that interesting? Not really. It's prescriptive. It's confining. A conversation, sure, but what isn't? We could talk this way about Barry Manilow, or hair bows. Who cares?
I think it's also potentially and unnecessarily damaging to the book itself. Why should books mimic reality television's goals? Why should they be devised out of personal, 'real' terms? Why should they all be in short numbered sections? These demands are just as arbitrary and suffocating as saying all books should be narrative and with a clear time/setting/place. The imagination is young. There are many doors. And pointing at the doors, saying "I'm bored, thrill me," is about as counteractive as any of the other modes that have made us tired.
What's funniest to me of all in Shields's argument, and in Zadie Smith's recent 'Novel Nausea' bit, is that this comes from both of them after years and years of not following their own suddenly so pertinent advice.
I guess my main problem with the book is: his prescription in some way stifles, to me, as much as it does nod its head. We don't need a manifesto. We need something else.
I'm not sure what to ask you back now. Does any of that make sense? Should we talk about books that actually do what Reality Hunger is pointing at, instead of just trying to define?
M: When you refer to the book as a "second coming," are you referring to the chatter you are hearing about the book or the blurbs? I think we have to expect a little hype on the cover. We can't blame the book for its marketing. It may be important to note just how many incredibly heavy hitters have provided blurbs, though. Seems like a big pile of people have been missing out on some of this and needed Reality Hunger to whomp them on the head. (And, honestly, you can call those people a lot of things, but "dummies" ain't really one of them.)
I wonder what you mean when you say Reality Hunger is not an object. I mean, yes, it works as a blueprint for a kind of writing, but it does so—it seems to me—by following its own rules pretty closely. It is both description of an ideal kind of object and the object itself.
The collage stuff seems like a natural progression. Interestingly, it's also an attempt by a writer to reaffirm his right to beg, borrow, steal, recontextualize, revitalize, re-imagine, plunder, tear up, rebuild, restore, reuse, recycle, and fuck with the familiar. And, again, I didn't find it all that repetitive. I read the book quickly, and felt a precise, measured build up of ideas.
Aren't you a little bored? The novel has become a clean, well-manufactured object. I have an MFA, and am not given to complaining about MFAs, but I do sometimes worry that MFA programs are making writers really good at producing well-made, pristine pieces of fiction. A little messiness would suit them. And when Shields points at the doors, and says "I'm bored, thrill me," I say "Hear, hear. Thrill me, too." It feels like a kick in the pants. And, yes, Shields certainly has some idea which door we should take. But it's an interesting door. I may not take it. But I may. (Some of the editing of A Jello Horse was done after I read the collage chapter of Reality Hunger, by the way. I spent quite a bit of my last semester thinking about collage and white space, too. Wondering about it. I've always liked white space. I think I use it better now.)
(I think The Thing About Life Is That One Day You'll Be Dead is very much a book under the influence of the ideas in Reality Hunger. I've actually, as a Seattle bookseller who has hosted Shields numerous times, been watching him evolve to Reality Hunger from his book about Ichiro, though he started on it much earlier. I have almost no opinions on Zadie Smith. She's clearly very bright and talented, but my read on her career is that her books feel like reactions instead of a natural artistic evolution. Autograph Man as a reaction to spending time with the McSweeney's set, On Beauty a reaction to the James Wood critique of her work.)
This might be a place to bring up About A Mountian. I would hope we can both agree that there is a connection between it and Reality Hunger. I would argue that if you are looking for an object—a book that does what Shields is suggesting books do—About A Mountain is that book. In fact, I assumed your enthusiasm for About A Mountain was evidence that you would really love Reality Hunger, too, as they feel like sibling texts to me. (Another book Shields brings up is Bluets by Maggie Nelson. I have not read this book, though. Have you?)
B: I think I can say with full confidence that in ten years no one will regard this book as something larger than itself. It seems a snapshot, and really, a rather late one, of a trend in creation, and one that doesn't seem to need any more parading. Our attention spans are shortening? No kidding? Sure, the tactics Shields is arguing for by proxy here are often good for furthering art, but again I think at the end of the day the sum is less than its parts. The blurbs, while certainly from people I respect, make think they are lying. They'd really never thought of these things before? They hadn't heard the end over end of the Frey and Leroy scandals? Noticed the shortening, self-focusing trend? This book isn't a manifesto. It's lazy: a lazy recalculation of everything anybody's who's been paying attention already knows. Could it help those who live in a bubble or are young and had no idea and are stuck on the idea of narrative fiction open their minds some? Sure, if those people were open to it. But I think they'd be much better served not spoonfed an assortment of ideas (however nicely arranged and culled from fine places) but, say, opening the thing itself?
The two anthologies on innovative essays that D'Agata edited for Graywolf are alive. They have bodies, the bodies are working, they exhibit their tendenices not as textbook or, jesus christ, manifesto, but as objects, exhibits, creation. Everyone should have both of those books. They are important, and not getting nearly the hype of Shields's book because they do not demand the hype. They are.
Am I bored? God, sure, who isn't, sometimes, but what the hell is new about being bored? Is it fat books' problem? Or is that everybody's so damn busy looking for an answer instead of focusing on the minute of the make. Are short collage books the answer? Are they new? No. The answer isn't in a formula, but in making books with affect, that are more aware of themselves than they are trying to please an outside, to "entertain" a bunch of boredies. The answer is that there isn't an answer and any trying to answer the answer with an answer is heatseeking and not heat. Bored? Fuck. I'm bored with lack of impact, with context and not meat. All this responding. With hype and babble and needing streamlining, immediacy, "reality." I'm bored with books I can blink through and forget. I'm bored with books that want to tell me something and aren't outside themselves at all. The problem here isn't interiority, navel-gazing: it's lack of it. It's that so many seem stuck on finding the problem and not doing the business of the work.
Reality Hunger could have easily been a single page. It could have said "Read Markson. Read Wallace. Read D'Agata. Read Didion. Read Carson. Read Borges. Read Burroughs. Read Acker. Read Marcus, etc, etc. Ok, now go fuck some shit up."
About A Mountain I definitely think is more of a step in a new direction. Saying 'step in a new direction' is not stepping in a new direction. And definitely Bluets, too: a huge book, page by page, which shows the power of collage. And recently, Chris Higgs's The Complete Works of Marvin K. Mooney. And Evan Lavender-Smith's From Old Notebooks. Those are new inventions, on the terms Shields demands, and are way more successful, I insist, as art.
The more I think about Reality Hunger, the more is pisses me off.
Hunger.
Feed yourself.
M: I've spent days working on, and reworking a response to this, and have nothing. I've erased about a thousand words.
Maybe I'll just try this: I don't get it, man. I liked the book. Ten years from now means shit to me. Now is what I'm interested in. Why so angry? Through a very careful and considered process of reworking and juxtaposing a few generations worth of ideas about art, Shields argues that there is a gaping hole in the literary wing of that art and because of that, the novel is less important to the culture. And he's right. And then he offers his solution. Which he works hard to do. "Read Markson," is nice and all—but an argument is built. And I agree with his solution to a certain extent. And I disagree to a certain extent.
Didn't feel "alive" to you? Did to me—hell, it came to the dinner party, sat down at the table, and started a fight with the host. (Maybe this is it, though: you, Blake Butler, are not the host its starting a fight with. Maybe you just wanted a book that started a fight with you.)
And so angry that you are willing to suggest that a group of writers you personally admire would lend their reputations to the book under false pretenses? That's kind of an un-generous assessment. Maybe they are in a bubble. Everyone's in a bubble. You're in a bubble. Just a different bubble. Welcome to the bubble.
Again, I liked it. And all you haters can get deez nuts.
B: Fair enough. Part of me wants to agree with you. Part of me does agree with you. And I certainly didn't mean that the blurbers here were lying, or what have you. But ultimately this isn't about them that's copy speech. That's an aside.
I guess my final thought is this: In the front of Reality Hunger, there is a note calling attention to the list of sources his publisher "forced" him to include for copyright reasons. Shields says he hopes you'll ignore this by ripping the list out of the back of the book and thinking instead about the book as its own thing.
Instead, if you ask me, Shields should have published the book without his name on it. It should have been an anonymous letter culled and spread. The sources should be listed not line by line for where they came from, but as a syllabus without reference, giving readers the open door, if they wanted, to follow out. Or, hell, tell people to rip all his excerpting crib notes out, and keep just the source list, and read those, with great intent.
Otherwise, and I fear this is one of the things that will make the book for me become remembered as a tool and not an object, Reality Hunger is just another icon on the mount. It, like many of the things it calls for in the book, is more worried about boredom and attention, marketing and ploy, than it is the thing itself: the object that should be. You don't go to the doctor with a broken leg to hear the doctor tell you about the way your bones over time will heal. You go to him so he'll set the wound and let you walk around. Let's walk.
Tags: David Shields, reality hunger
110 Comments